https://www.paulaschoice-eu.com/2procent-bha-body-spot-exfoliant-full-size-5700.html
2% BHA Body Spot Exfoliant
Gently exfoliates dry, rough and bumpy acne-prone skin leaving it hydrated, smooth and soft.

Our Weightless Body Treatment 2% BHA has a new name. It will now be called 2% BHA Body Smoothing Spot Exfoliant.

Skin Type:

All Skin Types

Concern:

Breakouts , Anti-Aging , Keratosis Pilaris

Ingredients:

Salicylic Acid/BHA , Antioxidants , Chamomile Flower Extract

View all
Product out of stock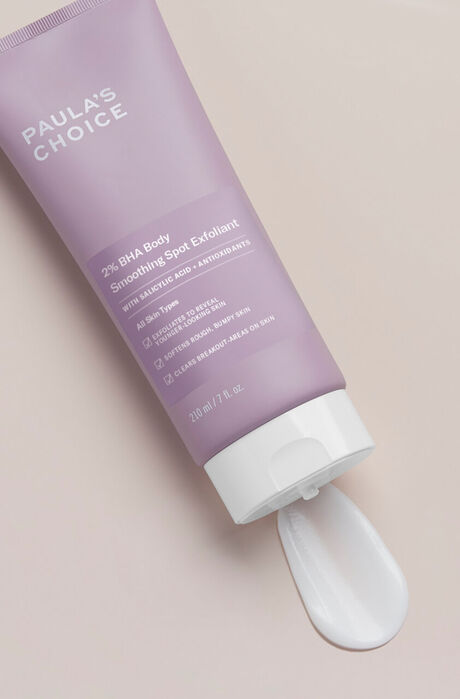 2% BHA Body Spot Exfoliant
Full size
This product is sold out at the moment. Fill in your email address below and we'll gladly send you an email as soon as it is back in stock!
60 day money-back guarantee
Safe payments
What does it do?

Banish rough, dry and bumpy skin from the neck down.

This moisturising, silky body spot exfoliant contains salicylic acid (BHA) which works to gently exfoliate dry, rough skin, for example on the back or shoulders (bacne). It leaves skin hydrated, smooth and soft. BHA also helps improve the appearance of hard clogged pores on arms and legs. With continued use skin is left smoother, younger-looking and more radiant.

Key Features

Leaves skin softer and smoother

Removes built-up dead skin cells

How to use

When using a BHA exfoliant for the first time, introduce it into your routine slowly. Start by using your exfoliant once every other day, and then increase usage to once or twice daily based on your skin's response.

Dispense a small amount into the palm of your hand and apply to clean skin. May be used daily for all-over smoothing and exfoliation, or applied to blemished or rough, bumpy areas of the skin as needed. For daytime use, be sure to follow with a Paula's Choice sunscreen.

Reviews

Thank you for submitting your review! It will be reviewed by our staff before it is posted.

Great for daytime because it doesn't have the greasiness of the liquid. However I find it also to be the strongest of the BHAs

I bought a second bottle because I don't want to run out of this! It slides on the skin, absorbes really quickly, leaves the skin feeling moisturized. I use this on my face since it lasts a really long time and is way less expensive than the face BHA's. I know the ingredients aren't as sophisticated, but this way I use my budget to by other Paula's Choice products.

I've been using PC for years, including her BHA and AHA body lotions because I have very dry, flaky skin prone to eczema AND KP on top of that!

I use this lotion for my whole body every time after I shower to keep my skin KP-free and smooth.....really a huge improvement in the appearance of my skin. I also layer this BHA lotion under my regular cream. Highly recommended!

I have really bad KP all over my arms, chest and stomach. I have tried close to everything to cure it (AHA-products, oils, scrubs and different diets) but this is the best product I've found! I use it twice a day and it gets rid of all my bumps (but not all the redness unfortunately). I also love that it is not to greasy! Most KP products are far to greasy for my skin leaving me with zits, but not this one:) So even though it has not cured me it is the best product I have ever tried and it have saved my life<3

I have used this BHA lotion for over a month. It does the same what KP cloths and Clear exfoliating bodyspray does. They all smooth my skin and lessen the redness but the bumbs still exist. These are by far the best treatment for my KP. The lotion is light and nice to use. I use it every evening and it dried my skin. I wouldn't like to use moisturizing lotion after this lotion but I do have to. I used moisturizer after Clear exfoliating bodyspray and after KP cloths also. A nice product and helps with Keratosis pilaris but I am still unhappy about the red bumbs...


Answer customer service:
Dear Rose,

thanks for letting us know of your experience - we encourage you to contact our customer service department, who might be able to provide you with possible alternative to reduce the red bumbs.

Let me start by saying that I am a big fan of Paula's Choice and various of their products have really changed my skin but this is not one of them. After having read all the very positive comments I placed high hopes in this product but unfortunately I am very disappointed.
I used it religiously for 4 weeks every day because I thought that this would be enough time to really see results. The formula is nice to use, non-sticking, and was not aggressive on my sensitive skin and left it smooth all over body where I don't have KP.
But the KP that I have on my upper arms did not improve at all. The red bumps are still raised and well, red, and I can still feel and see them. I bought this product to help with my KP and I am only giving two stars because I liked the formula. But otherwise it would be one star because it does not do what it claims to do!

I have KP in my thighs and upper arms and this has improved my condition dramatically, by about 80%, I would say. It is not entirely gone, but I had totally given up hope on ever having soft arms and legs, I thought this was just the way my skin was and something I had to learn to live with... and suddenly I do!
I agree that the price is a little high, I can already see that I'll go through it quickly, but really, this transformed my body skin and I am just so grateful.

After using a sample on my KP, I decided to try it on my face, and the next morning I woke up with wonderfully soft and visibly smoother skin. I have oily-combination skin,am in my mid-thirties, and have been breaking out since I was a teen, with blackheads on my nose and chin and all that comes with it. This, in combination with other PC BHA products, will in time hopefully fade/erase all those nasty dark patches and scars from incessant spot squeezing that have been plaguing me for over 20 years now, and at the same time fight off the ageing.

I use this on my back, chest and upper arms and since then my skin is almost clear of breakouts. I didn't have big breakouts in the first place, but I can see a big difference in the number they appear now. I also use it on my legs in between waxing / shaving and I have had almost no bumps of ingrown hair when using it. I like the texture and it leaves skin smooth and silky with no oily feeling or looking. Highly recommend!

I love this lotion ! It makes the skin softer and matifies it. I use it mostly on my back, every day, and it prevents breakouts and help the skin to heal faster. I even use it on my face and it works wonders ! When it's empty I recommend you to cut it open, because of the texture of the lotion, there is a lot of product still inside.

I use this every other day after I have showered on my back and chest. I had really annoying red bumps and breakouts and I felt really uncomfortable. But now after only maybe half of the bottle used, I am pleased to see a difference in my skin. I have sensitive skin on my chest and neck, the slightest touch can aggrevate it and become red and irritated. But this is fabulous!

I find this product a little difficult to spread (not too much). Since I apply it all over the body as my lotion after the shower, I'd prefer it to be lighter. Moreover, I have to apply sun protection in some parts after this, so it all ends up being too much.

I was really excited to try this since nothing else has workes on my KP on the upper arms and thighs. I´ve been using this for about three weeks and I´m disappointed that this product didn´t work for me. I can´t see any difference at all. I´ve been using it at least once a day, often two times a day. On the positive side, I tried it on my boyfriends back where he recently got a milder form of acne and we did see some results.
For me, it was not worth the money. I´ll keep looking for something that fits me better. Customer Care :Thank you for your review. We do wish this product could have produced more favorable results for you and will be sure to share your feedback with Paula and her Product Development Manager. If you would like to try samples of our Skin Revealing Body lotion with 10% AHA, that could be a better fit for you. Because each person's skin type is so uniquely different, AHA's may produce better results for some people. In the meantime we encourage you to contact customer care with any further questions or concerns. We are always happy to help!

Although I´m acne prone and have been on rounds of Roaccutan and anti biotics;the BHA gels/liquids/lotion never really made a difference for me except making my skin a little smoother.

So I thought that AHA:s were best for me....until I accidently tried this on my face-were out of face moisturizer and thought:""Oh well the formula can´t clog me so much if I only have this on for a few hours"

Instead I discovered that the lower PH level was just the right boost BHA needed for my skin!
Blackheads almost gone,no redness,acne under control(only get the occasional 2-3 in the month.

This also makes bumps on upper arms go away,works fine for ingrown hair problems and smoothes feet...wished this product could be avaliable in a 16oz size with pump,would glady buy that:-)

I have been using this product for a week now and my KP in my back arms has almost disappeared!
Tried it also in the face and it smoothed my face quite noticeably!
I am going to recommend it to all my friends!
If only had I discovered it years ago!

I used to use this in the old formulation which cleared my KP by 90% in weeks. Then it went off the market and I waited a year for it to come back. Unfortunately I don't find the new product as good as the old formulation, don't know why. It is definitely easier to use (it's great on normal areas of skin) but I'm using the facial BHA product on my arms instead as I find it works better for my KP.

Very happy with this product, a must have for me to help fight blackheads and keep smooth and soft the skin of my back. The texture penetrates inmediately has a soft watermelon scent to it and I use it on my face whenever I need an extra boost of exfoliation not everyday though because it would be too strong for my skin. I can only recommend it

More reviews Less reviews

Ingredients

What are the key ingredients?

Salicylic Acid/BHA
Primarily an exfoliant, helps to shed dead skin on the surface and inside the pore, therefore effective for reducing breakouts and blackheads. It also has soothing properties.

Antioxidants
Help to protect skin against harmful free radicals, among others caused by sun light and pollution. They have anti-ageing properties and calm skin.

Chamomile Flower Extract
Derived from plant species Matricaria recutita, has moderate antioxidant and potent skin-soothing activities.

Ingredients:
Aqua, Butylene Glycol (hydration), Cetyl Alcohol (texture-enhancing), PPG-14 Butyl Ether (texture-enhancing), Salicylic Acid (Beta Hydroxy Acid, exfoliant), Dimethicone (hydration), Tocopheryl Acetate (vitamin E/antioxidant), Chamomilla Recutita (Matricaria) Flower Extract (skin-soothing), Epilobium Angustifolium (Willow Herb) Flower/Leaf/Stem Extract (skin-soothing), Camellia Oleifera (Green Tea) Leaf Extract (skin-soothing), Vanilla Planifolia Fruit Extract (antioxidant), Bisabolol (skin-soothing), Allantoin (skin-soothing), Cyclopentasiloxane (hydration), Cyclohexasiloxane (hydration), Dimethiconol (hydration/texture-enhancing), PEG-40 Stearate (texture-enhancing), Sorbitan Stearate (texture-enhancing), Polysorbate 20 (texture-enhancing), PVM/MA Decadiene Crosspolymer (texture-enhancing), Polyacrylamide (texture-enhancing), C13-14 Isoparaffin (texture-enhancing), Laureth-7 (texture-enhancing), Disodium EDTA (stabilizer), Sodium Hydroxide (pH adjuster), Hexylene Glycol (hydration/texture-enhancing), Caprylyl Glycol (preservative), Ethylhexylglycerin (preservative), Phenoxyethanol (preservative).

Faq

How does the 2% BHA Body Spot Exfoliant differ from the other Paula's Choice 2% BHA products?

The primary difference is with the base formula and the pH level. Our 2% BHA Liquid Exfoliant and 2% BHA Lotion Exfoliant contain the same percentage of salicylic acid, but their pH levels are slightly higher. Because facial skin is generally more sensitive than body skin, Paula opted to formulate the Spot Exfoliant with 2% BHA at a lower pH level than our other 2% BHA products. This not only increases salicylic acid's ability to exfoliate, but makes this product especially beneficial for use on areas of rough, thickened skin such as elbows, knees, and heels. The lotion base of 2% BHA Body Spot Exfoliant is significantly less emollient than our 2% BHA Lotion and entirely different from our 2% BHA Liquid and 2% BHA Gel.

Can I use the 2% BHA Body Spot Exfoliant on my face?

Although the formula has been developed for the skin on your body, it is possible to also use it on your face. In fact, some skin types may prefer the texture of the 2% BHA Body Spot Exfoliant for facial use.
Research
Journal of European Academy of Dermatology and Venerology, September 2016, issue 9, pages 1480-1490 Archives of Dermatology, August 2000, issue 8, pages 989-94 Molecular Medicine Reports, November 2010, issue 6, pages 895–901 Food Chemistry, 2010, volume 119, pages 643-647 Journal of Ethnopharmacology, September 2004, issue 1, pages 67-75 General Physiology and Biophysics, September 2013, issue 3, pages 347-59 Journal of Clinical, Cosmetic and Investigational Dermatology, 2015, volume 8, pages 455-461