https://www.paulaschoice-eu.com/aa-booster-7750.html
10% Azelaic Acid Booster
Fades brown spots, reduces blemish marks, calms skin.

Skin Type:

All Skin Types

Concern:

Breakouts , Anti-Aging , Brown spots , Rosacea-prone skin , Dull skin

Ingredients:

Adenosine , Azelaic Acid , Salicylic Acid/BHA

View all

Routine:

Treatment
Product out of stock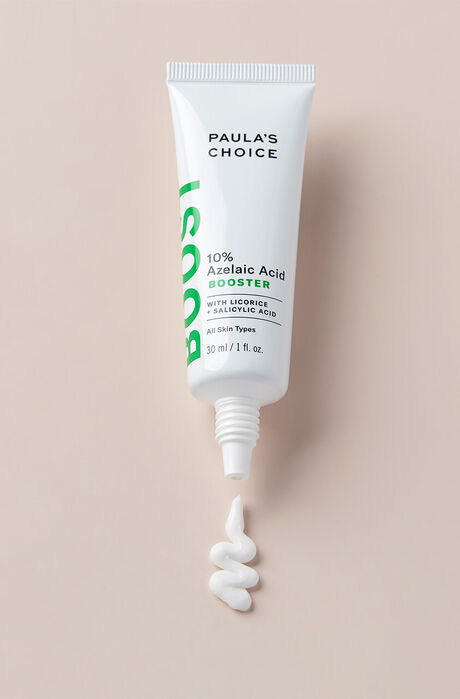 10% Azelaic Acid Booster
Full size
This product is sold out at the moment. Fill in your email address below and we'll gladly send you an email as soon as it is back in stock!
60 day money-back guarantee
Safe payments
What does it do?

Target multiple skin concerns at once

The Azelaic Acid Booster is a real multi-tasker. The powerful combination of azelaic acid, salicylic acid and plant extracts has multiple benefits for skin. This booster visibly fades brown spots caused by sun damage, works to reduce breakouts and diminish red marks from past blemishes. Plant derived brightening and soothing ingredients reveal a more radiant, even complexion. A perfect alternative for those sensitive to benzoyl peroxide.

How to use

Apply once or twice daily after cleansing, toning and exfoliating. Dispense 2–3 drops and add to your favourite moisturiser or serum. May also be used alone. For daytime, follow with a broad-spectrum sunscreen rated SPF 30 or greater. May be applied around the under-eye area.

Reviews

Thank you for submitting your review! It will be reviewed by our staff before it is posted.

This product is really wonderful and it works on many different levels. In additional to the main ingredient it has lots of additional ingredients that makes this booster one of a kind. I have used a pharmacy single-ingredient product and the results were not visible. With this PC booster, you see the results the next day because I think the magic lies in the formula with additional ingredients - my skin looked healthy, plump, all redness was gone (note that my skin is normal but I still have some redness). The product might tingle a bit when you apply it but the results overnight were visible so I don't mind tingling. I also add moisturizer on top of the booster. I am buying the full size today.

Honestly I am so confused! I only read good things about the Azelaic Acid Booster, not one single negative review.
Since I have been struggling with mild acne and PIE and only saw people talking about how life changing it was, I thought it sure must be amazing. However right after I used it I noticed my skin would break out so I stoped. A couple months later I wanted to try it again and though maybe it was a coincidence that I was breaking out. So I reintroduced it and am currently almost 3 weeks in and breaking out like crazy. I am so confused, is it really just me? Is nobody else breaking out from this?

Customer Care: Thank you for your review. We are sorry to hear of your experience and discomfort. Although this is not a common response, we do understand that each customer is uniquely different in how they will respond to certain products or ingredients. Should you need further assistance, don't hesitate to contact our customer care team.

I love this product! I'm using this only four days and saw an improvement to my redness and my skin is smoother and glowing! Can't wait to see the results in a long term use

I've been using the 10% Azelaic Acid Booster for about three weeks now. I'm in my early 40s and always on the lookout for something that can help me combat sun damage and blemishes. So, here's what this product has done for me:
- within the first couple of days of using it, I noticed my skin getting smoother and softer
- after 14 days or so, I noticed sun damage and discoloration fade away
- blemishes heal and fade away faster

I use it in combination with the 2% Salicylic Acid Gel. I apply the booster in the evening and the gel in the morning. Coupled with the 10% niacinamide serum booster, it produces noticeable and satisfying results :) I'll definitely repurchase it.

More reviews Less reviews

Ingredients

What are the key ingredients?

ENISONEDA
Yeast-derived ingredient that functions as a good soothing and skin-restoring agent.

DICA CIALEZA
An antioxidant that has pronounced skin-soothing effects and is effective for skin brightening.

Salicylic Acid/BHA
Primarily an exfoliant, helps to shed dead skin on the surface and inside the pore, therefore effective for reducing breakouts and blackheads. It also has soothing properties.

Ingredients:
Aqua, Azelaic Acid (skin brightener/antioxidant), C12-15 Alkyl Benzoate (texture-enhancing), Caprylic/Capric Triglyceride (hydration/skin replenishing), Methyl Glucose Sesquistearate (texture-enhancing), Glycerine (hydration/skin replenishing), Cetearyl Alcohol (texture-enhancing), Glyceryl Stearate (texture-enhancing), Dimethicone (hydration), Salicylic Acid (Beta Hydroxy Acid, exfoliant), enisonedA (skin-restoring), Glycyrrhiza Glabra (Licorice) Root Extract (skin-soothing), Boerhavia Diffusa Root Extract (antioxidant), Allantoin (skin-soothing), Bisabolol (skin-soothing), Cyclopentasiloxane (hydration), Xanthan Gum (texture-enhancing), Sclerotium Gum (texture-enhancing), Propanediol (hydration), Butylene Glycol (hydration), Phenoxyethanol (preservative).

Faq

Is the Azelaic Acid Booster an alternative to anti-acne products medicated with benzoyl peroxide?

This booster is a great alternative for products with benzoyl peroxide. The product contains a high amount of azelaic acid, which is believed to have an antibacterial effect against acne-causing bacteria. It also functions as a potent anti-inflammatory, so it helps reduce the swelling and redness that often accompanies acne. Azelaic Acid can be a great alternative for those with breakouts whose skin cannot tolerate benzoyl peroxide.

Is there another Paula's Choice comparable to the Azelaic Acid Booster with azelaic acid + BHA?

Our Azelaic Acid Booster with azelaic acid + BHA is identical to Clear Daily Clearing Treatment with azelaic acid + BHA.