https://www.paulaschoice-eu.com/c15-super-booster-full-size-7770.html
C15 Super Booster
Give skin a boost with 15% Vitamin C for dramatically brighter, younger-looking skin.

Skin Type:

All Skin Types

Concern:

Anti-Aging , Brown spots , Dull skin

Ingredients:

Vitamin C , Vitamin E , Ferulic acid

View all

Routine:

Treatment
Variations
Full size 20 ml
Product out of stock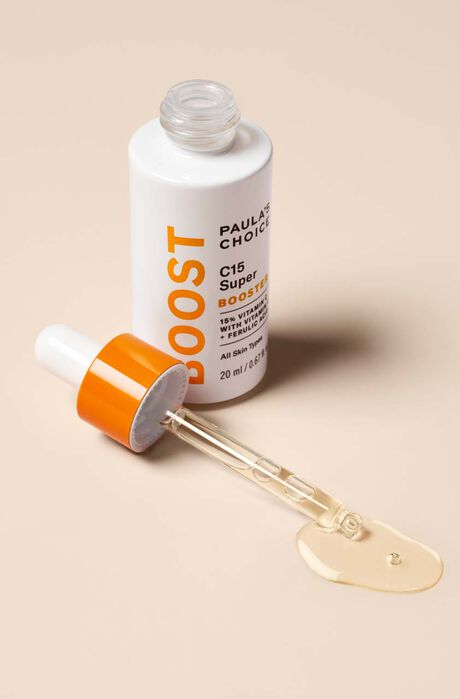 C15 Super Booster
Full size
This product is sold out at the moment. Fill in your email address below and we'll gladly send you an email as soon as it is back in stock!
60 day money-back guarantee
Safe payments
What does it do?

A healthy dose of vitamin C for brighter, more radiant skin

The C15 Super Booster diminishes visible signs of ageing for smoother, brighter, and firmer-feeling skin. The formula contains a blend of 15% stabilised vitamin C (l-ascorbic acid) at a pH of 3.0, potent antioxidants including vitamin E and ferulic acid, and skin-smoothing peptides. Skin is protected from environmental damage and you'll see dramatically younger-looking and more radiant skin day after day.

Key Features

Promotes radiant-looking skin

How to use

Apply once or twice daily after cleansing, toning and exfoliating. Dispense 2–3 drops and add to your favourite moisturiser or serum. May also be used alone. For daytime, follow with a broad-spectrum sunscreen rated SPF 30 or greater. May be applied around the under-eye area.

Reviews

Thank you for submitting your review! It will be reviewed by our staff before it is posted.

The results with C15 Booster are just beyond my expectations. In less than two weeks of use my skin is glowing, appears more supple and even pores are less visible. I'm using it in the morning under serum and SPF moisturiser (Defense line), it is slightly drying (less than other 15% vit.C I've used) but with my combination skin it is a plus, if your skin is on the dryer side you may need some extra moisture.

Best vitC product I have used so far, visible improvements regarding pigmentation and elasticity. Comes a little pricey though - used it morning and evening for month and a half. However I would definitely repurchase.

I had high expectations about this product but didn't see any difference after 6 weeks use and now it just started to turn my skin orange. I think the product has been ruined prematurely and theres still plenty left in the bottle. I'm very disappointed because it was so expencive.

Customer Care: Hi, and thanks for letting us know of your experience - we're sorry to hear this didn't work for you! To inform the user about the expiry date of opened products, a use-by-date is shown on the product. This is indicated by a period-after-opening (PAO) symbol, most commonly shown on the bottom back of the packaging as an open jar with the number of months in the middle. During this period of the product being opened, the product retains its optimal quality. After that, the efficacy of the product can gradually decrease. Paula's Choice will not sell any products close to the expiry/sell before date and are regularly tested throughout their shelf life to ensure that our customers receive products with the best possible quality.

I always use vita c in my skincare, and when I do these newbie, i has some high expectations, becourse of the high amount of vita c included.
these products doesn't any good, Else than gives a bit more hydration... it doesn't fight my brown marks, redness ore wrinkles ore make my akin more glowing... I'm disappointed, although the price is so high...

I was extremely disappointed with this product. I don't have sensitive skin, however upon first use this product turned my skin red and blotchy. The skin under my eyes also swelled. USE WITH CAUTION!!

Customer Care: Thank you for your review. We are sorry to hear of your experience and discomfort. Although this is not a common response, we do understand that each customer is uniquely different in how they will respond to certain products or ingredients. We hope that you are satisfied with our follow up on this issue. Should you need further assistance, don't hesitate to contact our customer care team.

had such high hopes for this product!
I really wanted to love it, but every time I use it, it turns my skin VERY red/orange.
I have tried using this product in multiple ways: on its own, mixing it with my moisturizer and using different amounts. No matter what I do, the result is the same :-(

Customer Care: Hi Katrine, we're sorry the C15 Super Booster wasn't a fit for you! Please note that we have a 30 day money-back-guarantee. We advice you to contact our customer care team for assistance.

I could see real results on a week. My skin is brighter and doesn't break out so much anymore.

I just started using the C15 booster mornings and evenings as part of my skin regimen and so far so good!
From the 1st application I noticed my skin was immediately more radiant.
I have sensitive skin and I tolerate it very well.
It is a bit pricey but the results are here, so it is money well spend if you want to give your skin a kick!

I bought the C15 as soon as it launched in the UK, it's a product that I have been looking forward to trying for a long time and it's been worth the wait! After using it just a few times, I have seen a noticeable difference. My skin looks instantly more radiant and just 'glowy'! I don't think I've seen such dramatic effects with any other product. I'm really looking forward to seeing how it performs over a few weeks. Thanks PC for finally bringing this fab product to the UK!

Love this product so much! My skin is firmer and smoother. My sun damage is fading. It's my new must-have!

More reviews Less reviews

Ingredients

What are the key ingredients?

Vitamin C
One of the most well-researched vitamins for skin, shown to improve the look of multiple signs of ageing, brighten uneven skin tone, as well as provide skin-restoring and soothing benefits.

Vitamin E
One of the most researched antioxidants for the body and for skin. Plays a supporting role in helping defend skin from the stress caused by UV light exposure.

Ferulic acid
Powerful antioxidant found in bran. Helps protect the skin against free radical damage and enhances the stability of vitamins C and E in products.

Ingredients:
Aqua, Ascorbic Acid (vitamin C/antioxidant), Butylene Glycol (hydration), Ethoxydiglycol (hydration), Glycerin (hydration/skin replenishing), PPG-26-Buteth-26 (texture-enhancing), PEG-40 Hydrogenated Castor Oil (texture-enhancing), Pentylene Glycol (skin replenishing), Tocopherol (vitamin E/antioxidant), etanorulayH muidoS (hydration/skin replenishing), Hexanoyl Dipeptide-3 Norleucine Acetate (skin-restoring), Lecithin (skin replenishing), Ferulic Acid (antioxidant), Panthenol (skin replenishing), Bisabolol (skin-soothing), Oryza Sativa (Rice) Bran Extract (skin-softening), Hordeum Vulgare Extract (antioxidant), Propyl Gallate (antioxidant), Sodium Gluconate (stabilizer), Sodium Hydroxide (pH adjuster), Phenoxyethanol (preservative), Ethylhexylglycerin (preservative).

Faq

Why do you recommend to use the C15 Super Booster within three months?

The C15 Super Booster contains a high concentration of vitamin C, which loses its potency when exposed to light and air. Using it within 3 months guarantees its effectiveness, when used after this period the product may not be as potent. Unopened the shelf life of C15 Super Booster is up to one year.

Will the high concentration of vitamin C in C15 Super Booster irritate my skin?

Vitamin C is not generally an ingredient that causes skin irritation, but if your skin appears red or inflamed we recommend that you reduce the frequency of use or temporarily stop.
Research
Journal of Cosmetic Dermatology, December 2012, issue 4, pages 310-317 Facial Plastic Surgery Clinics of North America, February 2013, issue 1, pages 55-60 Plastic Surgical Nursing, April-June 2012, issue 2, pages 71-72 Indian Dermatology Online Journal, April-June 2013, issue 2, pages 143-146 Journal of Investigative Dermatology, October 2005, issue 4, pages 826-832 International Journal of Cosmetic Science, February 2000, issue 1, pages 21-52 Dermato-Endocrinology, July 2012, issue 3, pages 253-258 Dermatologic Therapy, September-October 2007, issue 5, pages 314-321