https://www.paulaschoice-eu.com/c25-super-booster-full-size/7850.html
C25 Super Booster
Targets stubborn brown spots, red marks and wrinkles.

Skin Type:

All skin types

Concern:

Anti-Aging , Brown spots , Dull skin

Ingredients:

Silicone , Vitamin C

View all

Routine:

Treatment
Variations
Full size 15 ml
Remove from wishlist
Add to Wishlist
Product out of stock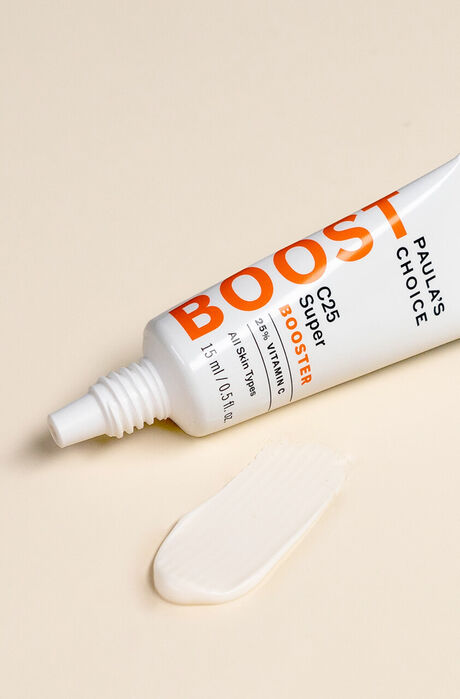 C25 Super Booster
Full size
This product is sold out at the moment. Fill in your email address below and we'll gladly send you an email as soon as it is back in stock!
What does it do?

Target stubborn brown spots, red marks and wrinkles.

This innovative spot treatment contains a high concentration of 25% ascorbic acid (Vitamin C) to visibly improve uneven skin tone, red marks and skin texture. The silky formula reduces fine lines and leaves skin hydrated, softer and visibly brighter.

Key Features

Softens fine lines and wrinkles

How to use

Apply to brown spots and wrinkles day or night. Use as a spot treatment or apply all over. For daytime use, finish with a sunscreen rated SPF 30 or above.

Reviews

Thank you for submitting your review! It will be reviewed by our staff before it is posted.

I have combination to oily skin, and I have large brown spots on my forehead and my cheekbones. I started to use this product in last fall and after a while I started to notice little 'bites' (it's the best description that I can give) on the brown spots. Since then, I started to see them shrink and break. I dont have one big brown spot anymore, but several brown spots, but a lot smaller then before . I have to say that I tried a lot of products for this problem but none of them work for me like this one, I will keep using it. I always use a sunscreen SPF 50, even in the winter.

I received a sample on my last order. Sometimes I use it and it feels ok, like nothing on my skin. Other times it really stings and burns! I'm using other products. Can it be interaction with other ingredients?

Customer Care: Thank you for your review. Although this is not a common response, we do understand that each customer is uniquely different in how they will respond to certain ingredients or a combination of products. Please be sure to use it as your last step in your nighttime routine, and pat it gently on your skin.

Though I haven't been using it long enough to see any major changes on brown spots, it makes my skin look healthier somehow. The only drawback for me so far is that I have to pat it on instead of rubbing it. Since I am using it all over my face in order to prevent the appearance of brown spots along with erasing the ones I already have, patting it on makes me use a lot more product that I normally would.

I have ance scars, both old and new. I had high hopes from this product. However, after almost weeks of use, not much seemed to be changed. Is expensive and I was badly hoping it would work, but it did not.

Anyways, the PC team was kind enough to process the refund.

Customer Care: Thank you for your review. Although this is not a common response, we do understand that each customer is uniquely different in how they will respond to products or ingredients. We are happy to hear that you have already contacted our customer care department.

I love this product! I've been using this for a few months now. I bought this because, since a few years, I suffer from hyperpigmentation. I have a pale skin and as a a kid and teenager I never wore a lot of sunscreen. I have never been a beach girl, didn't love "baking" in the sun... But still when I turned 30, i began to get some slightly brown spots on my forehead and under my eyes. First I thought it were cute freckles, but they never went away, it just got worse.. I don't find them that cute anymore :) But now I wear my sunscreen very faithfully, winter and summer. It's never too late to start using sunscreen. Although I wish I've started using it when I was much younger. Anyway, the sunscreens helps my skin condition from getting worse. This product has also helped to keep it under control. I didn't expect any miracles from this product, but it does a very very good job. My spots are a tiny bit lighter now and my overall skin condition is much better thanks to this product. My face is very soft, and looks much healthier. As I said, I didn't expect my brown spots to vanish, I guess only laser can help. But, it surely isn't a waste of money, because my skin does look better. It also doesn't irritate my sensitive skin, although it does tickle a bit when I just put it on my face. I will keep using this, every day.

Although I swear by Paula's Choice products this one is not really my cup of tea. After treating my acne with benzoyl peroxide under the supervision of a dermatologist my skin became super clear. I would not get any pimples. And I still do not get any. But after my acne got away I noticed some dark spots on my skin. I decided to try the CLINICAL 1% Retinol Treatment and it worked wonders on my skin because it also protected it from acne and helped with my first fine lines. After the trial size was over I decided to try the Resist Vitamin C Spot Treatment mini because it sounded like really promising. So I thought before buying the regular size between the 2 why not try the mini size. I have to say I was dissapointed. I have not seen any improvement in my brown spots and I followed the instructions precisely.The cost in accordance with the results do not match. For 5ml the cost is 25euros and I have to say the fact that no results were visible really dissapoints me.

More reviews Less reviews

Ingredients

What are the key ingredients?

Silicone
In its various forms it can feel like silk on skin. It's a great water-binding agent that holds up well and offers protection against moisture loss.

Vitamin C
One of the most well-researched vitamins for skin, shown to improve the look of multiple signs of ageing, brighten uneven skin tone, as well as provide skin-restoring and soothing benefits.

Ingredients:
Cyclopentasiloxane (hydration), Ascorbic Acid (vitamin C/antioxidant), Ethylhexyl Hydroxystearate (emollient), Polysilicone-14 (texture-enhancing), Dimethicone (texture-enhancing), Polymethylsilsesquioxane (texture-enhancing), Disteardimonium Hectorite (texture-enhancing), Propylene Carbonate (preservative).

FAQ

Can I use C25 Super Booster with a retinol or prescription retinoid product?

Our C25 Super Booster beautifully complements the benefits of retinol, and research has proven that retinol is more effective when combined with vitamin C. Applied together, they are a formidable defense against free radical damage that ages skin, and both ingredients help to fade brown spots.

Can I use C25 Super Booster with an AHA or BHA exfoliant?

If you are already using an AHA or BHA exfoliant it is fine to use C25 Super Booster. If you're new to using an AHA or BHA exfoliant, we suggest separating usage of the exfoliant and C25 Super Booster; for example, apply the exfoliant in the morning and C25 Super Booster at night.
Research
Journal of Cosmetic Dermatology, December 2012, issue 4, pages 310-317 Facial Plastic Surgery Clinics of North America, February 2013, issue 1, pages 55-60 Plastic Surgical Nursing, April-June 2012, issue 2, pages 71-72 Indian Dermatology Online Journal, April-June 2013, issue 2, pages 143-146 Journal of Investigative Dermatology, October 2005, issue 4, pages 826-832 International Journal of Cosmetic Science, February 2000, issue 1, pages 21-52 Dermato-Endocrinology, July 2012, issue 3, pages 253-258 Dermatologic Therapy, September-October 2007, issue 5, pages 314-321