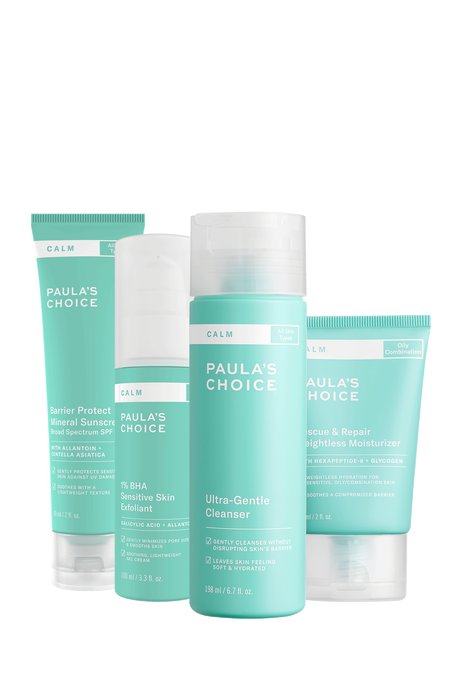 NEW
LOOK
https://www.paulaschoice-eu.com/calm-redness-relief-combination-to-oily-skin-bundlecalmoily.html
Calm Set - Oily Skin
This Set soothes red, irritated and sensitive skin.

Our Calm collection is getting a new look! Not all products within this collection will be repackaged at the same time. It is possible that you may receive products with the old and new packaging in your order.

Skin Type:

Combination skin, Oily skin

Concern:

Redness , Rosacea-prone skin , Sensitive skin

Ingredients:

Aloe Vera , Beta-glucan , Glycerin

View all
This Set soothes red, irritated and sensitive skin.
Our Calm collection is getting a new look! Not all products within this collection will be repackaged at the same time. It is possible that you may receive products with the old and new packaging in your order.
Combination skin, Oily skin
What's my skin type?
Redness, Rosacea-prone skin, Sensitive skin
Free delivery over € 150
30-day money back guarantee
Safe payments
Be extra gentle for your red, sensitive and break-out prone skin
Do you have sensitive skin? Redness that will not go away? Or even rosacea-like spots? And on top of that break-outs? Then this Calm Redness Relief collection is for you. The set soothes your irritated, extra sensitive skin and reduces redness.
Key Features
Suitable for rosacea-prone skin
How to use
First use the cleanser. Then you apply the exfoliant (note: do not rinse). As last step apply the day- or nighttime moisturiser.
Tap for info