https://www.paulaschoice-eu.com/calm-redness-relief-toner-normal-to-oily-skin-full-size-9160.html
Calm Soothing Liquid Toner
Lightweight, ultra-gentle toner calms sensitive skin while providing non-greasy hydration.

Skin Type:

Combination skin, Oily skin

Concern:

Redness , Rosacea-prone skin , Sensitive skin

Ingredients:

Beta-glucan , Boerhavia Diffusa Root Extract , Sea Whip Extract

View all

Routine:

Toner
Remove from wishlist
Add to Wishlist
Variations
Full size 118 ml
Product out of stock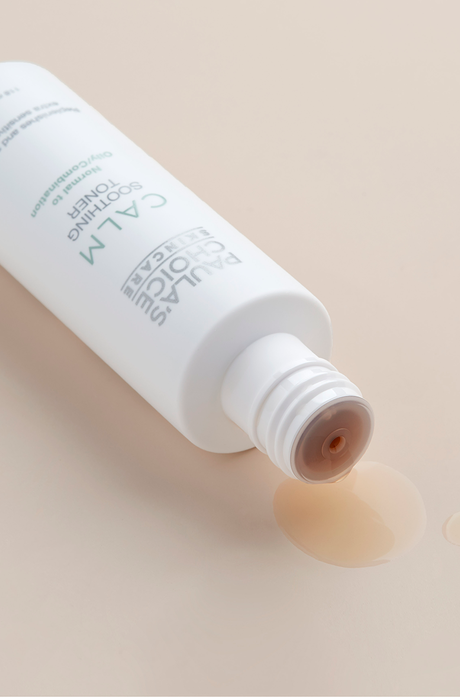 Calm Soothing Liquid Toner
Full size
This product is sold out at the moment. Fill in your email address below and we'll gladly send you an email as soon as it is back in stock!
What does it do?

A soothing toner for sensitive skin that's also oily.

This lightweight, ultra-gentle toner has been specially formulated for sensitive, oily skin. It contains a blend of potent antioxidants and soothing, plant-based ingredients to instantly relieve redness and calm sensitive skin while providing non-greasy hydration to replenish skin after cleansing.

Key Features

Suitable for rosacea-prone skin

Strengthens skin's natural barrier

How to use

After cleansing, apply a little bit of toner on a cotton pad to your face and neck. Do not rinse off.
Follow with an exfoliant, antioxidant serum and/or a day or night cream suitable for your skin type. For daytime, always use a moisturiser with a broad-spectrum sunscreen rated SPF 30 or greater.

Reviews

Thank you for submitting your review! It will be reviewed by our staff before it is posted.

I was really excited to try this product to counteract the redness caused by my breakouts but unfortunately, it didn't suit my skin. A few seconds after application my skin turned red and I felt a stinging/burning sensation that subsided only after a couple of minutes and several layers of thick moisturizer. I am happy with the rest of my PC products, this toner is simply not the best fit for my skin.

Customer Care: Hi Sveva, thank you for your review of our Calm Soothing Liquid Toner. I'm sorry to hear that this product isn't right for your skin. Athough irritation isn't a common result of this product, all skin is different and no one product works the same for everybody. If you are still struggling with irritation I recommend considering the Calm Serum. I'm happy to see you are in contact with our customer care team already about your experience. Kind regards, Marissa - Paula's Choice Customer Care

It burns my face and turns it red every time. I don't really have a particularly sensitive facial skin though and usually fine with any product, but this one was not compatible with my skin whatsoever

Customer Care: Thank you for your review. We are sorry to hear of your experience and discomfort. Although this is not a common response, we do understand that each customer is uniquely different in how they will respond to certain products or ingredients. Should you need further assistance, don't hesitate to contact our customer care team.

I was really looking forward to try Paula's Choice "Calm" line, and I was very excited when I received this product. Though, when I tried it, my face turned red and it felt like burning. The following morning, my skin still felt uncomfortable.
I am happy this product works for other people, but it is definitely not for me.

Customer Care: Thank you for your review. We are sorry to hear that this product was not for you, but are happy to see that our customer care team has provided you with an alternative solution.

This toner has actaully made a difference on my sensitive skin. It feels and looks much better and I really feel it does what it says. The smell though, is slightly unpleasant (otherwise it would definitely have gotten five stars), but I can live with that.

This is a soothing and calming toner for my oily yet sensitive skin. Nice to use when having the red and flaming feeling on the cheeks. I may still like the Clinical Redness Relief better... This toner is liquid - Clinical Redness Relief is a bit gel-like.

More reviews Less reviews

Ingredients

What are the key ingredients?

Beta-glucan
Excellent ingredient for improving the look of redness and other signs of sensitive skin. It has some antioxidant properties and is a skin-soothing agent

Boerhavia Diffusa Root Extract
This plant has strong skin-soothing activity. Like all plant extracts, it also has antioxidant ability.

Sea Whip Extract
Extract from the sea that has skin-soothing properties, especially suitable for sensitive or redness-prone skin.

Ingredients:
Aqua, Butylene Glycol (hydration), Polysorbate 20 (texture-enhancing), Glycerin (hydration/skin replenishing), Colloidal Oatmeal (skin-soothing), Beta-Glucan (skin-soothing/antioxidant), Sea Whip Extract (skin-soothing), Boerhavia Diffusa Root Extract (skin-soothing), Panthenol (skin replenishing), Epigallocatechin Gallate (antioxidant), Gellan Gum (texture-enhancing), Phytic Acid (stabilizer), Disodium EDTA (stabilizer), Ethylhexylglycerin (preservative), Potassium Sorbate (preservative).

Faq

Why do I need a toner?

A toner is a great addition after cleansing to make sure that you've removed your makeup. A good toner contains antioxidants that soothe and protect the skin, and restorative ingredients that counteract dehydration. Your skin feels softer and functions better.
Research
Phytotherapy Research, February 2014, volume 28, issue 2, pages 159-66 Indian Journal of Dermatology, Venereology, March-April 2012, issue 2, pages 142-5 Journal of Cosmetic Science, July-August 2011, issue 4, pages 361-70 Marine Drugs, 2004, issue 2, pages 73-82