https://www.paulaschoice-eu.com/clear-extra-strength-travel-kit/bundleclearexttrial.html
Clear Extra Strength Trial Kit
The travel kit works to unclog pores, prevent breakouts and fight blackheads and redness.

Skin Type:

Combination skin, Oily skin

Concern:

Breakouts , Blackheads , Enlarged pores

Ingredients:

Avobenzone , Salicylic Acid/BHA , Sodium Laureth Sulfate

View all
Remove from wishlist
Add to Wishlist
Product out of stock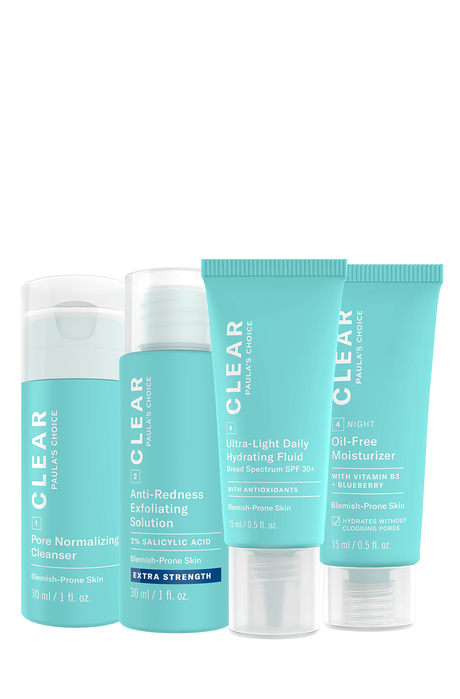 Clear Extra Strength Trial Kit
This product is sold out at the moment. Fill in your email address below and we'll gladly send you an email as soon as it is back in stock!
What does it do?

Cleanse, exfoliate, protect: the best way to tackle stubborn breakouts

The Clear Extra Strength Sample Set helps in the battle against the stubborn breakouts, blackheads and redness. These mini's let you try the products for 2 weeks, so that you can discover the best skin of your life. This set includes a facial cleanser, a BHA exfoliant, a day moisturiser with SPF and a nighttime moisturiser.

Key Features

Soft on skin, hard on breakouts

Unclogs and visibly refines pores

How to use

First use the cleanser. Then you apply the exfoliant (note: do not rinse). As last step apply the day- or nighttime moisturiser.

Reviews

Thank you for submitting your review! It will be reviewed by our staff before it is posted.

I read a lot of other reviewers mentioning this product was recommended to them by their dermatologist. I'm wondering why they don't just use a prescription product then as that is a more potent and effective product. Retinol isn't as effective, but still delivers results. The first time I used this PC product my face was SO RED. It reacted angrily and I felt sunburned. My skin adjusted though and it did look smoother, The problem is, a lot of other PC products I use contain a bit of retinol in it and I felt my face was getting overloaded by it. It got red and angry whenever anytime was applied to it- which is a sign to me I was overdoing it. I use the bottle I have now once every week or so to give my face a break. It packs a punch though and does improve the look of my skin. I would recommend it to anyone looking to improve the look and texture of their skin. The pump is easy to use. However the bottle is opaque and it's hard to tell when you're running out of product. I'm taking off a lippie for that.

I was a bit hesitant in the beginning after reading the instructions of gradual use in order to avoid irritations; I used it every other day for the first week and then every day- no redness, no irritation whatsoever and at the same time visible results in skin appearance and firmness- a must have

First I bought a trial size and I liked the results. I have plenty of whiteheads on my jawline and neck that give me cystic acne and nothing would help with that. Ever since I started using this treatment my jawline is smoother and smoother, my bumps disappear and my face looks so much more fresh and even-toned. I have kissed goodbye my painful aweful cystic acne! This is one of my favorite products from the brand. It is worth every cent!

It's a product that works wonders if you wish to smooth out your skin, whether it's scars from acne or enlarged pores. It also feels as if it gives a healthy overall glow to your entire face. Though you should follow instructions carefully and let your skin adapt. If you overuse it your skin will flake and dry out - balance (and a good moisturiser) is the key. Personally I shall continue using this at nighttime with a day or two space inbetween treatments.

I am 32 with oily skin, some blackheads (nose), a couple of closed comedones (one every couple of months) and extremely rare breakouts (less than one inflammed cyst a year).
I have been using a complete PC Regimen for about 6 months, and I have been delighted with all of the products so far (Cleanser, Toner, Liquid Exfoliant, Multi-Correction anti-aging treatment and Resist moisturisers, Oil absorbing mask, eye cream, etc...).
The liquid exfoliant kept blackheads to a minimum and the entire regimen helped my skin look fresh, bright and wrinkle free!
A few weeks ago I decided to try the 1% Retinol Treatment... and it was a big big mistake! I strictly followed all of the advice regarding the product, using it every other three nights for 3 weeks, no BHA or AHA on the same days, etc. At first my skin was ok, even glowing, but after a week it started getting very congested, especially around my nose and chin. Two weeks later, I broke out in about ten inflamed whiteheads around the nose and upper lip, and about as many on my chin... I had never experienced that before, even as a teenager! Needless to say, it was quite embarassing getting such a massive breakout all of a sudden at 32... I wasn't sure what was causing the reaction, but as the only thing that had changed in my skin care routine was the Retinol treatment I thought that might be it. I stopped using the treatment and went back to the basic 5 step PC skin care regimen I was doing before and my skin started to improve. Now, two weeks after stopping the Retinol Treatment the skin around my nose and upper lip is back to normal, except for a few red post-breakout marks, but I am still dealing with the clogged pores, whiteheads, blackheads and red marks on my chin. I can't wait for my skin to get back to the way it was before introducing the Retinol treatment.
So, I love all of the other PC products I have tried so far, but I wish the Retinol Treatment wasn't recommended for all skin types or breakout prone skin, or at least came with a word of caution...

I have been using this for a year now. Just got my second bottle today. I've never seen ANYTHING that not only can change how your skin looks, but how it works as well. There were side effects yes. There was peeling and flaking specially in the eye area even though i never applied it directly there, and my concealer the morning after couldn't stay in place. Also, the weirdest side effect i experienced was that everything else i applied on my face burned like hell. Moisturisers i've been using for years, serums, sunscreen, everything. Not the product itself but everything else. I was patient and after a month or two....wiiiiii!!!!

I'm 27, normal to combination skin,with hormonal breakouts once a month that took forever to go away, heavy smoker, and from a beautiful but extremely sunny country. I started using a pump only at night and once a week after cleansing and toning. I followed with a serum and/or paula's face oil and my moisturiser. No BHA Liquid (LOVE OF MY LIFE) with it in the beggining, as the directions said. After a month i went to two applications per week. Still side effects, no bha. And after a while, my skin calmed down. Nothing burned, nothing bothered me. I added my bha. So cleansing,toning, exfoliating, clinical, serum, moisturiser, facial oil.

Well... I started waking up with beautiful radiant almost perfect skin. Also, did you notice the past tense when i said "they TOOK for ever to go away?" My breakouts went from 5 to 1-2. I still get one or two, but they fade immediately with no extras (tea tree oil solutions, blah blah blah). Just on their own. They can't survive for more than two or three days. A year has passed, and i'm on two or three times per week with no problems, only benefits. Only a pump. This thing lasts and works.

Bottom line : all i know is that i had three expression wrinkles on my forehead and fine lines under the eyes and now i don't. THANK YOU! I won't have to quit smoking any time soon! :D (kidding)....(no i'm not)

I am 33, with mature acne and first sign of ages. For me it is the best product I have ever used.It really works. My skin glows, looks healthy, heal faster. This product resolved a lot of my skin problems.

I bought this product in combination with other PC products to establish new skincare routine. I followed the instructions and slowly introduced it into my routine, despite that I still experienced irritation and slight burning in first couple of seconds, followed by redness. I kept using it thinking that my skin will get used to it, the side effects did dial down but I saw absolutely no benefit or change on my skin after more than one month of using it. It did not plump my fine lines at all (I am 24), it caused flakiness which I expected, I was okay with getting some side effects, given that it would help with my fine lines and premature wrinkles, as well as acne but it did not do anything for me. Disappointed.

Customer Care: Thank you for your review. We are sorry to hear that this product did not work for you. Please contact our customer care team for further assistance with a recommendation.

While I have been using this product for a short, I am so pleased with the results. I am very family with retinol, as for years I used only retinol on my skin when going to a doctor. For years I have looked for a product such as this, and I am extremely happy.

I've been using the retinol 1% for 1 year and I can confidently say that this is the PC product that gave me the most dramatic and "across the board" results.

My skin appearance is better overall : my skin is even-toned, brighter and feels plumper. Fine line have been reduced, pores are smaller, dark spots faded (not gone but smaller/lighter).
It also seems to have normalized my skintype : one year ago I had very dry skin and now it's more normal-dry.

How it went :
I'm 43, have sensitive skin and some products I can not use : strong vitamin C serums, daily 5% AHA (I use the 10% liquid once a week and only started using it once my skin was ok with using the Retinol 1% every night)... So I knew I had to introduce the Retinol 1% slowly if I didn't want to get red angry skin.

I started using the Retinol 1% only once a week (Sundays) for 3 weeks, then twice a week (Sundays and Wednesdays)for 1-1.5 month, then every other night for 2-3 months.
I then went to every night but mixing the Retinol 1% with a drop of oil every other night (1 night undiluted/1 night mixed with oil). Now I use it undiluted 5 nights a week (Sundays are 10% AHA night now) on my face with no irritation.


Routine :
I use 1 pump for the face, I dot it around and then spread it.
I use 1 pump for my neck also BUT I still can't use it every night there so it's 3 times a week tops for now or else my neck gets red patches and itches.

I apply the Retinol 1% at night only, 15 minutes after cleansing/toning. I then apply the Skin Recovery Antioxidant Serum around my eyes (best eye cream ever !). And I top it all with few drops of oil (PC's or regular Jojoba oil).
Most importantly : I never forget to use sunscreen during the day ;)

Customer Care: Thank you for your review. We are delighted to hear of your journey with this product and what a success it is. We are also happy that you were patient with building up the use. Enjoy!

This is an awesome product on so many levels, but first and foremost because it works and does exactly what it claims to do. The ingredients are top-notch, the quantity of retinol pretty high (something seldom found in Western Europe), and the results really impressive. Now don't expect this little wonder to make you look 20 years younger, because it won't... but I personally think that 5 to 10 years is a pretty good compromise! One last thing, I did experience a little peeling and redness here and there during the first month of using it, but nothing a good moisturizer/facial oil couldn't handle.

I have extremely oily, sensitive skin.... I've just been using it 3 times a week
and I skip BHAs on the days I use it.. this product is amazing my skin is glowing

More reviews Less reviews

Ingredients

What are the key ingredients?

Avobenzone
Synthetic sunscreen ingredient, provides broad-spectrum sun protection and is one of the most widely used UVA filters in the world.

Salicylic Acid/BHA
Primarily an exfoliant, helps to shed dead skin on the surface and inside the pore, therefore effective for reducing breakouts and blackheads. It also has soothing properties.

Sodium Laureth Sulfate
Gentle cleansing ingredient for all skin types.

Please check the individual products for ingredient listings.