https://www.paulaschoice-eu.com/clinical-heroes-gift-set/MTHR22KIT2.html
Clinical Heroes Gift Set
This trio of powerful products from our Clinical collection softens signs of ageing including wrinkles, fine lines and brown spots caused by sun damage.

This skincare gift set includes our stylish gift bag and the latest edition of "40 Beauty Myths Busted" by Paula Begoun and the Paula's Choice Research and Education Team

Skin Type:

All skin types

Concern:

Anti-Aging, Brown spots, Dull skin

Ingredients:

Bakuchiol, Retinol (Vitamin A), Ceramides

View all
Remove from wishlist
Add to Wishlist
Product out of stock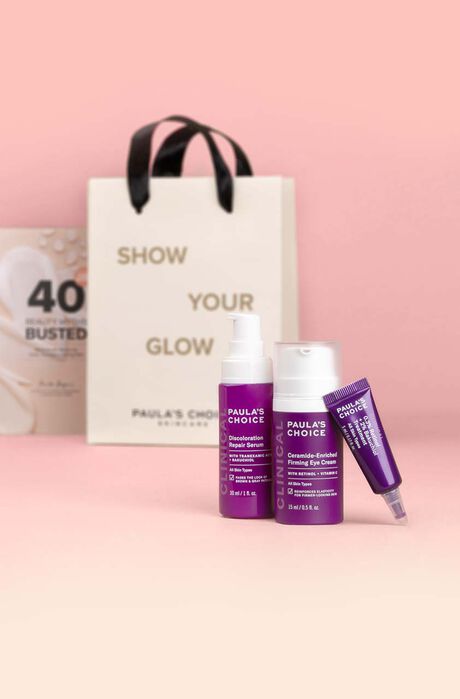 This product is sold out at the moment. Fill in your email address below and we'll gladly send you an email as soon as it is back in stock!
What does it do?

Soften signs of ageing with three anti-ageing heroes from our Clinical collection

Disrupt discolouration with our Clinical Discoloration Repair Serum. This powerful formula contains a specialised blend of key ingredients to promote an even skin tone and fade the appearance of stubborn areas of discolouration and brown spots.

Restore firmness and minimise fine lines and wrinkles with the power of retinol, peptides and plant-derived bakuchiol. Together these anti-ageing ingredients help stimulate collagen production to address multiple signs of ageing at once.

The eyes are one of the first areas to show signs of skin ageing. Smooth, firm and restore radiance to the eye area with the Clinical Ceramide-Enriched Eye Cream.

Key Features

Softens fine lines and wrinkles

Improves skin tone and texture

How to use

Directions for use can be found on the product pages of the individual products.

Reviews

Thank you for submitting your review! It will be reviewed by our staff before it is posted.

Ingredients

What are the key ingredients?

Bakuchiol
Natural ingredient with skin healing capacity. Stimulates the effect of retinol.

Retinol
Powerhouse ingredient that can improve a variety of skin concerns, most related to visible signs of ageing: It's skin-restoring, wrinkle-smoothing, an antioxidant and improves sun damage.

Ceramides
Major components of skin's outer layers, necessary for their water-retention capacity and provide replenishing and restoring benefits.

Please check the individual products for ingredient listings.

FAQ

What is bakuchiol?

Bakuchiol is a vegan ingredient found in the leaves and seeds of the Psoralea corylifolia plant. It's said to be a natural alternative to retinol, but it's important to keep in mind that "alternative" does not mean "equivalent". Scientific research has shown that bakuchiol delivers some of the same benefits as retinol, but both retinol and bakuchiol also have unique benefits. When looking for bakuchiol skincare products such as a bakuchiol serum or cream you may want to choose formulas that also contain retinol so you can benefit from both of these ingredients instead of choosing between them.

How does bakuchiol work?

Research shows that the natural anti-inflammatory properties of bakuchiol makes it easier for the skin to tolerate retinol. It is one of the rare ingredients that makes retinol more effective by stabilising its action. Bakuchiol cosmetics can even work better than products which contain ingredients that are usually used for this, such as vitamin E.

Does the Clinical Discoloration Repair Serum replace the other products I use for dark marks and patches?

Not necessarily. In fact, most will find that it complements their current routine because it can easily be used with ingredients such as retinol, niacinamide, vitamin C and azelaic acid (to name a few). Adding it to your current routine can help take your skin-evening routine to the next level and help maximise results. Tackling discolourations takes a comprehensive approach, so gentle cleansing, exfoliation, daily sunscreen and nighttime moisturisers are also key.

Will the Clinical Discoloration Repair Serum target different types of discolourations faster? For example, post-breakout marks vs. melasma?

The quickest results may be seen when this discolouration serum is used on red or pink post-blemish marks. The longest on grey, brown or dark brown/black marks (these can be particularly stubborn). As with all skincare, results will vary. No matter the cause of the discolouration, 8-12 weeks of daily use is the general timeframe needed to see results. Remember that ongoing use is needed to maintain results.

Is there any form of discolouration that the Clinical Discolouration Repair Serum does not target?

The Clinical Discoloration Repair Serum will not address hypopigmentation (loss of pigment). Lack of pigment can be caused by a variety of things, and it can be very tricky to get rid of. Those concerned with this condition should be properly diagnosed by a dermatologist or physician and treated accordingly. For topically resistant discolourations, in-office procedures may be required which can be discussed with your dermatologist or physician as well.

Who is the Clinical Discoloration Repair Serum best for?

This discolouration correcting serum is perfect for anyone who wants to restore their skin's natural tone and evenness. It's particularly good for those who've tried traditional discolouration-fading ingredients but found they did not deliver visible results.

Will the Clinical Discoloration Repair Serum make my other serums/moisturisers/makeup pill when I apply them on top?

No. This discolouration serum is lightweight and melts into skin. It plays nicely with other products and ingredients making it easy to layer.

If I discontinue use of the Clinical Discoloration Repair Serum will the dark patches come back?

Most likely, yes. Although ongoing use is advised to maintain results, some may find that daily application of sunscreen and a commitment to avoiding the sun as much as possible will prevent the return of dark spots. However, if you're dealing with more stubborn concerns like melasma, ceasing the use of any discolouration-reducing treatment or even skin tone skincare product will almost certainly lead to a relapse, which is why ongoing use is especially important in this case.

Can I use the Clinical Discoloration Repair Serum if I don't have dark patches?

Absolutely! While this product was formulated for those who are struggling with stubborn dark marks or patches, this discolouration and even skin tone serum can also be used by those with an uneven skin tone. Using discolouration and uneven skin tone targeting skincare such as the Clinical Discoloration Repair Serum early on will help protect skin and prevent dark patches from forming in the first place. For many, discolourations are already present underneath the skin and begin to surface later on in life or when skin is repeatedly exposed to environmental factors.

Will the Clinical Discoloration Repair Serum make my skin more sun-sensitive?

No. However, we recommend limiting sun exposure because when your primary goal is to minimise discolourations, it's important to be sun-smart. Avoid the sun as much as possible, apply sunscreen daily and consider hats, sunglasses, and beach umbrellas which can all prove helpful, whether you are using a discolouration and uneven skin tone serum or not.

How do Clinical products differ from Resist or other Paula's Choice product categories?

Clinical products offer more enhanced, targeted formulations for specific concerns such as advanced signs of ageing, dehydration or sun damage. Ultimately, it's a matter of what will suit your needs best. It's perfectly fine to assemble an anti-ageing routine that mixes Resist, Clinical and any other Paula's Choice Skincare line that addresses your skin type and concerns.

What are ceramides?

Ceramides are a natural, fundamental part of skin that helps maintain precise levels of hydration, allowing skin to have a smooth, even surface. They're critical for holding skin together (think bricks and mortar), protecting it from dehydration, signs of sensitivity and environmental damage that chips away at skin's protective surface. Ceramides are the most abundant part of skin, making up over 50% of its composition.

As we age, the level of ceramides in our skin begins to decrease. As a result, the skin barrier weakens, which can lead to symptoms such as irritation, dryness, and redness. Skincare products that contain ceramides (and other skin beneficial ingredients) can help improve these symptoms.

What's the difference between this eye cream and other Paula's Choice eye creams?

Compared to our Resist Eye Cream, the Clinical Eye Cream contains more targeted ingredients for treating advanced signs of ageing around the eyes (like vitamin C and ceramides). It has a lightweight, gel-cream texture, whereas our Resist eye cream has a balm-like consistency.

What's the difference between the Clinical Ceramide-Enriched Moisturizer and Clinical Ceramide-Enriched Eye Cream?

The eye cream contains slightly less retinol and vitamin C making it perfectly designed for use around the eyes. In addition, it contains two peptides to address wrinkles and to help firm the delicate eye area: Palmitoyl Tripeptide-5 and Acetyl Tetrapeptide-5. The first enhances skin's firmness by stimulating new collagen production and blocking the negative effects of collagen-degrading enzymes. The second helps reduce eye puffiness, improving skin elasticity and overall smoothness. You won't find these peptides in the Clinical Ceramide-Enriched Moisturizer.

Paula has always said that you can use your face products around the eyes as long as they're well-formulated and fragrance free. However, some find their regular moisturisers aren't emollient or rich enough for the eye area. Skin around the eyes that is drier, shows a loss of firmness, and dark circles requires an enhanced formula for visible improvement—that's where our eye products excel.