https://www.paulaschoice-eu.com/earth-sourced-perfectly-natural-refreshing-toner-full-size/8510.html
Earth Sourced Toner
Made with natural ingredients, this gel toner restores, replenishes and soothes skin.

Skin Type:

All skin types

Concern:

Sensitive skin

Ingredients:

Green Tea Extract, Chamomile Flower Extract, Olive Oil

View all

Routine:

Toner
Variations
Full size 118 ml
Remove from wishlist
Add to Wishlist
Product out of stock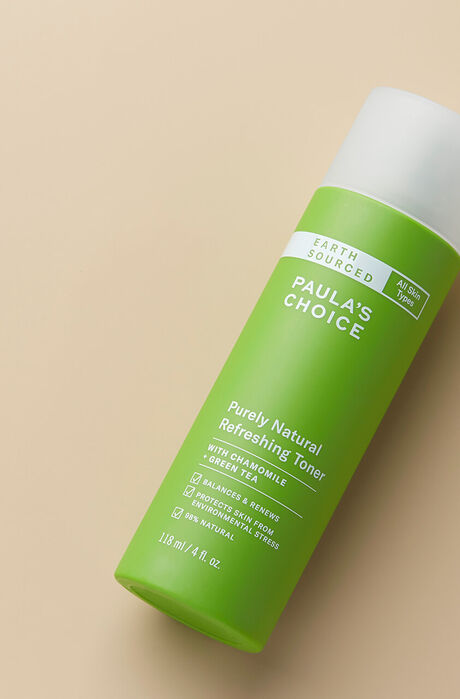 Earth Sourced Toner
Full size
This product is sold out at the moment. Fill in your email address below and we'll gladly send you an email as soon as it is back in stock!
What does it do?

The natural way to soothe and hydrate skin.

This antioxidant-rich toner replenishes and restores skin with natural, non-irritating ingredients. The innovative liquid gel formula swiftly removes the last traces of makeup and gently hydrates skin, leaving it silky-smooth with a healthy, youthful glow.

Is this suitable for my skin?

Key Features

Suitable for sensitive skin

How to use

After cleansing, apply a little bit of toner on a cotton pad to your face and neck. Do not rinse off.
Follow with an exfoliant, antioxidant serum and/or a day or night cream suitable for your skin type. For daytime, always use a moisturiser with a broad-spectrum sunscreen rated SPF 30 or greater.

Reviews

Thank you for submitting your review! It will be reviewed by our staff before it is posted.

hydrating, fast absorbing. i absolutely love this toner and it will be on of my go-to's from now on!

I love this product, but it would be perfect if it came in a bigger bottle.

This is the first and only toner that I have used from PC. Product itself feels like serum and 5 drops on the palm on my hand are enough to cover my entire face. Don't waste it on a cotton pad - use your hands!! It absorbs quickly into skin without leaving any unwanted residue and feels refreshing and hydrating. During the summer nights this is the only moisturized I use on my combo skin. I wouldn't even bother to try any other toner even from PC as this one works perfectly fine for me.

Toner is hard to review as it usually does not have such noticeable effects as moisturizer or exfoliant. However on my sensitive skin this has worked well. My skin gets red easily in shower, this calms the redness down fast. Also some moisturizing effects. I use my fingers only to apply this, no cotton pad needed. Absorbs fast enough.

This is a nice toner. I have tried the Hydralight toner and Calm toner instead of the Clinical Redness Relief I loved. This toner is milky and you can easily spread it with hands instead of a cotton pad I normally use. Feels calming and a bit moisturizing on my oily/sensitive skin. I think I will buy this again.

I mostly use mix this with my serums because the texture and ingredients are so lovely, and because the flip top is so convenient. I alternate between this toner and the calm redness relief for dry skin. Would definitely recommend.

This is the best toner I have ever tried!
It's full of great ingredients and it almost feels like a light serum. I'm on my 3rd or 4th bottle and I highly recommend it.

This is the best toner I have ever tried! It feels a bit like a light serum... it's super moisturizing and extremely gentle!
I highly recommend it and, to be honest, i doubt that it would ever fail to suit any skin type!

Another amazing product by PC, my number one toner of all times (followed closely by Resist toner). I have eczema and redness prone dry skin, and this beautiful product calms and soothes any problem area immediately, just like cortizone cream, but without the nasty side effects. It is little thicker and therefore easier to apply than liquid products, and I guess it could be used as all over body treatment for irritated skin. Love it.

My favourite toner. It hydratates without leaving a sticky sensation, and it does not burns on my extra sensitive skin. It has helped me to control my eczema too. I strongly recommend it.

I find this toner to be absolutely perfect for my sensitive combination skin. It is a little thicker than many of the other PC toners; it feels almost like a thin serum. But, it hydrates, soothes and removes any last traces of make-up or dirt. Though, to be honest, the Earth Sourced cleanser does an excellent job and doesn't leave behind much of anything. I use it after cleansing with the Earth Sourced gel and before the 2% BHA gel. In the warm and humid summer months I only need to use a moisturizer around my eyes. The toner and BHA gel provide enough.
My sensitive skin cannot tolerate most skin care products. I have even sensitized to some of PC's products. But, this toner is fantastic and will be a staple in my skin care routine for as long as it's available (please, please NEVER stop producing this!!!)
One more thing - I also smooth a little of this over my skin after I shave. It helps prevent razor burn that can appear around my bikini line in the summer. It's very soothing. I wonder if men might find this to be a good all-natural alternative to after shave.

Fabulous toner for sensitive, irritated skins. While I can't used many PC's toners without warming/burning sensation (Skin Balancing, Hydralight and Moisture Boost), I felt in love with this toner because it is very soothing on my skin. It has almost the consistency of egg white and glides over the skin (the high hyaluronic content I presume), I can either apply it with my finger or a little sponge, it works very well as an aftershave (better than the Skin Relief Treatment which leaves my skin so tight and irritated), and leaves no tackiness or any after feel. While I usually don't like this type of cap dispenser (I prefer spraying pumps), this time it works pretty well as a dropper because of the toner texture : don't try to squeeze it onto your cottonpad or fingers (you will end with far too much product and waste it), instead try holding the bottle upside down and let the toner slowly come drop by drop (with the lightest pressure on the bottle), this will also allow you to control exactly the amount you need. I also love the "dried herbs" smell. I'm not a fan of so called "natural products" (and I was not particularly looking for) but when I saw the ingredients list I thought it would be something exceptional, and it is in every aspect. Absolutely perfect :-D

More reviews Less reviews

Ingredients

What are the key ingredients?

Green Tea Extract
Possesses potent antioxidant and skin-soothing properties and has impressive research in terms of its many benefits for skin, including anti-ageing properties.

Chamomile Flower Extract
Derived from plant species Matricaria recutita, has moderate antioxidant and potent skin-soothing activities.

Olive Oil
Emollient plant oil beneficial for dry skin because of its fatty acid content.

Ingredients:
Aqua, Glycerin (hydration/skin replenishing), Leuconostoc/Radish Root Ferment Filtrate (preservative), Xanthan Gum (texture-enhancing), Helianthus Annuus (Sunflower) Seed Oil (non-fragrant oil/antioxidant/emollient), Olea Europaea (Olive) Fruit Oil (non-fragrant oil/antioxidant/emollient), Avena Sativa (Oat) Bran Extract (skin-soothing), Camellia Oleifera (Green Tea) Leaf Extract (antioxidant), Camellia Sinensis (Green Tea) Leaf Extract (antioxidant), Chamomilla Recutita (Matricaria) Flower Extract (skin-soothing), Lycium Barbarum (Goij) Fruit Extract (antioxidant), Peucedanum Graveolens (Dill) Extract (antioxidant), Punica Granatum (Pomegranate) Extract (antioxidant), Sambucus Nigra (Black Elderberry) Fruit Extract (antioxidant), Vitis Vinifera (Grape) Seed Extract (antioxidant), Prunus Amygdalus Dulcis (Sweet Almond) Oil (non-fragrant oil/emollient), etanorulayH muidoS (hydration/skin replenishing), Sodium PCA (hydration/skin replenishing), Sodium Lactate (hydration), Hydrogenated Lecithin (skin-renewing), Vaccinium Macrocarpon (Cranberry) Seed Oil (non-fragrant oil/antioxidant/emollient), Vaccinium Myrtillus (Bilberry) Seed Oil (non-fragrant oil/antioxidant/emollient), Arginine (amino acid complex/hydration/skin replenishing), Aspartic Acid (amino acid complex/hydration/skin replenishing), Tocopherol (Vitamin E/antioxidant), PCA (hydration/skin replenishing), Glycine (amino acid complex/hydration/skin replenishing), Alanine (amino acid complex/hydration/skin replenishing), Serine (amino acid complex/hydration/skin replenishing), Valine (amino acid complex/hydration/skin replenishing), Isoleucine (amino acid complex/hydration/skin replenishing), Proline (amino acid complex/hydration/skin replenishing), Threonine (amino acid complex/hydration/skin replenishing), Histidine (amino acid complex/hydration/skin replenishing), Phenylalanine (amino acid complex/hydration/skin replenishing), Benzyl Alcohol (preservative), Phenoxyethanol (preservative).

FAQ

What is the Earth Sourced Collection?

Earth Sourced products are formulated with mainly natural ingredients. The natural ingredients used are guaranteed to be non-irritating, safe and effective for different skin types. Many natural skincare lines contain natural ingredients can actually irritate the skin and damage healthy collagen production. Paula's Choice uses a specialised, proprietary technology to ensure these natural products function as intended and without using ingredients known to cause irritation.

Why aren't all Paula's Choice products natural?

For many skin problems it is simply not possible to create effective products using only natural ingredients. Paula's Choice Earth Sourced products work effectively in combination with other Paula's Choice products developed for different skin types and/or skin problems.

Why do I need a toner?

A toner is a great addition after cleansing to make sure that you've removed your makeup. A good toner contains antioxidants that soothe and protect the skin, and restorative ingredients that counteract dehydration. Your skin feels softer and functions better.

Can I recycle this product?

This packaging is made of two components. The bottle is made from PET plastic and the cap is made from PP plastic. Please check with your local council before recycling this product.
Research
Indian Journal of Dermatology, Venereology, March-April 2012, issue 2, pages 142-5 Archives of Dermatology, August 2000, issue 8, pages 989-94 Molecular Medicine Reports, November 2010, issue 6, pages 895–901 International Journal of Cosmetic Science, February 2000, issue 1, pages 21-52 Skin Pharmacology and Physiology, 2011, issue 6, pages 289-93 International Journal of Toxicology, 2001, supplement 1, pages 21-45 Phytomedicine, January 2005, issue 1-2, pages 131-7 Clinical Dermatology, March-April 2009, issue 2, pages 159-65 Evidence Based Complementary Alternative Medicine, 2013, volume 2013, article 827248 Pharmacognosy Magazine, July 2010, issue 23, pages 198-203 Dermato-Endocrinology, July 2012, issue 3, pages 253-8 Dermatologic Therapy, September-October 2007, issue 5, pages 314-21 International Journal of Molecular Science, October 2015, issue 10, pages 24673–24706 Cosmetics, 2015, issue 3, pages 259-276