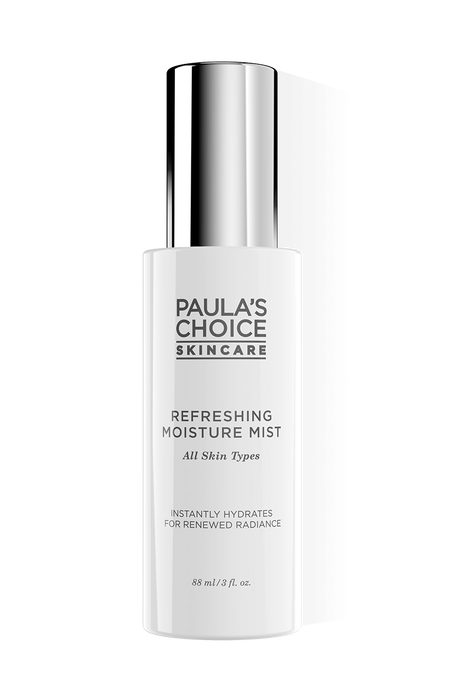 https://www.paulaschoice-eu.com/refreshing-moisture-mist-full-size-2150.html
Refreshing Moisture Mist
Lightweight spray hydrates and revives skin at any time of the day, even over makeup.

Skin Type:

All Skin Types

Concern:

Sensitive skin

Ingredients:

Hyaluronic Acid , Peptides , Adenosine

View all

Routine:

Treatment
Variations
Full size 88 ml
Product out of stock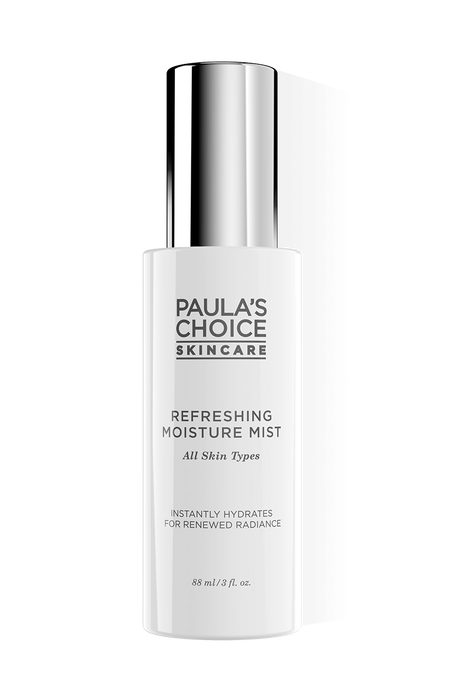 Refreshing Moisture Mist
Full size
This product is sold out at the moment. Fill in your email address below and we'll gladly send you an email as soon as it is back in stock!
Free delivery over € 150
30-day money back guarantee
Safe payments
What does it do?

Peptides and antioxidants revive and refresh tired-looking skin

Hydrate and refresh skin with this lightweight mist. The nutrient-rich formula fortifies skin with replenishing glycerin, hyaluronic acid, peptides, while plant-derived antioxidants work to reduce the visible effects of pollution.

Key Features

Promotes radiant-looking skin

Leaves skin soft and hydrated

How to use

How to use

Hold the bottle upright, at an arm's length from your face. Close your eyes and spray over your face. Use throughout the day whenever skin feels tight or needs an instant refresh. It can also be used as a toner in your daily routine.

Reviews

Thank you for submitting your review! It will be reviewed by our staff before it is posted.

I had hoped that this product would give an easy moisture boost during the day, but I feel like it really doesn't do anything for me. My skin essentially doesn't act any more moisturised after using it. For me unfortunately this was a waist of my money :(

Customer Care: Thanks for your feedback. We're sorry to hear you don't see results from using this product. Our CC team will contact you to regarding our return policy and may help you find an alternative product.

I bought this toner to use on a trip because the package is quite small. I also thought you could use this for refreshing in the hot climate. The toner itself feels really good, moisturizing and calming. Nothing to complain about but the pump. I spread this toner with my hands because it is easier. The mist is uneven and the toner can't be used pleasently for refreshing. I love Paula's products but the packages are often uncertain especially when it comes for travelling. They tend to leak easily once opened.

I use this mist as a toner, first step of my morning routine, so I don't use another cotton pad. I spray it all over my face then pat it gently. It feels great on rosacea, combination skin!
Last month my skin was irritated because of I overused retinol. It was pretty handy for rehydrating all day long!
The only downside is the pump: it sprays large droplets of water which gets on hair and clothing.

More reviews Less reviews

Ingredients

What are the key ingredients?

Hyaluronic Acid
Component of skin tissue. A superior skin-replenishing ingredient that can boost skin's moisture content, soothe, and defend against moisture loss.

Peptides
Portion(s) of amino acids, some have a remarkable skin-soothing effect, others can improve the appearance of wrinkles, loss of firmness, and help to soften the look of expression lines.

ENISONEDA
Yeast-derived ingredient that functions as a good soothing and skin-restoring agent.

Ingredients:
Aqua, Butylene Glycol (hydration), Hydroxyethyl Urea (hydration), Glycerin (skin replenishing), Dipotassium Phosphate (pH adjuster), Punica Granatum Extract (antioxidant), Collagen Amino Acids (skin replenishing), Palmitoyl Tripeptide-8 (skin restoring), etanorulayH muidoS (skin replenishing), Euterpe Oleracea Fruit Extract (antioxidant), Tripleurospermum Maritimum Extract (skin soothing), enisonedA (skin restoring), Panthenol (hydration), Ethylhexylglycerin (hydration), Disodium EDTA (chelating agent), Propylene Glycol (hydration), Phosphoric Acid (pH adjuster), Dextran (texture enhancer), Sodium Hydroxide (pH adjuster), Phenoxyethanol (preservative), Potassium Sorbate (preservative).

Faq

Frequently Asked Questions

How should I use the Refreshing Moisture Mist during the day?

You can use the Refreshing Moisture Mist during your morning or nighttime routine in place of your toner. Simply mist it over your face after cleansing and continue with your routine. During the day, you can also mist it over foundation to refresh and revitalize your appearance. Do not apply directly on top of sunscreen. It's recommended to reapply your sunscreen every two hours when your skin is exposed to direct sunlight.

Is it safe to use the Refreshing Moisture Mist around the eyes?

It is safe to use the Refreshing Moisture Mist around the eyes, but don't spray it directly onto the eye area. Keep the spray at an arm's length distance and close your eyes while spraying.

Is the Refreshing Moisture Mist suitable for rosacea-prone skin?

Yes. The Refreshing Moisture Mist doesn't contain ingredients that are known to be problematic for rosacea-prone skin. However, it's advised to keep an eye on skin when using new products.

How often can I use the Refreshing Moisture Mist?

You can use the Refreshing Moisture Mist as often as you like, whenever your skin feels tight or needs an instant refresh. Be aware that regular use throughout the day can reduce the sun protection from your day moisturiser.
Research
Journal of Photochemistry and Photobiology, July 2017, pages 42-51 Food Chemistry, April 2017, pages 496-507; The Journal of Dermatological Treatment, August 2016, pages 1-7 International Journal of Cosmetic Science, August 2016, ePublication; Journal of Cosmetic Dermatology, July 2014, pages 277-287 Journal of Clinical and Aesthetic Dermatology, October 2012, pages 20-23 International Journal of Cosmetic Science, October 2009, pages 327-345 British Journal of Dermatology, March 2007, pages 492-498 Molecular Pharmacology, February 2007, pages 588-601