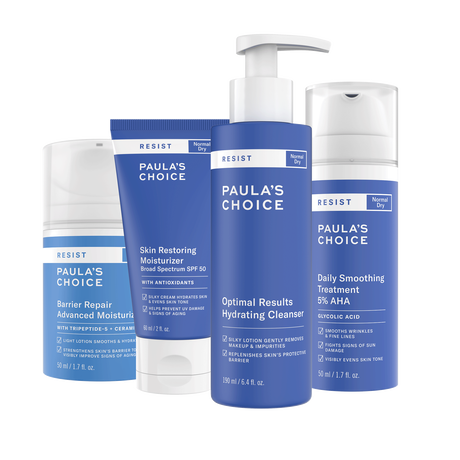 https://www.paulaschoice-eu.com/resist-anti-aging-set-normal-to-dry-skin-bundleresistdry.html
Resist Anti-Aging Set - Dry skin
Free delivery over € 150
30-day money back guarantee
Safe payments
You can simultaneously address sun damage and wrinkles.
This complete skin care routine almost literally overnight makes your skin look and behave younger. With continued use you will notice fine lines and wrinkles soften visibly, your skin will feel firmer, your complexion will look more even and your skin will glow.
How to use
First use the cleanser. Then you apply the exfoliant (note: do not rinse). As last step apply the day- or nighttime moisturiser.
Tap for info