https://www.paulaschoice-eu.com/resist-anti-aging-weightless-advanced-repairing-toner-full-size/7780.html
Resist Anti-Aging Repairing Toner
Super-light, anti-ageing toner prevents signs of ageing and refines pores.

Skin Type:

Combination skin, Oily skin

Concern:

Breakouts, Anti-Aging, Blackheads, Brown spots

Ingredients:

Niacinamide/Vitamin B3, Phospholipids, Hyaluronic Acid

View all

Routine:

Toner
Variations
Full size 118 ml
Remove from wishlist
Add to Wishlist
Product out of stock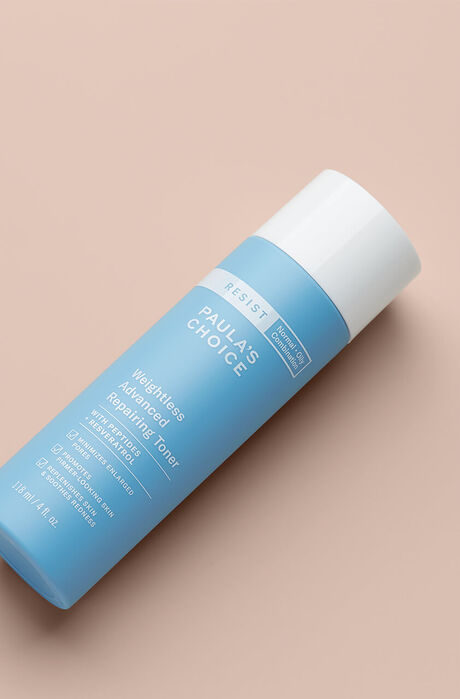 Resist Anti-Aging Repairing Toner
Full size
This product is sold out at the moment. Fill in your email address below and we'll gladly send you an email as soon as it is back in stock!
What does it do?

An age-defying toner for oily, breakout-prone skin.

This super-light, anti-ageing toner is ideal for oily skin prone to breakouts and blackheads. Enriched with niacinamide, it goes beyond simple hydration - visibly improving the appearance of fine lines and wrinkles, enlarged pores and uneven skin tone for softer, smoother, youthful-looking skin.

Is this suitable for my skin?

Key Features

Suitable for breakout-prone skin

Leaves skin feeling clean and refreshed

How to use

After cleansing, apply a little bit of toner on a cotton pad to your face and neck. Do not rinse off.
Follow with an exfoliant, antioxidant serum and/or a day or night cream suitable for your skin type. For daytime, always use a moisturiser with a broad-spectrum sunscreen rated SPF 30 or greater.

Reviews

Thank you for submitting your review! It will be reviewed by our staff before it is posted.

No pore refining, no repairing but a lot of dehydration. May be will suitable fore very oily skin. I have combi sensitive. I use it after clenser from the same line. Which is not good also. I dont have feeling that my skin is clean. Lets say I expected more. I dont use make up to conlude how it works with make up. But i can say it is not my favorite product. I will use because i bought it but i will not repeat for sure. And i have totaly dry feeling on my skin after cleansing and toning with this products

I pat a small amount of this toner onto my face every morning, and find it very soothing and hydrating without being greasy. Over time, this toner has made a big difference in diminishing the appearance of post-breakout hyperpigmentation.

I love it. It's great to use on nights when I skip exfoliants. It isn't as irritating as an exfoliant but it still helps with clogged pores.

I have samples of PC skin balancing toner and I can't use that one at all. It causes flushing and stinging on me. I'm glad I can use this one because it has peptides and niacinamide. Itso also a liquid texture and I love that. Thumbs up from me.

This is a nice toner but not one of my favourites. I guess this might burn just a little sometimes. That's odd because any other toner from Paula's I have tried doesn't do that. I have sensitive skin and rosacea. Skin balancing toner is really nice to use in the evening and Earth Sourced toner is my absolute favourite in the morning.

I'm not really into toners but following the launch of the Niacinamide Booster I wanted one with niacinamide and antioxidants. It was worth the try: after showering, I immediately pat this toner on my face and it soothes my combination, rosacea-prone skin. I noticed a smoother skin with no zits. Great.

It's like te Resist Advanced Replenishing Toner Skin Remodeling Complex but lighter like water. It doesn't leave any residue and doesn't make your face shine. Probably the lightest toner but with awesome ingredients. It seems to calm my face after shaving it. So this is my new favourite one and I recommend it.

More reviews Less reviews

Ingredients

What are the key ingredients?

Niacinamide/Vitamin B3
Very effective skin-restoring ingredient that can visibly improve the appearance of enlarged pores, uneven skin tone, fine lines and dullness.

Phospholipids
Type of lipid (fat) composed of glycerol, fatty acids, and phosphate. Acts as water-binding and skin-restoring agent.

Hyaluronic Acid
Component of skin tissue. A superior skin-replenishing ingredient that can boost skin's moisture content, soothe, and defend against moisture loss.

Ingredients:
Aqua, Glycerin (hydration/skin replenishing), Ethoxydiglycol (hydration), Niacinamide (skin-restoring), Acetyl Glucosamine (hydration/skin replenishing), xilaS Nigra (Willow) Bark Extract (skin-soothing), Resveratrol (grape-derived antioxidant), etanorulayH muidoS (hydration/skin replenishing), Palmitoyl Tetrapeptide-7 (skin-restoring), Palmitoyl Tripeptide-1 (skin-restoring), Phospholipids (hydration/skin replenishing), Epigallocatechin Gallate (antioxidant), Carnosine (skin-restoring), Genistein (antioxidant), Glycyrrhiza Glabra (Licorice) Root Extract (skin-soothing), enisonedA (skin-restoring), Xanthan Gum (texture-enhancing), Citric Acid (pH adjuster), Polysorbate 20 (texture-enhancing), Butylene Glycol (hydration), Ethylhexylglycerin (preservative), Carbomer (texture-enhancing), Tetrasodium EDTA (stabilizer), Phenoxyethanol (preservative).

FAQ

Why do I need a toner?

A toner is a great addition after cleansing to make sure that you've removed your makeup. A good toner contains antioxidants that soothe and protect the skin, and restorative ingredients that counteract dehydration. Your skin feels softer and functions better.

Can I recycle this product?

This packaging is made of two components. The bottle is made from PET plastic and the cap is made from PP plastic. Please check with your local council before recycling this product.
Research
Journal of Cosmetic Dermatology, June 2013, issue 2, pages 96-102 International Journal of Cosmetic Science, December 2006, issue 6, pages 447-51 Journal of Drugs in Dermatology, September 2014, issue 9, pages 1021-5 Journal of Drugs in Dermatology, September 2014, issue 9, pages 1021-5 Acta Poloniae Pharmaceutica, January-February 2015, issue 1 pages 3-11 Evidence Based Complementary Alternative Medicine, 2013, volume 2013, article 827248 International Journal of Cosmetic Science, February 2000, issue 1, pages 21-52 Journal of Cosmetic and Laser Therapy, January 2006, issue 2, pages 96-101 Journal of Cutaneous and Aesthetic Surgery, January-March 2013, volume 6, issue 1, pages 4–11 Journal of Cosmetic Dermatology, April 2004, issue 2, pages 88-93 Journal of Cosmetic Dermatology, March 2008, issue 1 pages 2-7 Evidence Based Complementary Alternative Medicine, 2013, volume 2013, article 827248 Dermato-Endocrinology, July 2012, issue 3, pages 253-8