https://www.paulaschoice-eu.com/skin-recovery-enriched-calming-toner-full-size/1250.html
Skin Recovery Toner
Rich milky toner soothes and replenishes ultra-dry, flaky skin.

Skin Type:

Dry skin

Concern:

Very dry skin , Redness , Rosacea-prone skin

Ingredients:

Evening primrose oil , Panthenol (Vitamin B5) , Vitamin E

View all

Routine:

Toner
Variations
Full size 190 ml
Remove from wishlist
Add to Wishlist
Product out of stock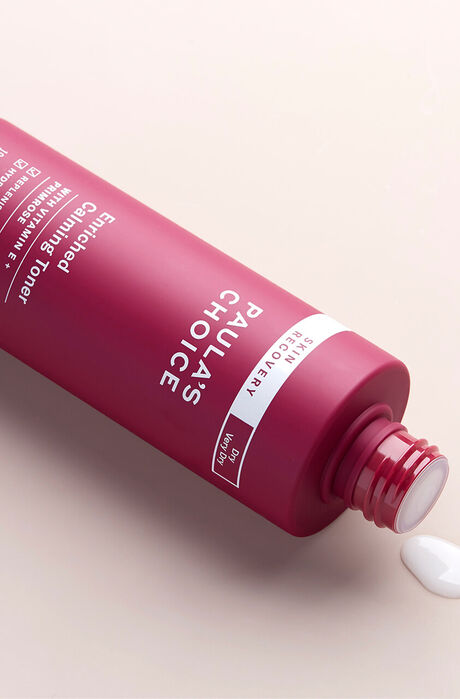 Skin Recovery Toner
Full size
This product is sold out at the moment. Fill in your email address below and we'll gladly send you an email as soon as it is back in stock!
What does it do?

An oasis of relief to dry, thirsty skin.

Rich in antioxidants and nourishing plant oils, this hydrating milky toner soothes and replenishes ultra-dry, flaky skin. The carefully blended formula revitalises skin and helps reduce redness, for soft, silky-smooth skin that is less dry and less sensitive.

Key Features

Doesn't leave skin feeling tight

Suitable for rosacea-prone skin

How to use

After cleansing, apply a little bit of toner on a cotton pad to your face and neck. Do not rinse off.
Follow with an exfoliant, antioxidant serum and/or a day or night cream suitable for your skin type. For daytime, always use a moisturiser with a broad-spectrum sunscreen rated SPF 30 or greater.

Reviews

Thank you for submitting your review! It will be reviewed by our staff before it is posted.

I love this toner for the winter season

Very calming for my sensitive skin, I prefer this over the calm toner

This is the most amazing Toner i've ever used! Lightweight and slightly milky-textured, it instantly calms my very sensitive, combination, reactive skin and makes it radiant. I use it all over my face, eyes and neck area and immediately my skin's redness calms down and my skin glows! Especially after shower, when my skin tends to get tight and red, i use this amazing toner and instantly hydrates, calms and makes my skin even-toned. I highly recommend this miracle toner to every skin type! Thank you Paula so much!!

I always use this after taking a shower and cleaning my face. It makes it feel so much better. My skin always feels a little bit tight after cleansing and this makes a huge difference. Also it made most of the flaky skin disappear. I'm on my second bottle!

This is a great toner for winter, I'd say. I dislike wasting so much toner using cottonpads - it gets more of the product than I do - so I always add a spraypump to my bottle so that I can spray the toner all over my face after i wash it before it dries and feels taut. It's a great trick that I recommend to make the product last longer. I would buy the product again but my problem areas are large pores and blackhead so I'll be trying the Pore reducing toner next.

Really liked the milky texture and how moisturizing it is for my dry skin. However, my acne-prone skin broke out from this, i got pimples all over the face when this was in use. I think it is because of it has castor oil (common ingredient in products that make me breakout). I wish PC would not use castor oil in their products... resist advanced replenishing toner great for dry AND acne-prone skin, it doesn't cause pimples, but it is too expensive so sadly, i'm going back to non-PC toner.

Customer Care: Thank you for your review. We are sorry to hear of your experience. Although this is not a common response, we do understand that each customer is uniquely different in how they will respond to certain products or ingredients. Should you need further assistance, don't hesitate to contact our customer care team.

It's absorbent and works well for my dry skin. But I have to put moisturiser on straight away though.

This toner is now essential in my routine. Sometimes I almost feel that I could skip the moisturiser due to the lotions effectiveness. I have very dry skin and rosacea.

In the past I used some toners but they haven't really done anything for my skin other than stripping it and making my skin feel very dry. But this product is a dream come true. It makes my skin feel soft and moist. I use it before I apply my bha 2%. It preps my skin and calms it. I would definitely repurchase. It's a must have.

Having breakout-prone yet dry skin, I've always struggled with finding the balance between effective and too drying. I used to find that my skin would feel very tight immediately after cleansing no matter how gentle the anti-acne cleansers I used were advertised to be.

Not after using this product! It brings some moisture back into my skin right away so that I don't have to worry about dryness in the time it takes to finish the next few steps after cleansing (toning and exfoliating etc.) before I finally get to moisturize. Actually I've found that I do not have to use a very rich moisturizer to compensate for the dryness anymore, which really helps keep my skin clear. This toner is amazing and I feel like it just saves me every day.

The application process is really nice too. No unpleasant smell, no tightness or dryness. It's very light however, so it doesn't feel greasy either or make my blemishes worse. I'm in love!

My skin feels rejuvenate every time I use this toner. Been using them for approximately two years now

I really love this toner, it feels very pleasant and calming on my skin. My skin feels refreshed and moisturized after application. I would definitely recommend this product.

It was a big surprise for me that I liked this toner so much. I bought it as part of a kit and didn't really know what to expect since I'd never tried a well formulated toner.
It feels very soothing on skin and calms the skin.
I mix it with the oil booster where I have extra dryness, which works very well.

Never been a toner user but a free sample of this stuff made me a convert. Quenches the thirst of my Sahara dry skin, keeps redness and irritation at bay. Also recently discovered that it does a remarkably good job soothing itchy - and I mean wake you up from your sleep kind itchy - scalp. Out of pure desperation I poured a dime size pool into my palm and rubbed it on the itchy spots with my fingertips. It's magic and it didn't mess up my blow out either.

I have dry skin which can even burn at times and this toner leaves my skin supple, calm and soft.
I sometimes stray away and use other toners but in the end I always come back to this one wondering why I tried anything different in the first place !

This toner was recommended to me by the Paula's Choice customer service after I had explained my seasonal problems to them. My skin gets very dry during the winter (in the northern Europe) so I needed some extra moisturizing. At first I was scared that this toner would make my acne-prone skin break out but to my very surprise it didn't do that! It's a great addition to my skin routine and has helped me with my dry skin and with the increased break outs that I have had due to the dryness. My skin feels healthier overall.

I was also on a two-week holiday and I used this toner as the only moisturizer before sun screen. I found it to be enough for me in the humid and hot climate.

This is seriously the best toner I ever had, and I tried quite a few before including Clinique and Estee Lauder highly rated by Paula herself. I never felt such a smooth, calming, nourishing and at the same time refreshing effect as with this marvelous product. It is very hard now to return to any other toner as the difference is dramatic. I highly recommend it to anyone with normal or dry skin.

More reviews Less reviews

Ingredients

What are the key ingredients?

Evening Primrose Oil
Non-fragrant plant oil that can have significant skin-soothing and emollient benefits for skin.

Panthenol (Vitamin B5)
Panthenol is a humectant because of its ability to attract and hold moisture. It improves the look and feel of skin.

Vitamin E
One of the most researched antioxidants for the body and for skin. Plays a supporting role in helping defend skin from the stress caused by UV light exposure.

Ingredients:
Aqua, Cyclopentasiloxane (hydration), Butylene Glycol (hydration), Glycereth-26 (hydration/texture-enhancing), Dimethiconol (hydration), Oenothera Biennis (Evening Primrose) Oil (non-fragrant oil/antioxidant), Borago Officinalis (Borage) Seed Oil (non-fragrant oil/antioxidant), etanorulayH muidoS (hydration/skin replenishing), Tocopheryl Acetate (vitamin E/antioxidant), Tocopherol (vitamin E/antioxidant), Ascorbyl Palmitate (vitamin C/antioxidant), Panthenol (skin replenishing), Allantoin (skin-soothing), Glycerin (hydration/skin replenishing), Hydrogenated Lecithin (skin-restoring), Caprylic/Capric Triglyceride (emollient), Niacinamide (vitamin B3/skin-restoring), Superoxide Dismutase (antioxidant), PEG-40 Hydrogenated Castor Oil (emollient), Linoleamidopropyl PG-Dimonium Chloride Phosphate (stabilizer), Laureth-4 (texture-enhancing), Laureth-23 (texture-enhancing), Disodium EDTA (stabilizer), Sodium Benzoate (preservative), Chlorphenesin (preservative), Phenoxyethanol (preservative), Benzoic Acid (preservative), Sorbic Acid (preservative).

FAQ

Why do I need a toner?

A toner is a great addition after cleansing to make sure that you've removed all of your makeup. A good toner contains antioxidants that soothe your skin and protect it, and restorative ingredients that counteract dehydration. Your skin feels softer and functions better.

What is the difference between Skin Recovery Toner and Calm Toner for normal to dry skin? Which one is right for me?

The Skin Recovery Toner has the richest texture compared to our other toners and contains more plant oils and emollients to nourish and hydrate very dry skin. The Calm Toner for normal to dry skin is specifically formulated for very sensitive skin, prone to redness.
Research
Phytotherapy Research, August 2015, issue 8, pages 1117-22 Indian Dermatology Online Journal, April-June 2013, issue 2, pages 143-146 British Journal of Dermatology, February 1996, issue 2, pages 215-20 International Journal of Cosmetic Science, February 2000, issue 1, pages 21-52 International Journal of Toxicology, 2001, volume 20, supplement 1, pages 21-45 Journal of Cosmetic and Laser Therapy, January 2006, issue 2, pages 96-101 Journal of Cutaneous and Aesthetic Surgery, January-March 2013, issue 1, pages 4–11 Journal of Cosmetic Dermatology, April 2004, issue 2, pages 88-93 International Journal of Cosmetic Science, August 2005, issue 4, pages 243-9 Journal of Cosmetic Science, July-August 2011, issue 4, pages 361-70 Dermato-Endocrinology, July 2012, issue 3, pages 253-8 International Journal of Cosmetic Science, April 2000, issue 2, pages 85-94 Dermatologic Therapy, September-October 2007, issue 5, pages 314-21