https://www.paulaschoice-eu.com/smooth-finish-conditioner-full-size-5200.html
Conditioner
Rich, non-greasy texture leaves all hair types soft, shiny, and manageable.

Unfortunately this product has been discontinued and won't be available in the future. There is no alternative product to replace it.

Skin Type:

All Skin Types

Ingredients:

Wheat Protein , Panthenol (Vitamin B5)

View all
Variations
Full size 429 ml
Product out of stock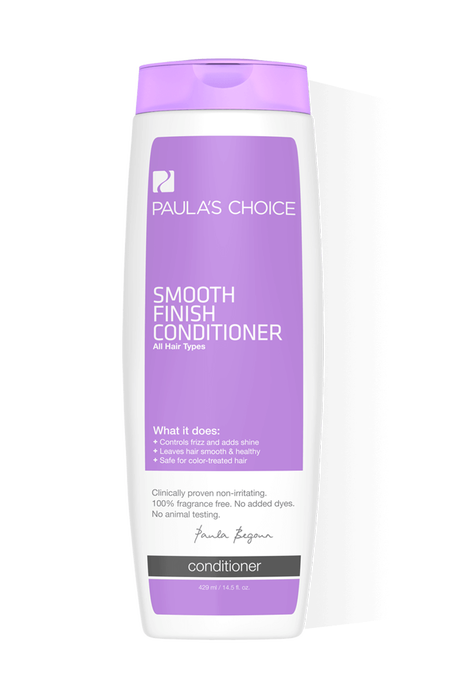 This product is sold out at the moment. Fill in your email address below and we'll gladly send you an email as soon as it is back in stock!
30-day money back guarantee
Safe payments
What does it do?

Get silky, soft and shiny hair .

This moisturising and detangling conditioner works perfectly for all hair types, including colour-treated. It has a rich, non-greasy texture that leaves hair soft, shiny, and manageable, while the gentle, fragrance-free formula is ideal for those with sensitive, itchy scalps.

Key Features

Leaves hair soft and shiny

How to use

After shampooing, apply conditioner, focusing on the dry parts of your scalp and hair. Leave on for 1-2 minutes, then rinse well. For dry, coarse hair that needs deeper conditioning, leave on hair for as long as possible. May be used as a leave-in conditioner.

Reviews

Thank you for submitting your review! It will be reviewed by our staff before it is posted.

I love this conditioner, it doesn't irritate my skin like every other brand of conditioner does. I have very coarse hair and it makes it soft and smooth and easy to style.

Did make my hair a bit shinier, though most conditioners will do that.

I tried several samples of this and used them in a variety of ways. Leaving it on the hair for different amounts of time and quantity. Also used this as a leave in conditioner.

It did make my hair feel different, not bad but not much better either. I don't think I will be buying this as it doesn't seam to make much of a difference for my hair type (thick, dry and wavy).

It's a good conditioner for the shower, but I bougth it because it said that it could be used as a leave in. If I leave even just a small amount in my wet hair I have a wet-look all day long and the hair feels weird. In my oppinion its like any other conditioner that is supposed to be rinsed out again.

I love this conditioner. Have been using it for more than two years. Did trie some other ones but have never found anything like it. It makes my extremely greasy hair look fantastic without getting limpy.

Hi!
I've been using this conditioner for a long time. It stands up to its promises. I have wavy long hair and cant stand products which leave hair feeling HEAVY, otherwise my wavy curly hair looks plain sad and greasy, with no volume. I dont have this kind of problem with this conditioner: it just does its job, leaving hair smooth and soft but not heavy at all! (and I live in a city by the sea, where the water is chalky. this conditioner works very well with this water too!)

More reviews Less reviews

Ingredients

What are the key ingredients?

Wheat Protein
Protein fraction from wheat that functions as a hair conditioning agent and texture enhancer.

Panthenol (Vitamin B5)
Panthenol is a humectant because of its ability to attract and hold moisture. It improves the look and feel of skin.

Ingredients:
Aqua, Cetyl Alcohol (emollient), Cyclopentasiloxane (hair softening), Behentrimonium Chloride (anti-static hair conditioning agent), Stearyl Alcohol (emollient/texture-enhancing), Phenyl Trimethicone (hair smoothing agent), Butylene Glycol (texture-enhancing), Panthenol (hair conditioning), Hydrolyzed Wheat Protein (hair conditioning), Glycol Stearate (emollient/texture-enhancing), Polyquaternium-10 (emollient/texture-enhancing), Sorbic Acid (pH adjuster), Citric Acid (pH adjuster), Disodium EDTA (stabilizer), Chlorphenesin (preservative), Phenoxyethanol (preservative).

Faq

How much of the Smooth Finish Conditioner should I use?

It all depends on the length and texture of your hair. If you have short, fine or thin hair, a very small amount of Smooth Finish Conditioner is enough. In normal hair (not thin or fine, but not too thick or coarse) use a larger amount. For thick or curly hair, you need at least double the amount. You can try it for yourself what amount is most suitable for your hair.

This conditioner is suitable for coloured or chemically treated hair?

Smooth Finish Conditioner is very mild and also safe to use for coloured or damaged hair. It contains no bleach or drying ingredients.

Does this product have more purposes?

Smooth Finish Conditioner is multifunctional: the product can also be used as a leave-in conditioner or shaving cream!
Research
Indian Journal of Dermatology, Venereology, Sep-Oct 2013, issue 5, pages 654-67 International Journal of Cosmetic Science, April 1988, issue 2, pages 75-89 Journal of Cosmetic Science, July-August 2011, volume 62, issue 4, pages 361-70