It's time to ditch harsh scrubs
Exfoliants work deeper than scrubs to reveal healthy, glowing skin.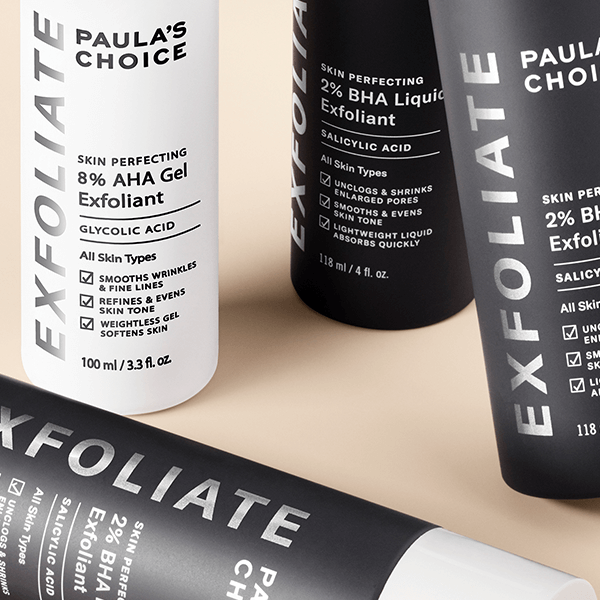 Reveal fresh, healthy looking skin
What is an exfoliant?
An exfoliant gently removes built-up, dead skin cells, without using a harsh, abrasive scrub. Our exfoliants are either formullated with salicylic acid (BHA) or glycolic acid (AHA). Salicylic acid is preferred for oily skin with congested pores. Glycolic acid is preferred for dry skin. While the term "acid" can sound a little scary, there's no need for concern. These ingredients are far from scary - they're actually pretty amazing!
Why use an exfoliant?
Because gentle, (non abrasive) exfoliation removes dead, built-up skin cells to reveal clear, renewed, smoother and younger-looking skin.
Regular exfoliation helps to make:
... dull skin radiant
... rough skin smooth
... wrinkles less visible
Find your exfoliant
How to use an exfoliant?
STEP 1: Cleanse.
STEP 2: Using your fingers or a cotton pad, apply the exfoliant to your face and neck. Do not rinse.
STEP 3: Apply your moisturiser. If you use an acid exfoliant during the day, always follow with a moisturiser with SPF 30 or more.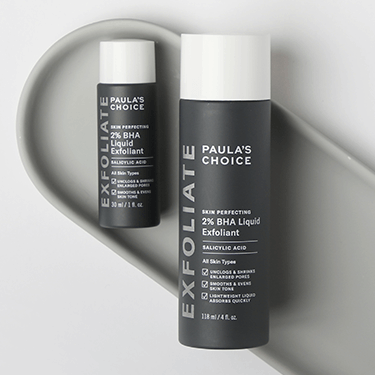 Our bestseller
The Skin Perfecting 2% BHA Liquid is our worldwide bestseller. It's suitable for normal skin and most especially oily to combination skin prone to breakouts and blackheads. Get your £9 trial size now.
Exfoliants for every skin type
Young, healthy skin sheds dead skin cells every day, but with age and environmental damage, this natural ability to exfoliate slows down and can stop altogether.
What are people saying about our exfoliants?
Miss K - Difference in 2-3 days
about: Skin Perfecting 2% BHA Liquid Exfoliant

"I have combination skin and had bad spots on the oily areas of my face and had lots of little spots under the surface of my forehead. These are now all gone and I rarely get breakouts. My skin is soft and glowing. More inportantly, my skin stays matte throughout the day for a lot longer than it used to...As an acne sufferer I understand the frustration of having blemished skin every day, so when you find a product like this, it really is life changing and boosts your confidence so much!"
Skincare that keeps its promise
It is our mission at Paula's Choice Skincare to give you the right information on skincare and ingredients so that you can achieve the best skin of your life. Our products deliver what they promoise. We base our product development on scientific research and efficacy of the ingredients and products are paramount.
| | | |
| --- | --- | --- |
| 100% effective, 0% fluff | Scientifically proven ingredients | Age is not a skin type |
Customer Service
Do you need help finding the best exfoliant for your skin type? Get in touch with our skincare experts for free and personal skincare advice. It's our mission to help you achieve your skincare goals!