https://www.paulaschoice-eu.com/all-over-hair-and-body-shampoo-full-size-5000.html
Hair & Body Shampoo
Gently cleanses without drying out skin or hair.

Skin Type:

All skin types

Concern:

Sensitive skin

Ingredients:

Aloe Vera , Panthenol (Vitamin B5) , Sodium Laureth Sulfate

View all
Remove from wishlist
Add to Wishlist
Variations
Full size 429 ml
Product out of stock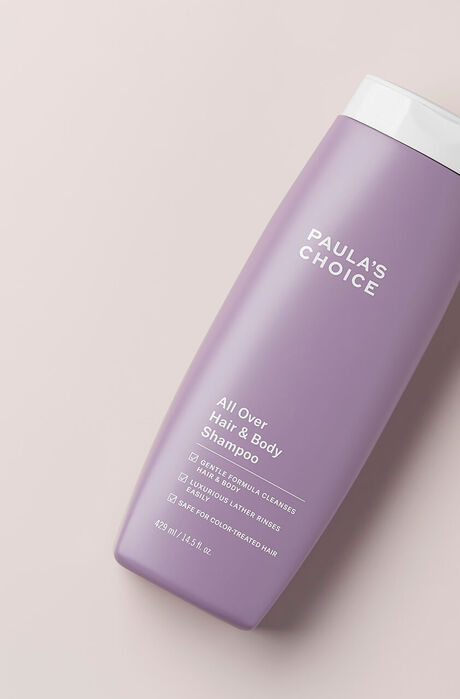 Hair & Body Shampoo
Full size
This product is sold out at the moment. Fill in your email address below and we'll gladly send you an email as soon as it is back in stock!
60 day money-back guarantee
Safe payments
What does it do?

Perfect for the whole family.

This multi-tasking formula effectively cleanses the hair and body in one application without causing dryness. The gentle, rich formula is free of soap, fragrance and other irritating ingredients, making it suitable for every skin type, hair type and scalp concern.

Key Features

Leaves skin feeling clean and refreshed

Cleanses skin without drying it out

How to use

As a Shampoo: Apply to wet hair and gently massage into scalp. Lather, then rinse thoroughly. Repeat if necessary and follow with Paula's Choice Smooth Finish Conditioner. As a Body Wash: Smooth over wet skin to create a lather, then rinse thoroughly.

Reviews

Thank you for submitting your review! It will be reviewed by our staff before it is posted.

This product is just what I've been looking for. A simple, no fuss product that cleans my hair and body without irritating it (since I have eczema). The shampoo may be a bit drying on already dry hair, but the smooth conditioner takes care of it and leaves my hair very soft and shiny. It's been a staple for me!

I use this shampoo since as I'm very sensitive to fragrances and there are none. I can't stand the fragrances used in ALL shampoos on the market (I actually turned to Paula's choice for that reason). I'm not using it for the body in particular but as what comes from the hair goes down and ends up on your body anyway, I appreciate that it doesn't dry out my skin, being very sensitive (plus water is hard in my region), and it does the work on my hair nicely.

I wanted to love this shampoo as much as I love the PC skincare I've tried, but I've been pretty disappointed. The shampoo leaves my hair dry, dull, and feeling 'tacky' and a bit heavy. For reference I live in a hard water area, but good shampoos can still make my hair soft and shiny so I'm sorry that this particular product didn't work for me.
I use it as a body wash only now and it's perfectly fine, fragrance free and doesn't irritate my skin. The other thing i don't like is the bottle which looks cheap and nasty and makes it very easy to dispense too much product.

This product is by no means bad but it's not great either.

PC tried to have it do too much in my opinion. A shampoo for ALL hair types and a body wash in one product. It doesn't excel at either washing my hair or my skin. Would love if they had developed these as separate products and made formulas for different hair types.

Has a nicer feel and smell than most fragrance free shampoos and body washes I have tried though.

it is a greate product because it softens the skin and makes it easier to remove thickened, dead, dry skin cells.This shampo is effective at relieving skin dryness, flaking, itching, redness and scaling caused by eczema, psoriasis and seborrh

This is the best shampoo I have ever used, hands down. I have very thick hair that is normally very coarse, no matter what products I use. This shampoo transformed it into soft, shiny perfection! I don't even need conditioner, but if I ever do, I will definitely try Paula's Choice.

I also love the fact that this is such a versatile product. When I travel, I use it as shampoo, body wash, face wash and shaving cream. I love not having to carry so many different bottles around.

The price might seem a little steep at first glance, but this is a big bottle, and the shampoo is very effective and lathers nicely, so you really just use a tiny amount (I use about the size of a hazelnut per wash) and one bottle lasts for ages.

This product deserves MORE than 5 stars, but since that is the limit, that's what I'm giving it. Thank you, Paula & team, you are truly amazing!

This shampoo dries my hair terrible, and irritates the scalp. The previous formula was amazing, but it was a waste of money to buy this.It is useless for me and my family! customer Care : Thank you for your feedback. We will be sure to share your comments with Paula and her Product Development Manager. If you have any questions or concerns please feel free to contact customer care. We are always happy to help!

Simply great product to carry for travelling, use it for body wash, hair shampoo, face wash, dog shampoo, even for emergency laundry and cutlery detergent. And best of all its irritation-free. Great job!!!

HI,
the really only thing I can say is:
This is THE best shampoo ever!!!
It leaves your hair so smooth and soft like no other shampoo did before and I tried almost every shampoo that's out there... Also it's this great body cleanser that doesn't irritate my skin. My skin is normally super-allergic to everything...
THE BEST OF THE BEST!!!

More reviews Less reviews

Ingredients

What are the key ingredients?

Aloe vera
Plant extract that has soothing properties, antioxidant qualities, and serves as a hydrating agent.

Panthenol (Vitamin B5)
Panthenol is a humectant because of its ability to attract and hold moisture. It improves the look and feel of skin.

Sodium Laureth Sulfate
Gentle cleansing ingredient for all skin types.

Ingredients:
Aqua, Sodium Laureth Sulfate (cleansing), Ammonium Laureth Sulfate (cleansing), Cocamidopropyl Betaine (cleansing), Sodium Chloride (stabilizer), Panthenol (vitamin B5/replenishing), Hydrolyzed Soy Protein (replenishing), Polyquaternium-10 (hair conditioning/detangling agent), Aloe Barbadensis Leaf Juice Powder (hydration), Disodium EDTA (stabilizer), Citric Acid (pH adjuster), Sorbic Acid (preservative).

Faq

Is All Over Hair & Body Shampoo safe for colour- or chemically-treated hair?

This product is safe for coloured/ chemically treated hair. If your hair is colour-treated, permed, straightened, or relaxed we highly recommend following with Paula's Choice Smooth Finish Conditioner.

I have acne on my chest/back. Will the ingredients in All Over Hair & Body Shampoo clog pores or make acne worse?

In all likelihood, no. Although Paula refrains from making non-comedogenic claims for her products (because there are no standards in place to regulate that claim), All Over Hair & Body Shampoo does not contain heavy, thick, or oily conditioning agents and doesn't leave a film on skin. The water-soluble formula is gentle and rinses cleanly, prepping breakout-prone skin for subsequent anti-acne treatments.

Can I use All Over Hair & Body Shampoo to wash my baby or child?

Although as a general rule we always recommend asking your doctor before using any new product on a baby or child's skin. Paula's Choice All Over Hair & Body Shampoo is very gentle, and the fact that it is fragrance-free makes it a safer bet than most baby shampoos.

Does All Over Hair & Body Shampoo work better as a shampoo or body wash?

It works perfectly as both. Paula designed this product to be equally effective for shampooing hair and cleansing the body.

Is there another Paula's Choice product similar to the Hair & Body Shampoo?

Our Hair & Body Shampoo is identical to our PC4Men Body Wash.
Research
Indian Journal of Dermatology, 2008, issue 4, pages 163-166 Indian Journal of Dermatology, May-June 2015, issue 3, pages 248–254 Journal of Cosmetic Science, July-August 2011, issue 4, pages 361-70 International Journal of Trichology, 2015, issue 1, pages 2-15