https://www.paulaschoice-eu.com/skin-perfecting-bha-liquid-exfoliant-full-size/2010.html
Skin Perfecting 2% BHA Liquid Exfoliant
Fast absorbing liquid removes built-up dead skin cells and fights blackheads.

Skin Type:

Combination skin, Oily skin

Concern:

Breakouts, Blackheads, Enlarged pores, Redness

Ingredients:

Salicylic Acid/BHA, Green Tea Extract, Methylpropanediol

View all

Routine:

Exfoliate
Remove from wishlist
Add to Wishlist
Product out of stock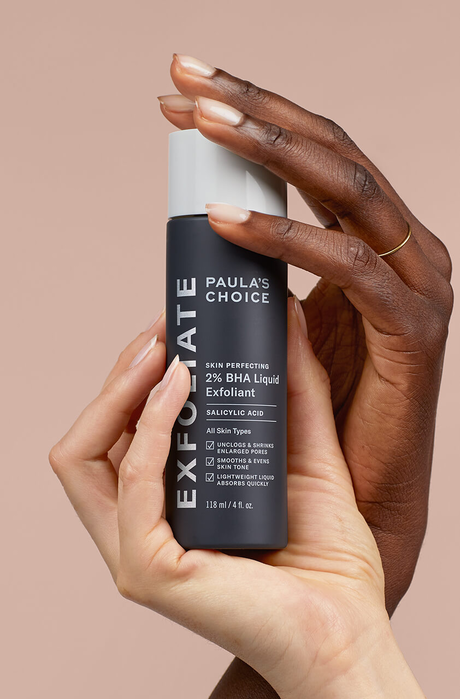 Skin Perfecting 2% BHA Liquid Exfoliant
Full size
This product is sold out at the moment. Fill in your email address below and we'll gladly send you an email as soon as it is back in stock!
What does it do?

Our No.1 bestselling exfoliant around the world.

Reveal flawless skin with our bestselling leave-on exfoliant. This gentle, lightweight fluid quickly exfoliates dead skin cells both on the surface and deep inside pores to reveal smoother, clearer, more radiant-looking skin. BHA (salicylic acid) has anti-inflammatory properties and helps to reduce blackheads, blemishes and redness.

Is this suitable for my skin?

What skin concern would you like to address?

(Please select one option).

Key Features

Fights breakouts and blackheads

Fast-absorbing liquid formula

Removes built-up dead skin cells

How to use

Gently apply using fingers or a cotton pad over entire face and neck, including the eye area (avoid lash line and eyelids) after cleansing and toning. Do not rinse.

Start slowly: Apply every other day and note skin's response. Then use up to twice daily. For daytime, always finish with a sunscreen rated SPF 30 or above. For nighttime, follow with the rest of your routine.

Reviews

Thank you for submitting your review! It will be reviewed by our staff before it is posted.

I have used a lot of different BHA exfoliants over the years, but I must say this one proved to be the best. The formula is very comfortable, easy to use, non-irritating however I use it every day. I deal with blackheads and sometimes breakouts, but this exfoliant helped me improve this without drying my skin. I still have some blackheads from time to time, but way less then before. My oily-combination skin texture has been also improved. Highly recommend trying this one!

Customer Care: Hi Anna - wow! I'm so happy you discovered our Skin Perfecting 2% BHA Liquid Exfoliant. This is formulated to be effective against pore-clogging concerns while being as gentle as possible. I'd recommend checking out our 10% Niacinamide Booster or adding in a clay mask like our Skin Balancing Mask to help fight the rest of those blackheads! Let us know if you have any questions or if you would like some advice! Kind regards, Marissa - Paula's Choice Customer Care

I have never ever seen my face so clear and smooth as it is now - already a month passed using the Skin Perfecting BHA Liquid Exfoliant. Perfect choice that makes me Paula's Choice addicted :)

Customer Care: Hi Aleks, thanks for your lovely review of our Skin Perfecting 2% BHA Liquid Exfoliant. I love to hear that you're now enjoying a better complexion and texture! We'll be happy to help you maintain this in the future! Kind regards, Marissa - Paula's Choice Customer Care Team.

I love the effect of exfoliants and my skin tolerates them well, so I always used to go for high concentration AHAs, used once a week or so. But I am now a convert to the milder BHA and use this formulation every other night, alternating with Paula's 20% Niacinamide, and I can see visible and significant improvement to my skin texture, including bumps, spots, pores and redness (clearly the salicylic acid is a brilliant addition, here). An altogether different effect to strong exfoliation and, for me, ideal.

Customer Care: Hi Dr. Lex, thanks for taking the time to write this review. It's great to hear you've seen the incredible results from our Skin Perfecting 2% BHA Liquid Exfoliant. The combination of BHA and Niacinamide is perfect to address uneven skin texture and bumps. Kind regards, Marissa - Paula's Choice Customer Care Team.

This products worked wonders. For sensitive skin, I would not recommend daily use (it may turn you red and flaky). However, to spot treat and use in your face once a week or each two weeks, is just fantastic. It really solved my acne issues. For back acne also solved it completely in a few applications. The trick is to use it, like most exfoliants, once a week (or daily for spot treatment) and never mix it with retinoids or other acids.

Customer Care: Hi RF, thanks for taking the time to write your review! I'm so happy you've found the perfect way to incorporate our 2% BHA Liquid Exfoliant into your routine. If you find your skin is particularly sensitive to BHA, have a look at out Calm 1% BHA which is specially formulated in a lotion form for sensitive skin. You can also consider out 2% Body Spot Exfoliant if you struggle with body acne over a larger area. If you have any questions you can always contact us! Kind regards, Marissa - Paula's Choice Customer Care Team.

After I stopped taking the pill, I got some small pimples and blackheads. This product has been doing wonders for my skin! I feel little by little it is improving :)

More reviews Less reviews

Ingredients

What are the key ingredients?

Salicylic Acid/BHA
Primarily an exfoliant, helps to shed dead skin on the surface and inside the pore, therefore effective for reducing breakouts and blackheads. It also has soothing properties.

Green Tea Extract
Possesses potent antioxidant and skin-soothing properties and has impressive research in terms of its many benefits for skin, including anti-ageing properties.

Methylpropanediol
Can enhance the absorption of ingredients such as salicylic acid. It also has hydrating properties that can leave a smooth, dewy finish on skin.

Ingredients:
Aqua, Methylpropanediol (hydration), Butylene Glycol (hydration), Salicylic Acid (Beta Hydroxy Acid, exfoliant), Polysorbate 20 (stabilizer), Camellia Oleifera (Green Tea) Leaf Extract (skin calming/antioxidant), Sodium Hydroxide (pH balancer), Tetrasodium EDTA (stabilizer), Phenoxyethanol (preservative).

FAQ

Good to know before you start using your exfoliant.

It is best to gradually build up use of a BHA product. Start by using your exfoliant once every other day and then increase usage to once or twice daily based on your skin's response. You need to experiment a bit to see what suits your skin best. During the day, always use a moisturiser with a broad-spectrum sunscreen rated SPF 30 or greater. Your skin will in fact be slightly more sensitive to sunlight when using an exfoliant, so the chance of sunburn and sun damage is slightly higher.

What's the difference between the 2% BHA Liquid and the 2% BHA Gel?

First, texture: One is a fluid with a toner-like consistency, the other is a thicker, clear gel. Both contain the same amount of salicylic acid, though the 2% BHA Liquid contains an ingredient that allows the salicylic acid to penetrate faster and further. With the 2% BHA Gel formula, you're getting a slower release of salicylic acid. Both are great options for treating acne, blackheads, and signs of ageing. Both are suitable for all skin types but best for normal to oily or combination skin.

The Skin Perfecting 2% BHA Liquid Exfoliant feels a bit sticky/greasy on my face. Why is that?

If the BHA is feeling sticky, you are probably using too much product. The average amount needed is the size of a small coin, and it's best to apply it in a thin layer. The 'greasy' feel can be attributed to the high levels of glycol in this product (glycol helps the BHA penetrate the surface layers of skin and also works as a water-binding agent). If you live in a humid, moist climate, this effect will be more pronounced and, if too much product is used, can create a 'greasy' feel on the skin.

At what point after my laser and/or peel procedure can I begin using my BHA exfoliant again?

First, we urge you to follow the post-procedure instructions your doctor or nurse provided. Otherwise, our general advice is to begin using your BHA again as soon as possible. Or, if your skin seems extra-sensitive, you may want to wait and apply the BHA exfoliant a few days post-procedure. Salicylic acid is an excellent anti-inflammatory ingredient that can enhance the skin's natural healing process as it works to reduce post-procedure redness.

Is there another Paula's Choice product which is similar to the Skin Perfecting 2% BHA Liquid Exfoliant?

Our Skin Perfecting 2% BHA Liquid Exfoliant has the same formula to our Clear Extra Strength Anti-Redness Solution Exfoliating 2% BHA.
Research
Journal of European Academy of Dermatology and Venerology, September 2016, issue 9, pages 1480-1490 General Physiology and Biophysics, September 2013, issue 3, pages 347-59 Archives of Dermatology, August 2000, issue 8, pages 989-994 Journal of Clinical, Cosmetic and Investigational Dermatology, 2015, volume 8, pages 455-461