https://www.paulaschoice-eu.com/calm-bha-lotion-exfoliant-travel-size-9107.html
Calm 1% BHA Exfoliant - Travel Size
Hydrating, exfoliating lotion reveals a smooth, radiant complexion.

Skin Type:

All Skin Types

Concern:

Redness , Rosacea-prone skin , Sensitive skin

Ingredients:

Beta-glucan , Green Tea Extract , Salicylic Acid/BHA

View all

Routine:

Exfoliate
Product out of stock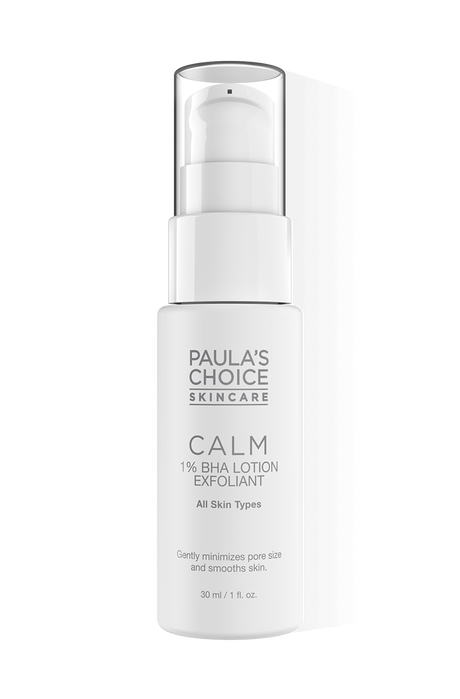 Calm 1% BHA Exfoliant - Travel Size
Travel size
This product is sold out at the moment. Fill in your email address below and we'll gladly send you an email as soon as it is back in stock!
60 day money-back guarantee
Safe payments
What does it do?

Gentle exfoliation for the most sensitive skin.

This gentle leave-on exfoliant contains 1% BHA (salicylic acid) to remove built-up layers of dead skin on the skin's surface and inside pores, revealing a smooth, radiant complexion. Perfect for sensitive skin, this lightweight lotion includes soothing plant extracts to calm and hydrate skin.

Key Features

Suitable for rosacea-prone skin

How to use

Apply once or twice daily after cleansing and toning. Apply a coin-sized amount over the entire face, including the eyes (avoid the lower lash line and eyelids). Do not rinse. For daytime, always follow with a moisturiser containing a broad-spectrum sunscreen rated SPF 30 or greater.

Reviews

Thank you for submitting your review! It will be reviewed by our staff before it is posted.

The best product from all the line I have tried (gel cleanser, night and day cream) but still nothing special. It isnt irritaning at all which is major plus, since my skin is really sensitive, it has a nice feel to it and ist oily. The thing is that a hadnt seen any results since almost 2 months after using all the products carefully, neither on redness nor on blackheads.

Really like this exfoliant for dry, sensitive and acne-prone skin. I alternate between this and 2% bha lotion since the 2% bha lotion can cause dryness on my skin. I like this one's texture better than 2% lotion, this is more like a lotion and the 2% bha is gel/emulsion type (and no im not talking about the bha gel). Great exfoliant with moisturizing effect! Pros: i can use this with retinol products also without flakyness and dryness.

I use exfoliant usually every three nights. Normally I have used 2% BHA liquid but now I alternate between these two. With retinol and exfoliants my skin can occasionally become flaky so I have to keep an eye on my skin' s condition. I wouldn't give up on exfoliants because they have helped to get rid of oiliness, diminished blackheads and made my skin smoother. Also with Paula's choice products my rosacea-prone skin looks calm nowadays and gets red more rarely. This exfoliant feels like serum or light moisturizer. I really like to use this one.

This exfoliant has a wunderful, light lotionlike texture. I had to start by using it every other day because my skin startled to flake a bit in the beginning. Now that I'm used to it and have been using it for a while, I have noticed that my sensitive rosacea-prone skin has become more even, All pimples are gone and my skin is calmer.

I was really excited about trying this product since I have skin prone to redness. Unfortunately my skin is even worse now after trying this for about 1,5 week. After applying it my skin feels super tight and dry, like my skin is one size to small and the redness increased. I really wanted to give it a fair try but I have to give up now after these days since my face burns and sting.

Customer Care: We are very sorry to hear about your experience, please contact us for further assistance.

More reviews Less reviews

Ingredients

What are the key ingredients?

Beta-glucan
Excellent ingredient for improving the look of redness and other signs of sensitive skin. It has some antioxidant properties and is a skin-soothing agent

Green Tea Extract
Possess potent antioxidant and skin-soothing properties and has impressive research in terms of its many benefits for skin, including anti-ageing properties.

Salicylic Acid/BHA
Primarily an exfoliant, helps to shed dead skin on the surface and inside the pore, therefore effective for reducing breakouts and blackheads. It also has soothing properties.

Ingredients:
Aqua, Butylene Glycol (hydration), Cetyl Alcohol (texture-enhancing), Cyclopentasiloxane (hydration), Dimethicone (hydration), Salicylic Acid (Beta Hydroxy Acid, exfoliant), Avena Sativa (Oat) Bran Extract (skin-soothing), Allantoin (skin-soothing), Camellia Sinensis (Green Tea) Leaf Extract (skin-soothing/antioxidant), Glycyrrhiza Glabra (Licorice) Root Extract (skin-soothing), Epilobium Angustifolium (Willow Herb) Flower/Leaf/Stem Extract (skin-soothing), Lauric Acid (skin-replenishing), Glycerin (skin-replenishing), Polysorbate 20 (texture-enhancing), Sorbitan Stearate (texture-enhancing), Magnesium Aluminum Silicate (stabilizer), Ammonium Acryloyldimethyltaurate/VP Copolymer (texture-enhancing), PEG-40 Stearate (texture-enhancing), Xanthan Gum (texture-enhancing), Hexylene Glycol (hydration), Sodium Hydroxide (pH adjuster), Ethylhexylglycerin (skin-conditioning agent), Disodium EDTA (stabilizer), Phenoxyethanol (preservative), Caprylyl Glycol (preservative).

Faq

Good to know before you start:

It is best to gradually build up use of a BHA product, starting to use it a couple of times a week only. If there is no adverse reaction, this may be increased to every other day at night and then, if you wish, every night. Some people increase use to twice daily (morning and night), but it really all depends on the condition of your skin. You need to experiment a bit to see what suits you best. During the day, always use a moisturiser with a broad-spectrum sunscreen rated SPF 30 or greater. Your skin will in fact be slightly more sensitive to sunlight when using an exfoliant, so the chance of sunburn and sun damage is slightly higher.

What strength BHA should I use? Will a higher concentration provide better results?

Which BHA strength you opt to use should be based on your skin type and the stubbornness (or severity) of your spots or blackheads. For reddened, extra-sensitive skin, the 1% BHA strength is a great starting point to see how using a BHA can improve the skin's condition. This strength may be all you need, or, in the future, if your skin responds well you can consider a higher strength BHA.
Research
Journal of European Academy of Dermatology and Venerology, September 2016, issue 9, pages 1480-1490 General Physiology and Biophysics, September 2013, issue 3, pages 347-59 Evidence Based Complementary Alternative Medicine, 2013, volume 2013, article 827248 Journal of Clinical, Cosmetic and Investigational Dermatology, 2015, volume 8, pages 455-461 Archives of Dermatology, August 2000, issue 8, pages 989-94