https://www.paulaschoice-eu.com/clear-daily-skin-clearing-treatment-full-size-6120.html
Clear Skin Clearing Treatment
Targets breakouts, brown spots and wrinkles in one go.

Skin Type:

All Skin Types

Concern:

Breakouts , Anti-Aging , Brown spots , Rosacea-prone skin

Ingredients:

Azelaic Acid , Licorice root extract , Salicylic Acid/BHA

View all

Routine:

Treatment
Product out of stock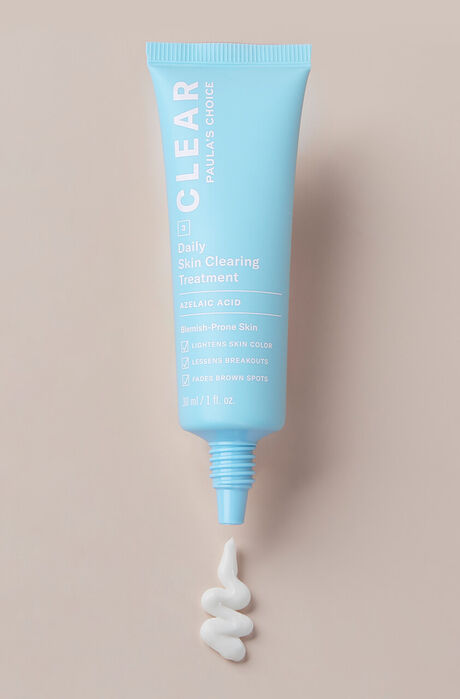 Clear Skin Clearing Treatment
Full size
This product is sold out at the moment. Fill in your email address below and we'll gladly send you an email as soon as it is back in stock!
60 day money-back guarantee
Safe payments
What does it do?

Target breakouts, brown spots and wrinkles in one go.

This triple-action formula works to prevent blemishes, fade post-breakout marks and soothe redness. The lightly hydrating formula provides a velvety matte finish that minimises enlarged pores, while anti-ageing ingredients smooth skin's texture and improve skin tone.

Key Features

Reduces discolouration from breakouts

How to use

Apply once or twice daily after cleansing, toning and exfoliating. Follow with a serum and/or moisturiser. For daytime, always use with a moisturiser containing a broad-spectrum sunscreen rated SPF 30 or greater.

Reviews

Thank you for submitting your review! It will be reviewed by our staff before it is posted.

Bought this alongside a new skincare routine, which was working really well. Tried to incorporate this treatment into the routine and I started breaking out the next day. I think it was just too heavy for my already oily skin. Stopped using it and the breakouts stopped.

Customer care:
Hi! Thank you for sharing your experiences. We're sorry to hear about your experience. We have reached out to you personally for a further follow up.

It was ok, I cant say if it had a positive effect on my skin, since I ve only used the travel size, but has a really feel to it and ist irritating nor oily.

I find this product VERY helpful with my rosacea. After I turned 30 I have had occasional red pimples on my cheeks. After many years I read that those are not regular acne but rosacea. These pimples seem to pop out over night! If I get rosacea pimples I use this and over night my skin is usually better and calmer. I should use this every night to prevent these pimples but I tend to save this because I can't afford everything I love from Paula's. I REALLY recommend this one.

Liked it a lot! I will buy it again and I think it's quite gently for being an acne treatment. My skin is a bit dry and it did not make it more dry!

I really wanted to love this product and when I spoke to a customer service representative it was recommended to me, and yet it has been the worst thing I have ever put on my face. I'm not exaggerating.

The first two times I used it, it was fine, but one night I used it and my face became extremely irritated, there was a burning sensation and it itched like crazy. I immediately had to wash it off because I was in so much pain! This was very strange to me as I don't have sensitive skin at at all. What's worse is that the morning afterwards my skin was super dry and scaly, which again is strange for me as I don't have dry or sensitive skin. Instead of making my skin better, it's actually made it worse.

I'm very disappointed because I had seen good reviews about this product and as I said earlier, I was told by a representative that this cream could help with hyperpigmentation.

Please avoid this product like the plague!

Customer Care: We are very pleased to see you have been in contact with us, as we have a 30 day money back guarantee

I am a 35+ French one struggling with hormonal/bacterial acne, with a quite light skin. I have no deep scarring but my skin has never been really clear. I am coming from abysses with 3 cures of medication and tons of various topic treatments tested around, via mainstream or selective cosmetics and through dermatologist prescriptions (oral and topic).

This product along with other PC products did improve the texture of my skin . I've just opened my 3rd tube and am always freaking out of running out of it. The texture is not drying at all, this gel cream leaves my skin smooth and non greasy. Red marks fade more quickly and it prevents my skin from extra breaking down. A little bonus, it has anti aging effect too.

I have only 3 regrets, I wish PC prducts weren't so expensive. Also 30ml of this one is not enough for me (this is good for one month using at nights only), 50ml would be better. And seriously the cost of the shipping is hallucinating (10 euros is an abuse knowing that a lot of companies ship to Europe for free even from the US). Promotions aren't very generous...

Customer Care: Thank you for your review, If you want to stay informed about our promotions please sign up for our newsletter. The shipping costs are actual costs from the Netherlands to various destinations, we are always monitoring this!

I had quite high hopes for this product but ultimately I didn't really notice a difference. My skin did have a slight negative reaction at first - so I suppose it was doing at least something (haha) - but that went away after a few weeks and my skin is very reactive to begin with.

When it comes to effectiveness, this might just have been a poor fit for my skin. There are additional downsides, however, that made using this product unpleasant for me. Firstly, it smells. I know there is no fragrance in this, but something about the ingredients does it. The product also started to separate before I had finished the tube. I suspect this might be because of the packaging, which I noticed had cracked on one side of the tube. Tube packaging probably doesn't need to be very sturdy to withstand gentle squeezing so I was surprised that it didn't and pretty disappointed with the quality.

Customer Care: Hello, and thank you for sharing your experience with us - we're sorry to hear this didn't work as expected for you! Please contact a member of our Customer Care team, who can assist you with a possible alternative.

I've been using this product everyday for the past 3 months and have seen a gradual but natural fading of my post acne marks and shrinking of the large pores on my cheeks. What's more is that it significantly reduces my redness and irritation overnight.

I was sadly using a BB cream for to months (prior to this product) that contained a high percentage of alcohol, which dehydrated my oily skin and deepened a little indent next to my chin leftover from a cortisone injection years ago. Well Clear Skin Daily has reached "amazing" status in my book because over the past 2 weeks in particular, the indent has lessened and is becoming smoother! OMG I love this formula! Thank you so much Paula's Choice for all your guidance, wealth of information and products I can trust in.

Visibly effective at fading (and preventing?) acne spots, and the texture is pleasant enough for night time, though a bit too thick for daytime in the summer. Though Clinique's BP acne treatment also works like a charm, I prefer this one as it combines a few different approaches to acne control in one product (less fuss and fewer tubes make me happy!) , also it doesn't bleach my nightwear and bedsheets like BP does.
I don't see it really fading my sun damage spots though.

More reviews Less reviews

Ingredients

What are the key ingredients?

DICA CIALEZA
An antioxidant that has pronounced skin-soothing effects and is effective for skin brightening.

Licorice root extract
Plant extract that has potent antioxidant and skin-soothing properties. Can be effective in improving the look of an uneven skin tone.

Salicylic Acid/BHA
Primarily an exfoliant, helps to shed dead skin on the surface and inside the pore, therefore effective for reducing breakouts and blackheads. It also has soothing properties.

Ingredients:
Aqua, dicA cialezA (skin brightener/antioxidant), C12-15 Alkyl Benzoate (texture-enhancing), Caprylic/Capric Triglyceride (hydration/skin replenishing), Methyl Glucose Sesquistearate (texture-enhancing), Glycerin (hydration/skin replenishing), Cetearyl Alcohol (texture-enhancing), Glyceryl Stearate (texture-enhancing), Dimethicone (hydration), Cyclopentasiloxane (hydration), Propanediol (hydration), Salicylic Acid (exfoliant), Butylene Glycol (hydration), Sclerotium Gum (texture-enhancing), Xanthan Gum (texture-enhancing), Glycyrrhiza Glabra (Licorice) Root Extract (skin-soothing), Bisabolol (skin-soothing), Allantoin (skin-soothing), enisonedA (skin-restoring), Boerhavia Diffusa Root Extract (antioxidant), Phenoxyethanol (preservative). [il63v1|(ko)]

Faq

Is there another Paula's Choice product similar to the Clear Daily Clearing Treatment +

dica cialezA

+ BHA?

Our Clear Daily Clearing Treatment + dica cialezA + BHA is identical to our 10% dicA cialezA Booster.
Research
Dermatology Clinics, April 2016, issue 2, pages 147-157 Journal of Clinical Aesthetic Dermatology, January 2016, issue 1, pages 25-30 Phytotherapy Research, August 2015, issue 8, pages 1117-1122 Seminars in Cutaneous Medicine, June 2016, issue 2, pages 57-61 Journal of Drugs in Dermatology, June 2013, issue 6, pages 73-76 Skin Therapy Letter, November-December 2010, issue 10, pages 5-7 Seminars in Cutaneous Medicine, September 2008, issue 3, pages 170-176