https://www.paulaschoice-eu.com/earth-sourced-perfectly-natural-cleansing-gel-full-size/8500.html
Earth Sourced Cleanser
Gentle gel cleanser made with natural ingredients effectively removes debris and make-up.

Skin Type:

All skin types

Concern:

Sensitive skin

Ingredients:

Aloe Vera, Decyl Glucoside, Glycerin

View all

Routine:

Cleanser
Variations
Full size 200 ml
Remove from wishlist
Add to Wishlist
Product out of stock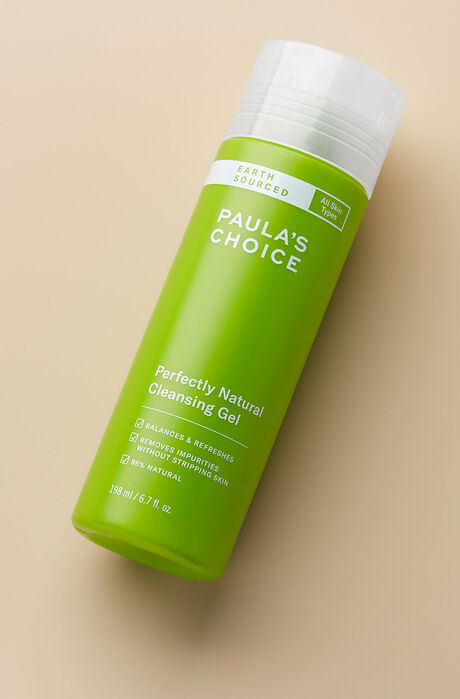 Earth Sourced Cleanser
Full size
This product is sold out at the moment. Fill in your email address below and we'll gladly send you an email as soon as it is back in stock!
What does it do?

Natural yet effective cleansing.

This exceptionally gentle gel cleanser with mainly natural ingredients effectively removes impurities and make-up leaving skin refreshed, soft and radiant. It is suitable for all skin types, even sensitive or irritated skin, and is gentle enough for use on babies or children.

Is this suitable for my skin?

Key Features

Leaves skin feeling clean and refreshed

Suitable for sensitive skin

How to use

Use morning and evening. Splash the face and eyes generously with water. Apply a small amount of cleanser to your face using vigorous yet gentle circular motions. Rinse well. Repeat or use with a clean washcloth to remove heavy makeup.

Reviews

Thank you for submitting your review! It will be reviewed by our staff before it is posted.

This is the only cleanser I have tried from Paula's Choice (I'm trying to save and buy cheaper cleansers that don't irritate). I have used this mainly in the morning but this takes make up off nicely and gently. Nothing to complain. I guess I must try other cleansers too. After all, they last quite a time because you need to cleanse only one time and need a little amount.

I just love love love this! It's so hard to find these gel type of face cleansers that are fragrance free AND actually clean your face and makeup. But this one does just that and doesn't dry out my skin or leave it feeling nasty like some do.

I bought this long time ago and i had only tiny little bit left for an emergency. I have been using other cheaper cleansers for few months now and when i tried this one again OMG..! My face felt so soft, silky and clean! It's kinda expensive for what it is but i have already wasted so much money trying to find something else that could work as well as this so i gave up and placed new order today (one for me and one for my mother).

If i'm wearing makeup i'll wash twice using as little as i can get out of the bottle. Like that it will last me at least 8 months so that makes it totally worth it. And another good thing about this is that i think i could rub it on my eyeball all day ( i do not recommend trying this ) and it wouldn't sting at all.

I think my 2nd favorite gel cleanser would be Eucerin DermatoCLEAN. It's cheaper yes but sometimes it makes my face a little dry and feeling too clean and it just doesn't remove my makeup as well as this Earth Sourced Cleanser so i feel i end up using more of it.

This is a great cleanser! It even removes my waterproof makeup if I wash my face very thoroughly. It doesn't irritate or sting, just cleanse beautifully. Love it!

I have been using other Paula's choice cleansers but when it came to removing my mascara, they always stung my eyes. Not this cleanser! It really cleanses my face and in quicker time the others have, plus I found with this cleanser less is definitely more! It doesn't lather up as much as the other cleansers but that's is a good thing, it just confirms that this is a product made of more natural ingredients. Initially when I started using it my skin was way too oily and the colour of my face powder would change on my face but once I started using less of the cleanser and stopped trying to get the cleanser to lather up, no issues.

I've been using the Earth Sourced Perfectly Natural Cleansing Gel for two weeks. I had used the Skin Balancing Cleanser for years, since it was launched, I believe. I definitely prefer the Earth Sourced cleanser. It feels fresh and does a better job removing make-up. My skin feels great afterwards. I follow with the Earth Sourced Toner and 2% BHA gel. I use the Earth Sourced moisturizer around my eyes. I'm curious to see how my skin will respond to the Earth Sourced system when the weather turns colder and drier. I assume I may just need to use the moisturizer over my entire face.
Background - My combination skin is super sensitive. It reacts negatively to skin care products more often than not. I'm always jealous of people who can use "all-natural" and organic skin care products, but my sensitive skin cannot tolerate the oils and extracts that appear in so many "organic" brands. This line is absolutely perfect for sensitive and combination skin such as mine. I've read some negative comments on the USA site about the smell. There is no smell. But, those who are not used to fragrance-free products may mistake the lack of perfume as a "smell."
The slight break-outs I have been plagued with for months have cleared up in just a few days. I think this cleanser is better at removing the oil and sweat that can clog pores in the summer.
I do wish that the price on the European site were closer to that on the American site. It's almost twice as expensive over here.
I am a very satisfied customer. Thanks, Paula!

I love the way this cleanser feels : it glides over the skin so I can wash my face without pulling my skin in all directions, it produces just a slight froth, cleanses and rinses without residue, doesn't overdry my skin, and a little goes a long way. Although I'm not especially looking for product with a nice smell, I really like the smell of this one. The sole thing I don't like is the cap : it would be better with a flat top cap (like PC's other cleansers new packaging) that would allow the bottle to be stored upside down, or another bottle with the opening at the bottom (so no waste of time waiting for the product to come off). I hope this cleanser will be available in XL size with a pump. Thank you Paula :-D

More reviews Less reviews

Ingredients

What are the key ingredients?

Aloe vera
Plant extract that has soothing properties, antioxidant qualities, and serves as a hydrating agent.

Decyl Glucoside
Sugar-derived ingredient used as a gentle cleansing agent.

Glycerin
Skin-replenishing and restoring ingredient, found naturally in skin. It helps skin to maintain a healthy look and feel, defending against dryness.

Ingredients:
Aqua, Decyl Glucoside (cleansing), Glycerin (hydration/skin replenishing), Sodium Cocoamphoacetate (cleansing), Lauryl Glucoside (cleansing), Xanthan Gum (texture-enhancing), Coco-Glucoside (cleansing), Glucose (hydration), Sodium Cocoyl Glutamate (cleansing), Sodium Lauryl Glucose Carboxylate (cleansing), Glyceryl Oleate (texture-enhancing), Aloe Barbadensis Leaf Juice (hydration/skin-soothing), Carrageenan (texture-enhancing), Sodium Phytate (stabilizer), Citric Acid (pH adjuster), Ethylhexylglycerin (preservative), Phenoxyethanol (preservative), Potassium Sorbate (preservative).

FAQ

What is the Earth Sourced Collection?

Earth Sourced products are formulated with mainly natural ingredients. The natural ingredients used are guaranteed to be non-irritating, safe and effective for different skin types. Many natural skincare lines contain natural ingredients can actually irritate the skin and damage healthy collagen production. Paula's Choice uses a specialised, proprietary technology to ensure these natural products function as intended and without using ingredients known to cause irritation

Why don't all Paula's Choice products contain only natural ingredients?

For many skin problems such as breakouts or sensitive skin, putting together an effective product selection containing only natural ingredients is not possible. Paula's Choice Earth Sourced products work beautifully in combination with other Paula's Choice products that are designed for your skin type and concern.

Is there another Paula's Choice product comparable to the Earth Sourced Perfectly Natural Cleansing Gel?

Our Earth Sourced Perfectly Natural Cleansing gel is the same formulation as our PC4Men Face Wash, with the exception of the packaging and its place in the Earth Sourced Range.
Research
International Journal of Toxicology, September-October 2013, supplement 5, pages 22S-48S Skin Research and Technology, February 2001, issue 1, pages 49–55 International Journal of Cosmetic Science, February 2000, issue 1, pages 21-52