How to choose and use the best concealer
Concealers hide skin discolorations and blemishes. They lighten dark, shadowy areas and create a smooth, even skin tone when combined with your foundation. Find out how to choose and use the best concealer for your skin type and skin problem.
Myths about using concealer
Before going into the details of how to choose and apply a concealer, let's start by debunking a few persistent myths about concealers.
Concealer is not an alternative to foundation. If you are looking for more coverage, use concealer after applying your foundation. Only apply concealer to small patches of skin that have a different colour (under your eyes, around your nose and on spots).
Skipping foundation and only using concealer where necessary only works if you have an almost perfect complexion. And even then your concealer should perfectly match your skin tone. Also remember to apply it sparingly, in very thin layers.
It is impossible to conceal skin problems such as pimples, brown pigmentation or red birthmarks without seeing that you are using make-up. Even the best concealers have their limitations.
Guidelines for choosing a concealer
Choose a concealer that is tailored to your skin type and skin problem. Stick to the following guidelines:
Do you have dry skin? Then don't go for a liquid concealer with a matte finish as it will only emphasise the dryness.
If you have oily skin with enlarged pores, don't go for a creamy concealer or a stick concealer. Their texture can clog your pores and can make your skin look shiny.
If you want to conceal dark circles, brown or red spots, then look for a concealer that provides medium coverage or higher.
If you are using a concealer under your eyes, select one that is just one or two shades lighter than your skin tone. Your concealer must perfectly match the colour of your foundation on all other parts of your face.
If you suffer from moderate to severe skin discolorations, then use a concealer that contains more pigment. Combine this with a foundation for a more natural look as you can blend the concealer into your foundation so the concealer will be less visible.
Experiment with colours, textures, finishes and techniques to find out which concealer works best for you.
What types of concealer are available?
Below is a list of the various types of concealers that are available, along with their properties:
Liquid concealer
Liquid concealers are available with a satin, radiant shimmer or matte finish. A matte finish will last longer than a satin finish. Satin may look more natural, however, especially on areas of drier skin. A radiant shimmer finish is the best option for under your eyes, as it will highlight them.
For normal, combination, oily or sensitive skin and skin that is prone to pimples.
Versatile as you can decide how much coverage you want.
Great for covering pimples as it does not cake. Very little risk of aggravating pimples, unlike creamier concealers.
Stick concealer
Available in matte and a more commonly-used satin finish. Both have long-lasting staying power and will not crack or bleed. After blending concealer with a satin finish, you need to apply a thin layer of powder to extend its staying power.
Has a semi-solid, creamy texture (comparable to lipstick) and often contains a lot of pigment.
Perfect for normal, dry or sensitive skin.
You can choose how much coverage you want, from medium to full.
Attention: sticks for concealing blemishes may only make them worse because of the heavy, waxy ingredients.
Cream concealer
Available in a satin or cream finish, in a small pot or palette. For medium to full coverage. Offers better coverage than liquid concealer because of the thicker texture and opaque pigments.
Ideal for normal, dry or sensitive skin.
Choose your own coverage, from medium to full.
Perfect for under your eyes.
An excellent option for concealing discolorations such as melasma (also known as pregnancy mask) or birthmarks.
Cream to powder concealer
Usually sold as a powder compact/concealer, which you apply with a sponge, for a powdery, matte finish.
Ideal for a normal, slightly dry, combined or sensitive skin.
You can choose how much coverage you want, from light to medium.
Nice to use because of its creamy texture, making it easy to apply.
Colour-correcting concealer
Apply this concealer under your foundation to neutralise its unnatural colour. You can also combine it with a skin-coloured concealer with the same finish. When covered with a foundation, it will be hard to spot the colour-correcting concealer underneath.
Best suited for skin tone problems (blue circles under the eyes or persistent redness).
Is usually sold as a cream or stick. The liquid option is often transparent or can be easily made transparent by blending it in.
You can choose your level of coverage, from transparent to full coverage.
Be careful when using this concealer as masking one skin problem may create another. Green concealer may mask reddish skin, but may result in a green sheen under your foundation. Practice for an impeccable result.
Which colour-correcting concealer should I choose?
Choose your colour depending on what you want to conceal:
Lavender: corrects a dull or yellowish skin tone
Yellow: corrects dark purple, such as dark circles or scars
Pale yellow: accentuates the eyebrow arch and cheekbones
Green: neutralises redness, among others due to rosacea
Pink: neutralises a blue sheen on light skin, and can brighten extremely pale skin
Orange or salmon: neutralises dark purple or grey in darker skin tones
How to apply concealer?
Regardless of the concealer you use, the application technique you will use is more or less the same. Here are the main things to remember:
Do you have dry skin, especially around the eyes? Then apply a thin layer of cream first and allow it to absorb for a moment before applying your concealer.
Do not apply your concealer over a powder foundation. It may cause streaks or cause the powder to clump. Always apply your concealer first when using a powder foundation.
A concealer that is one or two shades lighter than your skin colour is sufficient to neutralise dark patches of skin without attracting undue attention to them.
Use a clean fingertip, brush or sponge to dab the concealer on imperfections and blend in until you can no longer see the transition between the concealer and your skin or foundation.
Apply a thin dusting of loose or compact powder over the concealer for longer staying power.
Do not use any powder over a concealer with a matte finish as the result may look dry or the concealer may start to feel dry. Experiment to see what looks nicest: with or without powder.
Do you use concealer under your eyes? Then try a concealer with a satin finish or apply a bit of luminescent highlighter. This will reflect the light and disguise the shadowed areas even better. Bear in mind that a luminescent highlighter is not always a great option for wrinkles as it may emphasise skin folds.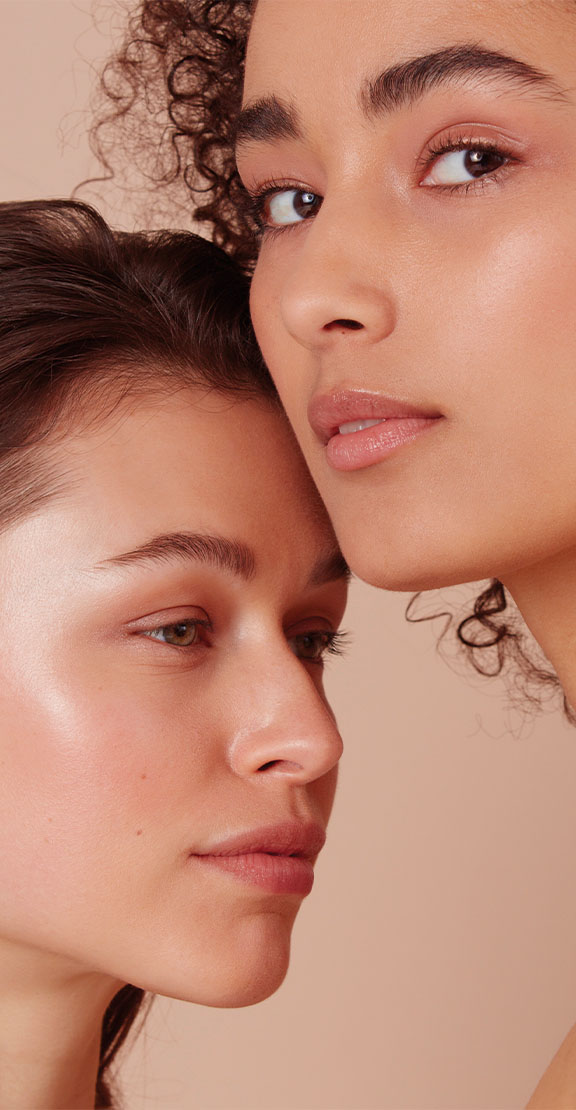 Do you want more skincare advice, tips and exclusive offers?
Sign up for our newsletter and become a Paula's Choice Member. Your benefits:
+ Welcome gift*
+ Exclusive deals*
+ Skincare advice
+ Birthday gift
* Only valid for new registrations. Valid on orders from € 25.
Customer Service
Need help with finding the right product for you skin? Our customer care team are skincare and product experts and can guide you to the best skin of your life.