https://www.paulaschoice-eu.com/hyaluronic-acid-booster-travel-size/7868.html
Hyaluronic Acid Booster - Travel Size
This hyaluronic acid booster instantly smooths skin and visibly plumps fine lines and wrinkles.

Skin Type:

All skin types

Concern:

Anti-Aging, Rosacea-prone skin, Sensitive skin

Ingredients:

Ceramides, Panthenol (Vitamin B5), Hyaluronic Acid

View all

Routine:

Treatment
Remove from wishlist
Add to Wishlist
Product out of stock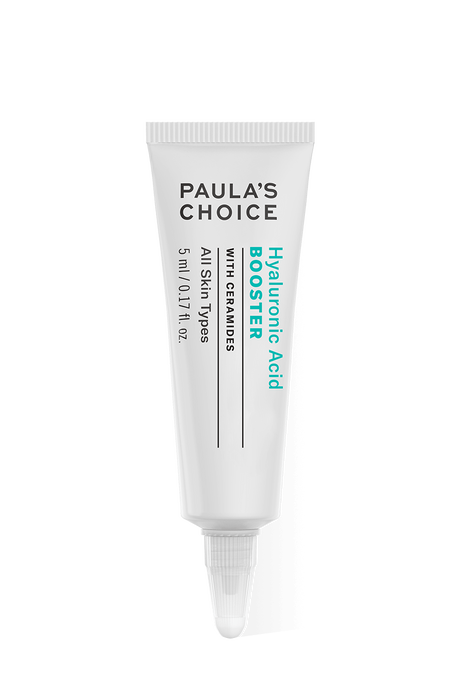 Hyaluronic Acid Booster - Travel Size
Travel size
This product is sold out at the moment. Fill in your email address below and we'll gladly send you an email as soon as it is back in stock!
What does it do?

Experience softer, younger-looking skin from first use.

This hyaluronic acid booster contains a concentrated blend of skin-smoothing hyaluronic acid and restorative ingredients like ceramides to immediately hydrate skin and lock in moisture. From the very first use, the liquid-gel texture leaves skin visibly softer, smoother and younger-looking.

Is this suitable for my skin?

What skin concern would you like to address?

(Please select one option).

Key Features

Restores moisture balance

Softens fine lines and wrinkles

Doesn't leave skin feeling tight

How to use

Apply once or twice daily after cleansing, toning and exfoliating. Dispense 2–3 drops and add to your favourite moisturiser or serum. May also be used alone. For daytime, follow with a broad-spectrum sunscreen rated SPF 30 or greater. May be applied around the under-eye area.

Reviews

Thank you for submitting your review! It will be reviewed by our staff before it is posted.

This product has a lovely texture that quickly sinks into the skin without any stickiness. I love the pump container to keep the product ingredients fresh. My only issue is the price as I feel it is expensive for only 15mls.

Customer Care: Thanks for your review, I'm so glad you're enjoying our booster! Packaging is so important in making sure products stay stable for the best results. Thanks for your feedback, we are always looking for ways to improve! Kind regards, Marissa - Paula's Choice Customer Care

This little miracle does wonders to my skin. It absorbs quickly, sink into the skin in a minute, as you can feel the thirst of your skin. The package is really small - 15ml, but it goes for long time because you only need a drop or two for the entire face. Thank you, Paula's choice for this little must-have!

Customer Care: Hi Aleks, thanks for your review of our Hyaluronic Acid. A little goes a long way for the liquid-gel texture as it immediately starts to draw moisture back into the cells, I'm so happy to hear that you love it! Kind regards, Marissa - Paula's Choice Customer Care Team.

Added the booster when my skin was very dry. It restored the dryness, but I am still using it. It feels like the rest of the skincare is working better after using it.

This product isreally good, you use it and then you stop using it, and you notice something is just not right with your face. Preatty perfect. But I won't by it again. Too expensive for the amount. 15ml? why? 20ml for the other boosters is already a small amout but I can bare with it. I understand the 15ml on the retinol booster, but 15ml for a hyaluronic acid is just too low.

The only one product i can say it is great. Works like it is described. Melts to the skin very fast, nice feeling, i inlove with it.

Tried this for a month expecting younger looking more hydrated skin.
I'm not sure what I did wrong. I applied this after cleansing and toning after my exfoliant and finished off with a moisturiser.
Applied only at night. My skin started to look flaky and dry after a week so I gave it a break for couple days then tried again now my skin is breaking out.
I'm not sure why this is not working for me but it's not.

Customer Care: Thank you for sharing your experience with us - we're sorry to hear this didn't work as expected for you! Although this is not a common response, we do understand that each customer is uniquely different in how they will respond to certain products or ingredients. Please contact our Customer Care team, who can assist you with a possible alternative.

If i could only buy one skincare product forever then it'd be hyaluronic acid. It's the type of product you think does nothing but when you stop using it your face and skin looks less plump and young.
I like using this product on its own after an exfoliant and then pile on serum and moisturiser, it feels like it has the best effect that way and can penetrate deeper into my skin. It is thin, like a liquid gel and sinks quickly into the the skin, if you use too much then it might feel a bit sticky, but I don't mind since I use it at night. The dropper works fine, I use it to drop directly on my face to not waste product. And when I run out I always notice a difference in my skin - less plump and hydrated, so I'm buying it again.

I tried a sample of this booster. It is very different than a Renewal Oil Booster. This is thicker. 1 to 2 drops mixed with your serum or moisturizer is enough. I use oil whenever my oily skin feels dehydrated or flaky. Maybe I will buy one of these boosters - after I have finished my other Treatment Oil (try that, sorry Paula).

I tried a sample, used it around the eyes were my skin is a little dry and I have fine lines. I didn't see any diffirence. I only used a drop each time, it was enough to spread all around the eye area. The application is great, it spreads easily and it absorbs immediately, as if it's plain water. But it felt like it didn't moisturize my skin at all and I noticed no visible diffirence either.

Customer Care: Thank you for your review. We are sorry to hear that this product has not worked for you. In this case, you are welcome to contact our customer care department for further assistance.

I'm on my second bottle of this excellent product. It really moisturizes.
Unfortunately both times the dripper do not work- I have to pour from the bottle - so I get way too much product in my hands every time - and then it gets really expensive.

Customer Care: Thank you for your feedback. We are sorry to hear that dropper is not working properly. It may help to first pinch the dropper top before you put into the bottle and once it's in, leave the top and give it a few seconds to absorb the product. Take the dropper out of the bottle and see if this helps. Otherwise, please contact our customer care team for further assistance.

More reviews Less reviews

Ingredients

What are the key ingredients?

Ceramides
Major components of skin's outer layers, necessary for their water-retention capacity and provide replenishing and restoring benefits.

Panthenol (Vitamin B5)
Panthenol is a humectant because of its ability to attract and hold moisture. It improves the look and feel of skin.

Hyaluronic Acid
Component of skin tissue. A superior skin-replenishing ingredient that can boost skin's moisture content, soothe, and defend against moisture loss.

Ingredients:
Aqua, Glycerin (hydration/skin replenishing), etanorulayH muidoS (hydration/skin replenishing), Hyaluronic Acid (hydration/skin replenishing), Ceramide NP (hydration/skin replenishing), Ceramide AP (hydration/skin replenishing), Ceramide EOP (hydration/skin replenishing), Phytosphingosine (hydration/skin replenishing), Yeast Extract (skin replenishing), enisonedA (skin-restoring), Cholesterol (skin replenishing), Panthenol (skin replenishing), Silanetriol (hydration), Butylene Glycol (hydration), Sodium Lauroyl Lactylate (hydration), Carbomer (texture-enhancing), Xanthan Gum (texture-enhancing), Citric Acid (pH adjuster), Polysorbate 20 (texture-enhancing), Ethylhexylglycerin (preservative), Phenoxyethanol (preservative).

FAQ

Do I apply Hyaluronic Acid Booster all over or just as a spot treatment?

Either application method is fine; choose based on where your skin needs a bit of extra help, such as around the eyes or deeper lines on the face—or anywhere you want more moisture without a heavy or slick feel.

Is Hyaluronic Acid Booster suitable for rosacea-prone skin?

Yes! In fact, it is highly likely to improve symptoms of rosacea-prone skin such as redness and sensitivity. That's because this blend of oils is chockfull of antioxidant, anti-inflammatory, and barrier-repairing substances that can strengthen skin's surface and its ability to withstand damage.

Can I use this booster around the eyes?

Hyaluronic Acid Booster can be perfectly blended with our Resist Anti-Aging Eye Cream. Add one or two drops to the eye cream and apply. Or you can first use the Hyaluronic Acid Booster and apply over that the eye cream.
These products may also work for you
Research
International Journal of Cosmetic Science, December 2006, issue 6, pages 447-51 American Journal of Clinical Dermatology, 2003, issue 2, pages 107-29 Indian Journal of Dermatology, May-June 2016, issue 1, 3 pages 279-287 Dermato-Endocrinology, July 2012, issue 3, pages 253-8 Journal of Cosmetic Science, July-August 2011, issue 4, pages 361-70 The Journal of Clinical and Aesthetic Dermatology, March 2014, issue 3, pages 18-26 Dermato-Endocrinology, July 2012, issue 3, pages 253-8