https://www.paulaschoice-eu.com/resist-anti-aging-youth-extending-daily-hydrating-fluid-broad-spectrum-spf-50-full-size/7800.html
Resist Anti-Aging Moisturiser SPF 50
Weightless lotion texture protects skin from the sun and leaves a soft matte finish.

Skin Type:

Combination skin, Oily skin

Concern:

Breakouts, Anti-Aging, Blackheads, Brown spots

Ingredients:

Antioxidants, Avobenzone, Green Tea Extract

View all

Routine:

Moisturizer AM
Remove from wishlist
Add to Wishlist
Product out of stock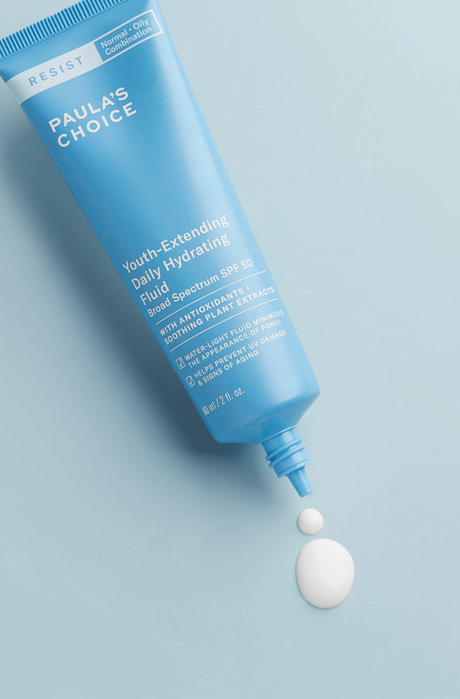 Resist Anti-Aging Moisturiser SPF 50
Full size
This product is sold out at the moment. Fill in your email address below and we'll gladly send you an email as soon as it is back in stock!
What does it do?

A weightless anti-ageing moisturiser for oily skin.

This weightless moisturiser with SPF 50 combines superior UVA/UVB protection with soothing, plant-based antioxidants that help fight the signs of ageing and protect skin from environmental damage. With a soft matte finish, this lightweight lotion leaves skin smooth, hydrated and younger-looking.

Is this suitable for my skin?

What skin concern would you like to address?

(Please select one option).

Key Features

Suitable for breakout-prone skin

Light lotion, does not feel oily

How to use

Apply as the last step in your morning skincare routine. Allow a moment to dry before applying makeup.

Reviews

Thank you for submitting your review! It will be reviewed by our staff before it is posted.

For me, this is the best SPF I have tried, it's not oily and enters quickly into the skin. Simply amazing.

Customer Care: Hi Lucy, I'm so happy you love our Resist Anti-Aging Ultra-Light Hydrating Fluid SPF 50! The light fluid texture means it absorbs quickly with a matte finish all while providing high sun protection - win! Thanks for taking the time to write a review of your experience. Kind regards, Marissa - Paula's Choice Customer Care

Feels like neither a moisturizer or spf. Did not like at all.

Dear caralundq, thank you for sharing your experience with us - we're sorry to hear this didn't work as expected for you. Please be in touch so we can assist you with a possible alternative. Kind regards, Adele - Paula's Choice Customer Care.

I have very pale, thin skin. From the moment I moved to sunny Portugal, My skin started gain pigmentation. Especially on the forehead. During the summer it looked like this: white skin with huge brown stains. I've tried lots of products, but nothing worked. When I bought this cream, all I was expecting it's light non shine spf 50. I used it during all summer, and it's not only protected my skin, but first time for 6 years my terrible stains had gone for good. Thank you!

All suncreens used to make me breakout , felt too oily on my skin.
This one is great for me - does not clog my pores, no breakouts and my face does not look 'oily' while wearing it.
This is the only sunscreen i use on my face.

I was very excited about trying this product because of the promised light weight formula and especially because it is for combination and oily skin so I expected it wouldn't make my skin greasy. However just after applying it gives my skin a very shiny finish (I don't even apply as much as 2 mg per square centimetre which is known to be necessary for the proper sun protection). Just after a couple of hours skin gets super greasy. Quite disappointed

The product itself is awesome. Lightweight, I can easily use it on top of my regular mosituriser (I use this for the SPF only). It doesn't irritate or clog up my skin.
But, the (new) packaging should be improved. After only a few weeks of use, it leaks product from the seam between the bottle and the head. A sunscreen you can't safely keep in your purse is far from optimal. Please, PC - fix this and you'll easily get a five star rating.

Customer Care: Hello, and thanks for your comments! We are always looking for ways to improve our products, so we will pass along your feedback to our Product Development team!

Unfortunately, it's the first PC product that really disappointed me. I started using them 2-3 months ago and was amazed by the changes it made to my skin. I decided to add this fluid to my daily steps and now my face needs to recover from trying to make it work (twice). Main issues are pore clogging (just when I had blackheads under control), excessive T-zone shine and burning skin on my cheeks. It's great that PC offers smaller product sizes so that I could try it and now can order something else with hopefully better results.

This spf50 from PC has been pretty much my HG product over the last years. I've tried other spf lotions but have come back to this, its light, not fragranced, doesn't leave white cast, isn't oily and its easy to use the amount recommended for spf to work. But I've also loved it particularly because it hasn't irritated my skin like a lot of others that contain a lot of alcohol, fragrance and else. I bought the most recent tube at the start of summer and used it happily for a month until just a few weeks ago I put it on my face and it immediately flared up itchy and red exactly on the area where I used the product. At first i though it had been my serum beforehand that caused the reaction and tried using the spf lotion again another day on a bare skin. Same reaction. After trying it for couple of times and always ending up with a strong redness and itch that was only calmed slightly by washing off, I've concluded that the PC product must have turned bad in a tube. Its such a pity, its not a cheap product and I still had half a tube left to use. Plus, there is no expiry date, so its impossible to check how long it was usable. In any case, I'm really sad this happened as now i'm not sure if i should buy it again, yet have not encountered better spf lotion pre-irritation incident. :((((

Customer Care: We're sorry to hear of your experience, it's difficult to say exactly what may have caused your reaction. Skin is never static and may respond differently due to factors like the weather, UV damage, active ingredients etc. Please contact our team for advice in this matter. (BTW You can find the expiry date of this product in the rim of the tube).

I really love the product, but also I really hate the delivery charges way too high (and the free delivery over 150 euro ..... seriously).
I hope for some free delivery promotion for EU countries.

I tried other brands of liquid sunscreen, and although many of them had good performance, most of them had at least one fatal flaw, not the least of which was that they were terribly irritating. After received response of Client Service of PC's Europe, i tried this trial size. And it's amazing. It's the best fluid for morning with high SPF. I like using it in the winter. My face is always hydrated and i don't need another sunscreen. The product is a thin liquid lotion, white in color, with a mild scent. It spreads easily on skin and soaks in quickly. It is non-irritating and lightly hydrating. It dries shiny on my skin, but that is easily remedied with a mattifier such as PC Shine Stopper or other matte cosmetic products. Overall, highly recommended, and I definitely will repurchase!

I'm in LOVE with this product. Correction, PC products. But this one is my favourite by far. I live on a sunny island in the Mediterranean with around 300 days of sun a year. My skin is such a mix it's hard to find the right products. Just to give some info:

- I'm 25
- Starting to have some small expression lines (which I hate)
- Easily irritated / uneven / acne prone skin
- Oily t-zone
- Dry patches on other areas on my face

This stuff has done miracles for me. I do combine it with other PC products, but I can not do without this. It helps protect my skin from the sun, does not have any white cast, it's so easy to apply your really just need a small amount, and makes my skin look more even and smooth throughout the day.

Side note: if you like a super matte face - this might not be for you. It might just be my skin type but my face looks a bit glowy, which I personally love.

I tried the trial size and I had to buy the regular size! It is wonderful. No white cast and very easy to apply! The long term results are still hard to see, since I have not used it for that long, but I will update you on that as soon as possible.

I find it hard to find moisturisers with good active ingredients AND a high SPF that's vegan, most SPFs for the face that range between 50 and 100 are just regular sunblocks.
This moisturiser is very thin and runny, so be careful when applying. It sinks easily into the skin and a little goes a long way - but I always apply liberally to get full coverage SPF. There is no white marks or residues and the bottle itself has lasted me 4 months and there is still some left that will probably last another month. However, I wouldn't say that it has a matt finish since there's a slight shine after, so it's more velvety or silky, but the effect doesn't last long so if you got very oily skin this might not be the best. If you got a regular t-zone problem then some blotting-papers will be more than enough throughout the day.

I bought a trial size of this after hearing all about Paula's Choice skincare and how it had changed so many people's skin, although I usually prefer my products to be mostly on the organic/natural side on the spectrum. But oh am I glad I did ! I am now using the full size item. This will do absolute wonders if you have truly oily skin or combination skin with a pretty oily T zone. Previous to this I had tried a bunch of oils and moisturizers, with a consistant AM routine and I have never, ever found something that controls my oils the way this moisturiser does, it is truly a game changer if you are someone who needs to blot several times a day like me.

The texture is very fluid, almost liquid, and penetrates very quickly into the skin. The SPF 50 is really nice and a step up from most moisturisers. I would still recommend using a dedicated sunscreen to be extra sure your skin is protected, especially if you are using the retinol serum, but if you are someone who prefers a short routine, or you just don't like layering products this is definitely for you.

Additionally, it goes very nicely under foundation or primers. I have had no problems putting makeup on top of this after waiting a minute or two.

This only downside to this product that I can think of is that it is rather drying, hence why I would only recommend this for truly oily skin types, or for people who have a pretty extensive skin care regimen (ie. layer serums, etc). I have combination skin and if I use this on its own right after cleansing, my skin can feel somewhat tight. I also would stay away from this if you have a dehydrated oily skin type, or use it but layered with a hyarulonic acid booster first.

Would buy this again in a heartbeat !

Long time Beautypedia follower here, love that fact that I can get science based reviews of makeup and skincare <3 I have been on the hunt for the perfect SPF daytime moisturizer for two years now. I ordered a trial size of this product, and unfortunately I was disappointed, ended up giving it way to my sister after my skin had bad reactions to something in this. I got red, persistent dry patches of this. Also tried the version with lower SPF (30?), but same thing there. I have normal skin (previously very oily and a lot of cystic acne but after two round of prescription retinol in 10 years I finally got the acne out of the picture). I guess I'm back to searching for the perfect SPF daytime moisturizer again :(

Customer Care: Thank you for sharing your experience with us - we're sorry to hear this didn't work as expected for you! Please contact a member of our Customer Care team, who can assist you with a possible alternative.

I bought the product in April, and liked it, in particular for summer as it doesn't trigger breakouts. However I quickly started feeling it irritated my skin especially under the eyes. Paula's team was very kind when I contacted them, we both decided it was due to the chemical sunscreen, and they advised me to try another product which suited me better, with natural sunscreen,namely the Resist anti-aging moisturizer SPF 25 (perfect for me in winter but too rich for summer) However,I hadn't checked the list of ingredients contained in Resist anti-aging Youth-extending hydrating fluid SPF 50 carefully enough and upon doing that today I now know the irritation is due to Chamomille as I'm allergic to both chamomilles (the Matricaria and the Anthemis varieties). I'm really grateful to Paula's team for bearing with me on the choice of products and even sending me samples to find some products more adapted to my skin. However, I'm surprised they use chamomille in some skincare products as it is well-known to cause allergies in sensitive persons, just as lavender does. I'm also disappointed because I checked the new Resist anti-aging smoothing primer serum SPF 30, which I find very tempting, yet it also contains Chamomille so it's impossible for me. I do recommend the product to non allergic people with oily or combination skin.

Customer Care: Thank you for your review. We are happy to hear that you were able to find a more suitable product for your skin type and condition. Chamomile is a great ingredient but those intolerant to other plants from the daisy family could also be intolerant to this ingredient unfortunately. We're happy to confirm though, that we do not use lavender (from the mint family) in our products due to being a potential sensitizer.

I have bought this moisturizer two times and it works. I have extremely oily skin and the first time I used it I hated it because it made me even more oily. Then I invested in a more serious regimen and started to tone with PC RESIST Weightless Advanced Repairing Toner, exfoliate with PC SKIN PERFECTING 2% BHA Liquid Exfoliant, apply the PC serum RESIST Super Antioxidant Concentrate Serum and THEN apply this moisturizer and now I love it. It is strange because this product used to turn my face into an oilslick and make my makeup come of but in conjunction with the other products its the best moisturizer with spf for oily skin. Looks wonderful under makeup.

I expected more from this product. First, cream package broke inside the tube after several uses and now it is really uncomfortable to use it. Second, I can't apply foundation over this moisturize because white rolls from cream appear. I tried to wait a bit more before applying the foundation, but it wasn't better.My foundation is also from your Brand and with other moisturizes I didn't experience this "rolls" issue. I will definitely not buy this product again.

Customer Care: Thank you for your review. We are sorry to hear that this product has not worked out for you. Our team will be contacting you soon to find an alternative product.

I was very happy with this product and with all Paula's product in general. I even recently re-ordrered but am regreting it now.

Unfortunately, the cream package recently and suddently broke apart inside the tube, at the base of the tube inside the bottleneck. So each time I am opening it, I am loosing half of the cream and it is leaking everywhere on my hands, clothes, a real disaster.

I am very unsatisfied given the price of this cream. The cream is not tested in animals and that is good. But maybe the packaging should be tested on humans and designed to last more than 2 months. how could something happen with such a brand? It is the first time in my life that something like that happens with a cream. I was becoming a good customer but might reconsider my next purchase seriously.

Customer Care: Thank you for your review. We have already been in contact with you regarding this issue.

I had been looking for a long time for a moisturizer with high SPF to use in the warm months since I have olive skin with freckles and can be exposed to a lot of sunlight. All the ones I tried before this one left my skin (which is normal to combination) incredibly oily and shiny or didn't have enough SPF. So in that context this product is AMAZING and I would recommend it. It is very easy to apply and doesn't leave my skin oily or shiny at all, even in hot weather.

However, in colder months I've found out that this product leaves my skin feeling tight and dry, specially in the cheeks and forehead.

Furthermore, it may have been a fluke but after 1 month of use the container started cracking near the spiral to screw the lid and I had to change it to another container to avoid getting moisturizer all over my hands and wasting it every time I used it.

For these two last points I give it 4 starts instead of 5.

Customer Care: We advise you to contact Customer Care for assistance on your packaging issue.

I have an oily T-zone, and this makes it worse, does not mattify at all. I am disappointed, as I had high expectations. Previously I have used Hydralight moisturizer SPF 30 and it is more mattifying. So it would be good to be able to buy a sample first. Glad it works for some though, I have to keep looking.

Customer Care: Please contact Customer Care so we can look into this matter with you.

Pros: it moisturizes the skin perfectly, it leaves no oily smudges on the skin and it protects from the harsh summer sun. Great for oily/combination skin, it's about as fluid as the treatment serum, goes right into the skin and doesn't leave traces behind. The skin is more bouncy and well-hydrated without being over-burdened nor sticky.
Cons: it does leave a slight shine because there's no tint in it. It doesn't mattify as much as I expected.

Before this, I have successfully used the RESIST SUPER-LIGHT DAILY DEFENSE SPF 30, since it has a slight tint in it (it is amazing, by the way) but I decided to try this one out too, since it's from the same range.
The best look for me is achieved by complementing this fluid with a compact powder. It adds a mattifying effect but the glow from the fluid isn't completely faded out so my skin has a healthy, non-grease induced, natural glow.
I have had no issues with acne, blemishes or red spots which were normally caused by sweat and grease-blocked pores during the summer.
I would strongly suggest you get a sample to test it out for yourself and see what it's like, since you may be expecting the same instant matte effect as I was. This is very much a hit or miss, depending on what you're expecting.
After all, it's a non-tinted moisturizer, not foundation.

This is a FANTASTIC product. I had severe acne in the past and after treatment on prescription retinol my skin is now combination-dry. Because my skin was so oily SFP's were just not an option because they were always far too emollient. However, like every other person concerned with the health of their skin and protecting it from the harmful effects of the sun to prevent ageing, I have been searching for years determined to find an SPF to suit my skin. An finally I have! This product has an extremely light, watery texture, but unlike other watery products this actually absorbs immediately into the skin. It spreads so easily over the face and dries to an almost matte finish with the SLIGHTEST glow NOT SHINE(HOORAY!!). When the product is completely dry and I stroke my face my skin feels smooth, soft and there is no trace of a product being on my skin which is amazing as usually SPF's leave a "sticky" feel after application. I would highly recommend anyone to get a tester of this product and see for themselves how great it is. Even if you have normal-dry skin, I have never met anyone who loves a sticky gel like SPF so I think the texture of this product would please every skin type as it's so light and undetectable. As regards moisture it moisturised my skin perfectly, although my focus is on the fact that it's such a high SPF in such a light texture. I experienced no irritation or tingling sensation on my skin after application which is usually the case with SPF's for my sensitive, easily reddened skin.There was absolutely no trace of a white cast on my skin after application. Not to mention it's SPF 50!! What more could I ask for from a product. Well done Paula's Choice I am THRILLED to have found a reliable, light product that will protect my skin without making it a shiny, sticky mess. 5/5

Sorry but I hate this product. I had great expectations due to the good reviews I read from the american site. The formula is the same as the "Clear Ultra-Light Daily Mattifying Fluid SPF 30+" so the same effect occurs. It makes my face shine A LOT even applying only a thin layer. Probably the worst product here keeping the skin matte.
OK the texture is nice bcz is like water and very easy to spread. Ingredients also seem awesome as usually but I expected something really matte for a product for oily skin. I know chemical sunscreens are difficult in this way but the "Skin Balancing Ultra-Sheer Daily Defense SPF 30" and even the "Extra Care Non-Greasy Sunscreen SPF 50" do better work at keeping your skin matte. Wouldn't be possible to include the same "anti-shine" ingredients like in the "Skin Balancing Ultra-Sheer Daily Defense SPF 30"?, or the Microsponge technology (not as an independent pricey second step)?. Thanks.

More reviews Less reviews

Ingredients

What are the key ingredients?

Antioxidants
Help to protect skin against harmful free radicals, among others caused by sun light and pollution. They have anti-ageing properties and calm skin.

Avobenzone
Synthetic sunscreen ingredient, provides broad-spectrum sun protection and is one of the most widely used UVA filters in the world.

Green Tea Extract
Possesses potent antioxidant and skin-soothing properties and has impressive research in terms of its many benefits for skin, including anti-ageing properties.

Ingredients:
Aqua, Ethylhexyl Methoxycinnamate (Octinoxate, 7,5%, sunscreen), Glycerin (hydration/skin replenishing), Ethylhexyl Salicylate (Octisalate, 5%, sunscreen), Silica (absorbent agent), Octocrylene (2%, sunscreen), Butyl Methoxydibenzoylmethane (Avobenzone, 2%, sunscreen), Dimethicone (hydration), Benzyl Alcohol (preservative), Tocopherol (vitamin E/antioxidant), Chamomilla Recutita (Matricaria) Flower Extract (antioxidant), Vitis Vinifera (Grape) Seed Extract (antioxidant), Camellia Sinensis (Green Tea) Leaf Extract (antioxidant), Camellia Oleifera (Green Tea) Leaf Extract (antioxidant), Peucedanum Graveolens (Dill) Extract (antioxidant), Sambucus Nigra (Black Elderberry) Fruit Extract (antioxidant), Avena Sativa (Oat) Bran Extract (skin-soothing), Punica Granatum (Pomegranate) Extract (antioxidant), Lycium Barbarum (Goij) Fruit Extract (antioxidant), Hydrogenated Lecithin (skin-restoring), Titanium Dioxide (texture-enhancing/texture-enhancing), Dimethicone/Vinyl Dimethicone Crosspolymer (hydration), Diethylhexyl Syringylidenemalonate (hydration), Hydroxyethyl Acrylate/Sodium Acryloyldimethyl Taurate Copolymer (film-forming/suspending agent), Xanthan Gum (texture-enhancing), Sodium Carbomer (texture-enhancing), Sodium Benzoate (stabilizer), Potassium Sorbate (stabilizer), Phenoxyethanol (preservative).

FAQ

What is the main difference between Resist Anti-aging Youth-extending Hydrating Fluid SPF 50 and Resist Anti-Aging Super-light Wrinkle Defense SPF 30?

Resist the Hydrating Fluid SPF 50 has a fantastic light texture that is ideal if you have oily skin prone to breakouts and blackheads. Resist Super-Light SPF 30 is formulated with a mineral sunscreen, which makes it more suitable for people with sensitive, oily skin. The mineral filter provides a slightly more mattifying effect than Resist Hydrating Fluid SPF 50. Resist Super-light SPF 30 has a touch of colour to help skin look more even-toned.

Is there another Paula's Choice product which is similar to Resist Anti Aging Youth-Extending Fluid SPF 50?

Our Resist Anti Aging Youth-Extending Fluid SPF 50 is identical to our Clear Ultra-Light Daily Mattifying Fluid SPF 30+, except for the SPF coverage.
Research
Seminars in Plastic Surgery, August 2016, issue 3, pages 129-133 Oxidative Medicine Longevity, 2015, volume 2015, 709628 Dermatologic Research and Practice, 2012, volume 2012, 135206 The Journal of Clinical and Aesthetic Dermatology, January 2013, issue 1, pages 16-26 Indian Journal of Dermatology and Venereology, March-April 2012, issue 2, pages 142-145 Archives of Dermatology, August 2000, issue 8, pages 989-994 Molecular Medicine Reports, November 2010, issue 6, pages 895-901 International Journal of Toxicology, 2001, volume 20, supplement 1, pages S21-45 Phytomedicine, January 2005, issue 1-2, pages 131-137