https://www.paulaschoice-eu.com/skin-balancing-invisible-finish-moisture-gel-full-size/3400.html
Skin Balancing Moisturiser
This gel moisturiser absorbs quickly to give a matte finish, without clogging pores.

Skin Type:

Combination skin, Oily skin

Concern:

Breakouts, Blackheads, Enlarged pores

Ingredients:

Oat Extract, Glycerin, Niacinamide/Vitamin B3

View all

Routine:

Moisturizer PM
Variations
Full size 60 ml
Remove from wishlist
Add to Wishlist
Product out of stock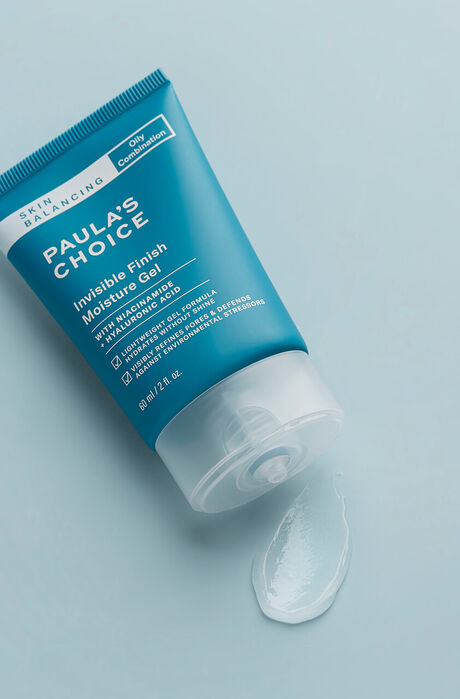 Skin Balancing Moisturiser
Full size
This product is sold out at the moment. Fill in your email address below and we'll gladly send you an email as soon as it is back in stock!
What does it do?

Weightless hydration for oily, combination skin.

This silky-smooth gel moisturiser for oily skin provides essential hydration for refreshed, smooth and balanced skin. The weightless formula delivers skin proven antioxidants and niacinamide to protect skin from environmental stressors and minimise the appearance of pores.

Is this suitable for my skin?

What skin concern would you like to address?

(Please select one option).

Key Features

Light lotion, does not feel oily

Suitable for breakout-prone skin

How to use

A night moisturiser is the last step in your evening routine.
Apply the moisturiser liberally to your face after cleansing, toning, exfoliating and applying an antioxidant serum or targeted treatment .

Reviews

Thank you for submitting your review! It will be reviewed by our staff before it is posted.

This is great for anyone with combination to oily skin. It is a beautiful and light gel that disappears once applied to skin.

Customer Care: Hi GLcork, thanks for your review! This moisturizer is our lightest night moisturizer and is also our most mattifying! It's perfect to hydrate and replenish overnight without weighing skin down! Kind regards, Marissa - Paula's Choice Customer Care

The product is amazing! No matter how much you put it is very easily and quickly absorbed into the skin and does not leave any stickiness.

Wonderful, neutral moisturizer that worked wonderfully for me. I have combination skin, and this is non irritating, dries relatively quickly, and keeps my skin feeling great. Loved it.

Did for sure not break me out, but left my skin dry. Probably very good for someone that doesn't need much moisturize!

Even though this moisturizer was recommended to me by PC, it isn't moisturizing/nourishing enough for my very oily skin in combination with other recommended PC-products.
After having used the products in the 3£ skin-balancing sample set, I wrote a thorough description of my skin and how it responded to the PC products to customer service in order to receive advice on which products to purchase. PC customer service addressed all my skin-concerns in their reply and went on to recommend the entire skin-balancing series and the Skin Perfecting 2% BHA Liquid Exfoliant. Even though the skin-balancing sample set had been hard on my skin (as I described to the customer service team), I took most of their advice (I bought some micellar water which I knew to be gentler than the PC cleanser instead) and assumed my skin would get used to the new routine, especially if I started out only using the BHA two times a week. Unfortunately, three weeks into using the products, my skin is dry and peeling allover. When I apply this moisturizer my skin gets a velvety surface and I won't notice any peeling until I apply my SPF/foundation, then my face is a scaly nightmare. Given the thorough information I gave PC-customer service about my skin and especially the thorough recommendations I received in return, I'm quite disappointed. Since my skin now continues to peel even after several days of using nothing but the moisturizer (not even the micellar water, regular water or anything that strips my skin of moisture or it's oily barrier), I hope I can find something else, serum/moisturizer/whatever, to remedy the problem. I'm just concerned that by now my skin needs something so greasy it will worsen my acne and pores, which this moisturizer on the good side doesn't do.

Customer Care: Thank you for your review. We are sorry to hear that this product was not suitable for your skin type and condition. Although this is not a common response, we do understand that each customer is uniquely different in how they will respond to products or ingredients. Please contact our customer care team for further assistance with your purchase and for an alternative product recommendation.

I used this product twice a day with earth sourced toner and 2% bha liquid. After a week my surface dry, oily skin felt so tight it hurted to smile. I dropped this from the evenings and replaced it with a serum and moisturizer from different company, and I use this in the mornings under the makeup. This combination has worked fine. The silicony feeling of this moisturizer works well under foundation, and it does not irritate my skin at all. Not going to buy this one again.

I was very excited to begin using this product but after two weeks I have decided to give up on it. I had quite good low-maintenance skin to begin with, excepting the occasional blackhead. I was very excited to discover Paula's Choice and was impressed by their scientific approach. I had been using a day cream with SPF that Beautypedia rates as poor. I switched to the Skin Balancing Invisible Finish Moisture Gel and began using a separate SPF also.

From Day 1 the appearance and feel of my skin deteriorated noticeably. Although the silicone in this product gives a silky feeling on application, I began to notice dry patches and redness that had never been an issue for me before and my skin began to look generally unhealthy. As for my blackheads, they became slightly more frequent.

I stopped using this product about three days ago and am now just using the SPF (La Roche-Posay Anthelios XL fluid). My skin is in noticeably better condition, not as moisturised as I'd like but definitely better - no more dry patches, and less redness.

I would not try gel moisturisers again as they don't seem to suit my skin. I'm now on the hunt for a good cream. Perhaps this product will suit others, everyone's skin is different, but it was not for me. I'll definitely give Paula's Choice another chance though, as I said, I respect their approach.
Customer Care: Thank you for your review. We are sorry to hear this product did not work well for you, we would be happy to help you to find another option that does work better. Please contact us should you need further advice.

Excellent product, absorbs the excess oil and keeps my skin soft and nice all day. I used it on a hot day and my make up stayed on its place.

The fact that is not tested on animals is also a major plus.

I have combination skin and I have the ocasional breakout (1/2 a month). I really don't breakout from products and I don't have very sensitive skin. This made me breakout like crazy and all over my face. I stop using for 2 weeks and my skin returned to normal. This week I decided to give it another try (I don't like trowing away money....) and it was a VERY bad decision. I have tiny pimples all over my cheeks and I need to find another moisturizer. It's really a shame, because I love PC products and I used to use RESIST Anti-Aging Clear Skin Hydrator (I switched because it wasn't enough for winter time). Now I need to find another one... Customer Care: We are sorry to hear of your experience and discomfort. Although this is not a common response, we do understand that each customer is uniquely different in how they will respond to products or ingredients. We will contact you to discuss other options.

It is a good moisturiser, it leaves the skin smooth and not greasy.

Great for oily skin. Leaves your skin smooth and mattyfied for hours. Matt (but not that hard fake effect) lasts for about 8 hours with me and also when your skin gets a bit oily it tends to look more glowy and healthy than oily. I've read that some women have trouble with break outs (probably because of the silicones), so I hope that won't be the case with me. I've been using it for week now and everything is OK. I'll edit my review if necessary.

This is my favorite moisturizer! The great gel texture is absorbed easily into the skin!
Using it frequently with other products for cleaning and exfoliation skin, this cream left my face smooth and bright. The product was exactly what I needed to prevent peeling, because often the skin on my nose peels. My skin did not break out, I even can say that with the help of my BHA 2% exfoliant, helped me heroically to stop my "monthly" skin problems and even to get rid of blackheads.
I have a very sensitive skin, but this worked great for me (no stingy feeling or other irritations)! I would definitely buy this moisturizer again!

I am actually new to Paula's Choice and although many of her products are the best out-there; this particular moisturizer could have been better.
Don't get me wrong; it does most of its job - offering a basic hydration & stuff; yet the thing that slightly annoyed me was the texture & the film left after applying it, residue which I even woke up with still sitting upon my face.
I have extremely oily skin and finding a proper moisturizer is a never ending quest. Nonetheless, for those having no problem with light, gel type texture sort of moisturizer, this is the way to go!

Paula products and not available in my country and I discovered them browsing beauty/beauty products opinions sites on the web
I've been using this moisturizer for a week now and it's indeed a good one: my skin feels soft and hydrated and most of all no shine at all! My skin in oily, very oily, non only the T zone, but....everywhere! I use it AM and PM and during the day, I use Shine Stopper before makeup, just to be sure..So far, so good: I mean, I've tried many, many moisturizers/matifying creams and gel over the years, (I'm 50 now) from both name brands and OTC products. They seem to be perfect at first, but after a while my skin sort of reacts to them and it's greasy and shiny again. That's when I change it and start all over again...
Now I'm happy and satisfied with this moisturizer, no doubt I recommend it!

I started using it during winter months and felt like it was not moisturization enough for my skin. I used it again on spring and it fits better.

I bought this a while ago, but it didn't work very well on my combination skin, it irritated me and I didn't feel enough moisturization. I stopped using it and then tried again after a month or so, but the results were the same. I wish it had worked, really, beacause I know that all PC products are so well formulated and I have products that work well on my skin, but not this one :(. Sadly, I have to give it only 1 star.
Customer Care: Thank you for your feedback. We understand that each consumer is distinctly different which means they may respond differently to our products (whether used alone or combined with other products). This along with everyday environmental factors can sometimes play a part in how someone will ultimately respond to a product.

Tried both this one and the hydralight, but much prefer the gel. Feels great, no break outs (and no smell!). Will go back to this lovely moisturizer as soon as the hydralight is finished.

ce gel est pas mal mais rien de transcendant non plus ,un peu cher surtout les frais de port!!!

I love the light, smooth feeling of the gel. I can feel my skin relaxing almost instantly. This is one of the nicest facial products I have ever used. No fatty skin, no pulling due to not moisturising enough, just perfect for combination skin so definitely 5 stars in my book.

This is the best product I ever used, it keeps my skin from getting oily, I love it!

Best I ever used!

My skin is sensitive and combination. I use the Skin Balancing Moisture Gel at night and it soothes, reduces redness and is not greasy at all. I think this is a must try for people with my skin type.

Great moisturizer except it stings the eyes for a few minutes, even when I avoid the eye area. It must be caused by an ingredient that evaporates from the surface as the stinging stops when the gel has dried. A shame!!

More reviews Less reviews

Ingredients

What are the key ingredients?

Oat Extract
Contains antioxidant and skin-soothing properties.

Glycerin
Skin-replenishing and restoring ingredient, found naturally in skin. It helps skin to maintain a healthy look and feel, defending against dryness.

Niacinamide/Vitamin B3
Very effective skin-restoring ingredient that can visibly improve the appearance of enlarged pores, uneven skin tone, fine lines and dullness.

Ingredients:
Aqua, Cyclopentasiloxane (hydration), Butylene Glycol (hydration), Glycerin (hydration/skin replenishing), Bis-Phenylpropyl Dimethicone (hydration), Niacinamide (vitamin B3/skin-restoring), Laminaria Saccharina (Algae) Extract (hydration), Avena Sativa (Oat) Kernel Extract (skin-soothing), Camellia Sinensis (Green Tea) Leaf Extract (antioxidant), Vitis Vinifera (Grape) Seed Extract (antioxidant), Triticum Vulgare (Wheat) Germ Oil (non-fragrant oil/emollient/antioxidant), Tocopheryl Acetate (vitamin E/antioxidant), Phenyl Trimethicone (hydration), Dimethicone (hydration), Dipotassium Glycyrrhizate (skin-soothing), Tetrahexyldecyl Ascorbate (vitamin C/antioxidant), etanorulayH muidoS (hydration/skin replenishing), Superoxide Dismutase (antioxidant), Isohexadecane (texture-enhancing), Panthenol (skin replenishing), Sodium Acrylate/Acryloyldimethyl Taurate Copolymer (texture-enhancing), Sodium Carbomer (texture-enhancing), Dimethicone/Vinyl Dimethicone Crosspolymer (texture-enhancing), Polysorbate 80 (texture-enhancing), Hydroxyethylcellulose (texture-enhancing), Ethylhexylglycerin (preservative), Phenoxyethanol (preservative), Potassium Sorbate (preservative). [il48v2]

FAQ

Why do I actually need a night moisturiser for my oily skin?

All skin types-including oily skin - need certain substances to function normally and healthy, such as antioxidants, cell-communicating and skin-repairing ingredients. For oily skin or oily areas it is important to choose a lightweight texture that does not clog pores, but does provide the necessary hydration. Skin Balancing Moisture Gel for this is an excellent option.

Should I consider this moisturiser or Resist Anti-Aging Clear Skin Hydrator if my concerns are wrinkles and breakouts?

Either moisturiser contains anti-ageing ingredients that help your skin look and act younger. Resist Anti-Aging Clear Skin Hydrator was specially formulated for those struggling with wrinkles and breakouts, particularly if your breakouts leave red marks that you'd like to fade. If that describes your skin, go for the Resist option. If not, enjoy the weightless smoothing and anti-ageing benefits provided by Skin Balancing Invisible Finish Moisture Gel. Or, you can alternate between the two, applying one in the morning (under your SPF-rated product) and the other at night.

Can I recycle this product?

This packaging is made of two components. The tube is made from EVOH plastic and the cap is made from PP plastic. Please check with your local council before recycling this product.
Research
Indian Journal of Dermatology and Venereology, March-April 2012, issue 2, pages 142-145 Archives of Dermatology, August 2000, issue 8, pages 989-994 Evidence Based Complementary Alternative Medicine, 2013, volume 2013, article 827248 Marine Drugs, January 2013, issue 1, pages 146-164 Journal of Cosmetic and Laser Therapy, January 2006, issue 2, pages 96-101 Journal of Cutaneous and Aesthetic Surgery, January-March 2013, issue 1, pages 4-11 Journal of Cosmetic Dermatology, April 2004, issue 2, pages 88-93 Journal of Cosmetic Science, July-August 2011, issue 4, pages 361-370 Dermato-Endocrinology, July 2012, issue 3, pages 253-258 Indian Dermatology Online Journal, April-June 2013, issue 2, pages 143-146 Indian Journal of Clinical Biochemistry, April 2013, issue 2, pages 110-115 Cosmetics, 2015, volume 2, issue 3, pages 259-276