https://www.paulaschoice-eu.com/skin-balancing-oil-reducing-cleanser-full-size/1150.html
Skin Balancing Cleanser
This foaming cleanser removes dirt, excess oil and makeup without stripping skin.

Skin Type:

Combination skin, Oily skin

Concern:

Breakouts, Blackheads, Enlarged pores

Ingredients:

Aloe Vera, Glycerin, Sunflower Oil

View all

Routine:

Cleanser
Remove from wishlist
Add to Wishlist
Product out of stock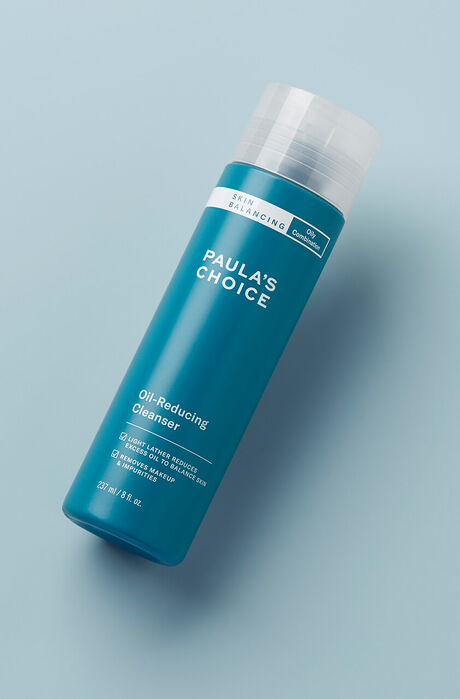 Skin Balancing Cleanser
Full size
This product is sold out at the moment. Fill in your email address below and we'll gladly send you an email as soon as it is back in stock!
What does it do?

Balanced cleansing for oily skin.

A cleanser for combination to oily skin should keep the skin balanced, removing excess oil while keeping the skin's natural protective layer intact. This gentle yet effective cleanser cleanses skin without stripping it and is ideal if you suffer from blackheads or enlarged pores.

Is this suitable for my skin?

Key Features

Fights breakouts and blackheads

How to use

Use morning and evening. Splash the face and eyes generously with water. Apply a small amount of cleanser to your face using vigorous yet gentle circular motions. Rinse well. Repeat or use with a clean washcloth to remove heavy makeup.

Reviews

Thank you for submitting your review! It will be reviewed by our staff before it is posted.

I rarely change my cleanser & moisturizer because of my oily acne-prone skin. I received this cleanser in full size as a gift during the Black Friday sale last year. I was hesitant to use it until a few weeks ago but now I regret not using it sooner! I'm amazed at how well it cleanses my skin without stripping it off the natural moisture and no breakouts from this product, so it's great for me. Will be purchasing this in my next order.

Customer Care: Hi Samantha! I'm so glad you decided to give our Skin Balancing Cleanser a try. It's the perfect option for oily skin to cleanse and remove makeup and excess oil without stripping your skin. Please reach out to us if you're curious about other products that may be suitable for you as well - we'd love to help! Kind regards, Marissa - Paula's Choice Customer Care

This is my go-to cleanser for most of the year. Even small amount creates lovely lather, removes make up and doesn't strip skin. The bigger bottle is a great bargain!

First of all this is a great cleanser!
I have bought a few different drugstore facial cleansers over the years, but this one is definitely in a league of its own. Now this is my first Paula's Choice cleanser, so I do not know if they have one which is potentially even better for my skin.
After using this cleanser I was amazed at how good a facial cleanser can be. It's very gentle on skin, leaving my skin really soft and smooth. Skin feels clean, but not dehydrated at all. It has an amazing feel on the skin while you're massaging it into your face. It feels like a very soft lightweight cushiony foam.This size will last for a really long time and considering the amount you get, its quite cheap.
This cleanser seams to reduce the slight irritation caused by the Benzoyl Peroxide gel I use against acne. But if your skin cannot tolerate a product, I wouldn't expect using this cleanser to suddenly fix that.
I was not expecting anything out of the ordinary, but I was really pleasantly surprised. I have started using a few good Paula's Choice products, but this might actually be one of my favorites so far.
Now this is just a cleanser. It just gently cleans skin, so don't expect anything more than that. But it does it that superbly for my acne-prone somewhat oily skin.

Just like the Hydralight Shine-Free Daily Mineral Complex is my new Holy Grail of moisturisers, this one is my Holy Grail of cleansers and I intend to use it for as long as my skin reacts beautifully to it. Most cleansers break me out or leave my skin dehydrated (even though I have oily skin), this one is quite the opposite. I feel my skin gets better with each use. There is no 'tight mask' feeling after I use it. My skin feels wonderfully fresh, supple and with sufficient moisture. After the first use, I literally couldn't stop touching my face, that's how lovely and soft it felt. I've had the large sizes bottle for 3 months now and there's loads of it left still. My boyfriend loves it too:)

I love a lot about this cleanser: it is very gentle, the texture is like silk, and it does not dry out my skin.
But unfortunately it does not do the job for me.
My skin is oily, has breakouts and large pores.
After using this cleanser, my skin was still oily, it didn't reduce my breakouts, and it did not clean my pores!
So I changed to the CLEAR cleanser, and that worked!!
I still keep this cleanser in my cupboard - if I for some reason get a real bad sunburn, or any other damage to my skin, this gentle cleanser will be better. ;)

I have been using this cleanser for about 4 years. I like the grainy feel (ever so slightly) that this wash has as I feel that it takes away the dead skin without beeing too harsh on the skin. Amazingly, after I dry my face with a towel my face never feels tight, dry and uncomfortable as other products out there did (and were meant for combination skin!). It looses a star beacuse it doesn't remove waterproof mascara.Customer Care : Thank you for your review. For removing waterproof mascara we can advise our Gentle Touch Makeup Remover. This is a dual-phase solution that quickly removes all makeup and is particularly adept at removing waterproof mascara, stay-put foundation, or all-day lipsticks. Goes above and beyond by providing antioxidants and anti-irritants and will not leave an oily residue or sting the eyes. This mild makeup remover was carefully formulated for delicate eyelashes and the fragile skin around the eyes.

More reviews Less reviews

Ingredients

What are the key ingredients?

Aloe vera
Plant extract that has soothing properties, antioxidant qualities, and serves as a hydrating agent.

Glycerin
Skin-replenishing and restoring ingredient, found naturally in skin. It helps skin to maintain a healthy look and feel, defending against dryness.

Sunflower Oil
Non-fragrant plant oil used as an emollient and has the ability to help replenish and soothe skin.

Ingredients:
Aqua, Sodium Cocoyl Isethionate (cleansing), Sodium Lauroamphoacetate (cleansing), Stearic Acid (texture-enhancing), Glycerin (hydration/skin-replenishing), Glycol Distearate (texture-enhancing), Helianthus Annuus (Sunflower) Seed Oil (non-fragrant oil/antioxidant), Acrylates Copolymer (texture-enhancing), Cetearyl Alcohol (texture-enhancing), Aloe Barbadensis Leaf Juice (hydration/skin-soothing), Sodium Chloride (stabilizer), Sodium Hydroxide (pH balancing), Xanthan Gum (texture-enhancing), Caprylyl Glycol (preservative), Hexylene Glycol (preservative), Disodium EDTA (stabilizer), Phenoxyethanol (preservative).

FAQ

Which cleanser is best for my oily skin?

It all depends on personal preference. If you prefer a creamier cleanser that foams and rinses easily with no residue, the Skin Balancing Cleanser is ideal. If you prefer a super-light, clean-rinsing gel cleanser the Clear Pore Normalizing Cleanser is perfect. If you suffer from breakouts, the Pore Normalizing Cleanser is a good option.

Will my skin be dry and tight if I use Skin Balancing Cleanser?

No. Skin Balancing Cleanser is carefully formulated with gentle ingredients to cleanse the skin thoroughly and remove makeup without stripping or drying the skin.

Can I recycle this product?

This packaging is made of two components. The tube is made from HDPE plastic and the cap is made from PP plastic. Please check with your local council before recycling this product.
Research
Indian Journal of Dermatology, 2008, issue 4, pages 163-166 International Journal of Cosmetic Science, February 2000, issue 1, pages 21-52 Skin Pharmacology and Physiology, 2011, issue 6, pages 289-93 Journal of Cosmetic Science, May-June 2007, issue 3, pages 229-44 Skin Research and Technology, February 2001, issue 1, pages 49–55