https://www.paulaschoice-eu.com/skin-perfecting-aha-gel-exfoliant-full-size/1900.html
Skin Perfecting 8% AHA Gel Exfoliant
Ultra-light gel exfoliant fades brown spots and smooths fine lines and wrinkles.

Skin Type:

All skin types

Concern:

Anti-Aging, Brown spots

Ingredients:

Glycolic acid/AHA, Panthenol (Vitamin B5), Sodium PCA

View all

Routine:

Exfoliate
Remove from wishlist
Add to Wishlist
Product out of stock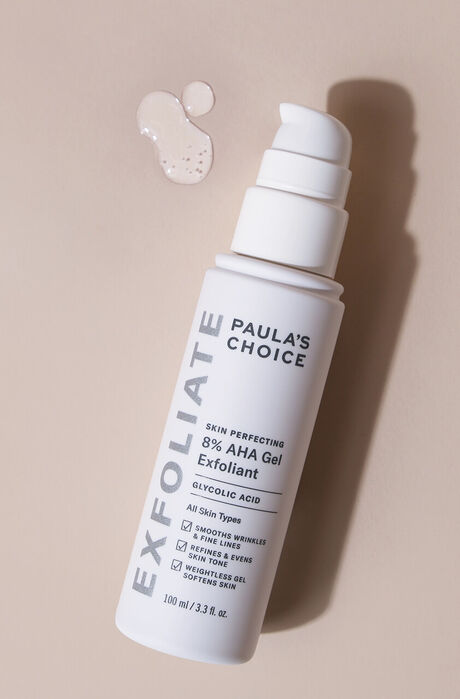 Skin Perfecting 8% AHA Gel Exfoliant
Full size
This product is sold out at the moment. Fill in your email address below and we'll gladly send you an email as soon as it is back in stock!
What does it do?

Get your glow on.

This ultra-light gel exfoliant gently dissolves built-up layers of dead skin to reveal a smoother, brighter, more radiant complexion. Formulated with 8% AHA (glycolic acid), it helps to fade signs of sun damage and corrects uneven skin tone while improving the appearance of wrinkles.

Is this suitable for my skin?

What skin concern would you like to address?

(Please select one option).

Key Features

Leaves skin softer and smoother

Softens fine lines and wrinkles

How to use

When using an AHA exfoliant for the first time, introduce it into your routine slowly. Start by using your exfoliant once every other day, and then increase usage to once or twice daily based on your skin's response.

Apply once or twice daily after cleansing and toning. Apply a coin-sized amount over the entire face, including the eye area (avoid the lower lash line and eyelids). Do not rinse. For daytime, always follow with a moisturiser containing a broad-spectrum sunscreen rated SPF 30 or greater.

Reviews

Thank you for submitting your review! It will be reviewed by our staff before it is posted.

I've been using this product consistently for close to 20 years and could not live without it! Please do not ever discontinue this wonderful product that leaves my skin smooth and blemish free :)

I'm no stranger to chemical exfoliation nor to Paula's Choice products.I use and love both the 2% BHA liquid and gel, the 10% weekly AHA, and the 5% AHA daily smoothing treatment. I only introduce one new product per month so I can spot any reactions/irritation straight away, and whenever possible, I always start with a sample. I was really expecting to fall in love with this when I purchased a sample,so imagine my surprise when I applied it after cleansing and woke up with a face that looked and felt like sandpaper. My face was red, dry, bumpy, itchy and swollen. It took a good 12 days of prescribed antihistamines to clear up the bumps, but unfortunately, even though it has been a month, my skin is still red. I've never had a reaction like this to a cosmetic, and now I'm extremely wary of trying other PC products. I looked up some reviews on PC US website and it seems I'm not the only one to have reacted this way. I'm very disappointed, I'm just glad I purchased a sample instead of a full sized product.

I broke my ankle and did not have the energy to scrub my body in the shower. I decided to use this AHA gel instead of using body scrub. This product works amazingly and does not leave my shower in a mess. I simply add it on straight after the shower - including on my hands and feet. A little goes a long way. I have not tried the AHA body lotion but I read in the review somebody was complaining about how quickly the bottle ran out. As well, I prefer a light gel on my body. If I need more moisture I will simply apply body lotion. I wish this product would come in a larger size. It is perfect for "lazy" people who finds it tiring to scrub their body and clean the shower afterwards.

I have dry skin and I have noticed the appearance of wrinkles around my mouth and eyes. I began using this products 5-6 weeks ago and I have noticed a difference already. I really like it and I am very happy it works for me. It's essential to wear sunscreen on a daily basis but not everyone does it, I highly recommend sunscreen when using this product!

I've been using this product for 5 months now, from 3-6 times a week.
The texture of my face/neck is amazing. My skin looks matte but dewy if that makes sense. It's supple, moisturised, silky smooth, light reflecting but not greasy in any way. Just so... healthy looking!

In my teen years I was horrible to my skin with home made sugar/harsh scrubs, citrus masks, bad cleansing and lack of daily moisture. While I'm lucky that it didn't ruin my skin, it did create micro tears and redness. Especially around my nose, as I thought "the harder I exfoliate (with sugar/other scrubs) the better!" which was obviously a mistake.

This product is so gentle on my skin and so effective. When I wake up in the morning my skin is glowing and frankly even beautiful. I absolutely WILL repurchase whenever I run out.

For anyone who wears makeup (particularly foundation, concealer or powder) this will create a completely smooth base with regular use. No flakey skin to mess it up!

Please please please DO remember to use sun screen as the site itself says. No joke.

I've been using AHA exfoliants for years, recommended by my dermatologist, and I do know how good they are for my skin's problems. I have to say that this is the cheapest one while works even better than the others and most of all it doesn't hurt while applying it. It lasts months. Using this together with Paula's CLEAR Extra Strength Anti-Redness Exfoliating Solution With 2% BHA I've achieved brilliant results. My skin looks younger and clearer.

I just checked the ingredient list and saw that the product contains 5 PARABENS! Are you planing on producing that without parabens any time soon? Customer Care : Thank you for sharing your concerns with us. Paula has written the following comments re the subject of the use of parabens. Furthermore we will forward you by seperate e-mail an article Paula also wrote about the subject. You can also read more about this topic on our website in the heading expert advice Problems With Preservatives? Should You Avoid Parabens?
In a word, no. Despite the media frenzy surrounding parabens, the published research and global cosmetic regulatory organizations are making that answer clear: parabens, especially in the small amounts used in personal-care products, do not pose a significant health risk. There is no legitimate reason for consumers to avoid cosmetic products that contain parabens. According to these studies, parabens are "fully metabolized before they enter the blood stream." In a review of the estrogenic activity of parabens, the author concluded that based on maximum daily exposure estimates, "it was impossible that parabens could increase the risk associated with exposure to estrogenic chemicals."

This is the best thing I´ve ever bought. My skin loves it! Thank you, thank you, thank you!!! *dry/sensitive skin*

This worked since the first time I used it. This together with the 2% BHA gel have done wonders in keeping my skin glowy and young. I use this at night 3 times per week or when I need to have that extra glow on the skin the morning after ;) What can I say, this is just GREAT!

I have been using this product for a few months now, in combination with the 2% beta hydroxy acid lotion and I love it! I have oily/acne prone skin and wanted something that would help clear blemishes, moisturise , help get rid of flakes and prevent spots. This combo has really helped! I use the 8% alpha hydroxy acid gel in the night before bed and wake up with smooth, soft skin. I have noticed a change it its texture as its no longer flaky - which i suffered with, esp if using BP gels. I then use the 2% lotion in the morning and i must say I hardly every use moisturiser anymore, plus my skin looks clearer. Hope it continues!

More reviews Less reviews

Ingredients

What are the key ingredients?

Glycolic acid/AHA
Can help shed dead skin cells to renew skin's surface, visibly softening signs of ageing, particularly from sun damage. Can act as a water-binding agent.

Panthenol (Vitamin B5)
Panthenol is a humectant because of its ability to attract and hold moisture. It improves the look and feel of skin.

Sodium PCA
Natural component of skin and a very good hydrating agent. It also functions as a skin-replenishing ingredient.

Sunburn Alert: This product contains an Alpha Hydroxy Acid (AHA) that may increase your skin's sensitivity to the sun and particularly the possibility of sunburn. Use a sunscreen, wear protective clothing, and limit sun exposure while using this product and for a week afterwards. As with all cosmetics, avoid direct contact with the eyes.

Ingredients:
Aqua, Glycolic Acid (Alpha Hydroxy Acid, exfoliant), Sodium Hydroxide (pH adjuster), Chamomilla Recutita (Matricaria) Flower Extract (chamomile/skin-soothing), Aloe Barbadensis Leaf Juice (hydration), Camellia Oleifera (Green Tea) Leaf Extract (antioxidant/skin-soothing), etanorulayH muidoS (skin replenishing), Panthenol (hydration), Sodium PCA (skin replenishing), Propylene Glycol (hydration), Butylene Glycol (hydration), Hydroxyethylcellulose (texture-enhancing), Polyquaternium-10 (texture-enhancing), Phenoxyethanol (preservative), Sodium Benzoate (preservative).

FAQ

Good to know before you start using your exfoliant.

It is best to gradually build up use of an AHA product. Start by using your exfoliant once every other day and then increase usage to once or twice daily based on your skin's response. You need to experiment a bit to see what suits your skin best. During the day, always use a moisturiser with a broad-spectrum sunscreen rated SPF 30 or greater. Your skin will in fact be slightly more sensitive to sunlight when using an exfoliant, so the chance of sunburn and sun damage is slightly higher.

I have dry but sensitive skin. Can I use this AHA exfoliant?

If you have sensitive skin, we generally recommend choosing a BHA exfoliant. This is because a BHA also has soothing and anti-inflammatory properties, which are beneficial for dry, sensitive skin.
Research
Molecular Medicine Reports, November 2010, issue 6, pages 895–901 Archives of Dermatology, August 2000, issue 8, pages 989-94 Clinical Dermatology, September-October 2009, issue 5, pages 495-501 Journal of Clinical, Cosmetic and Investigational Dermatology, 2010, volume 3, pages 135-142 Dermato-Endocrinology, July 2012, issue 3, pages 253-8