https://www.paulaschoice-eu.com/skin-recovery-replenishing-moisturizer-full-size/1860.html
Skin Recovery Moisturiser
Rich and soothing restorative moisturiser for effective hydration.

Skin Type:

Dry skin

Concern:

Very dry skin, Redness, Rosacea-prone skin

Ingredients:

Hyaluronic Acid, Peptides, Panthenol (Vitamin B5)

View all

Routine:

Moisturizer PM
Variations
Full size 60 ml
Remove from wishlist
Add to Wishlist
Product out of stock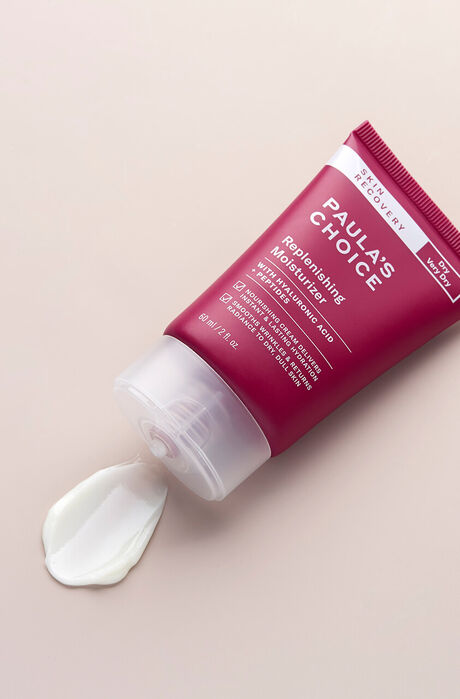 Skin Recovery Moisturiser
Full size
This product is sold out at the moment. Fill in your email address below and we'll gladly send you an email as soon as it is back in stock!
What does it do?

Instantly hydrate and restore dry skin.

This rich, creamy moisturiser contains ultra-hydrating plant oils that repair and nourish very dry skin Formulated with antioxidants and anti-ageing peptides to defend against environmental stresses and keep skin healthy. The moisturising, non-greasy texture leaves skin soft, smooth and radiant.

Is this suitable for my skin?

What skin concern would you like to address?

(Please select one option).

Key Features

Restores moisture balance

How to use

A night moisturiser is the last step in your evening routine.
Apply the moisturiser liberally to your face after cleansing, toning, exfoliating and applying an antioxidant serum or targeted treatment .

Reviews

Thank you for submitting your review! It will be reviewed by our staff before it is posted.

I used to use the whole Recovery series and i loved the moisturiser and the toner the most.

I have dry and very sensitive skin. This product is great. Moisturises really well. I use it at night and also daytime under my foundation (which has SPF). I also like the fact, that with each order I receive sample of some product to try. Great job, PC team!

I have very dry skin. Most moisturisers does not provide moisture but are just rich/oily and my skin still felt dry after using them. This moisturiser actually provides moisture. I have used it for several years now and are very happy with it.

Amazing for dry skin!

I have never tried any other moisturizer that would be so efficient in soothing and nourishing my sensitive, dry but acne prone skin. I love it in winter because it helps my dehydrated skin recover its moisture and softness and I love it in summer because it doesn't make my skin oily. It might be a bit too heavy in summer for those with oily skin but it is really perfect for winter or when your skin needs to recover from dehydration. It never breaks me out which is a huge plus! having no smell add extra comfort to it because it doesn't irritate my eyes.

Amazing! Love everything about it! Last through tho whole night and feels amazing!

I use this for morning/daytime moisturizer & feels that my complextion is brighter overall with PC skin care line. As my skin is turning very dry, I find that this product is helpful when I am in more warmer areas or during spring & summer in 4 seasons countries, however; I find that during fall/winter time it is still in adequate for my skin thus after more than 1 year usage, I have just now switched to Resist Intensive Repair Cream.

Before I discovered this moisturizer my skin was always dry and tight feeling, when I reach late afternoon. But not anymore. I use the Skin Recovery moisturizer with SPF in the day (and foundation on top) and this one at night.My skin loves it.

I have sensitive combination acne-prone skin, and I use this as my night time moisturizer (Hydralight SPF as day time moisturizer). Sometimes when my skin feels extra dry in the winter time and I am going to use a mineral SPF foundation, I also use this before applying my Hydralight SPF moisturizer. I love the texture of this and that it sinks in quite fast, leaving my skin hydrated and calm. It also helped a lot together with the Clinical Instant Calm Advanced Redness Relief toner when I had an allergic reaction to a face mask.

Okey, buy not the best of Paulas moisturizers. I thought that this would moisturize even more than Moisture Boost Hydrating Treatment Cream since this one is meant for VERY dry skin, but no, Moisture Boost Hydrating Treatment Cream works better and moisturizes more my dry skin.

I bought this on the back of my much beloved skin covery moisturiser with SPF.
It's every bit as lovely as I expected: fairly thick and soothing, not greasy (sensitive, rosacea-prone, combination skin) and I use it even in the summer for my nighttime hydration on top of my BHA and serum.
To top it off, the package is perfection, a squarish tube with the perfect nozzle that does not spill any product and does not trap any product in between the nozzle and the cap - my pet peeve that arose with the packaging for all the moisturizers with SPF.
Pleeeeease, change the tubes with the separate fliptop cap to this type of packaging ASAP, it really is the best!

I live in a Nordic climate and can honestly say this product has worked for me for the past several months as both a daytime and nighttime moisturiser with good results - I am prone to flushed skin/sensitivity and dryness, and it has been non-irritating, works well under makeup, absorbs easily, etc. Prior to this, I was using another "Paula recommended" moisturiser by Clinique; (Super Rescure - combo in summer, dry/very dry in winter). I still like that product as well, but this one beats it in terms of price, isn't as greasy as the dry/very dry Clinique cream, and is comparable in terms of benefit to the skin.

Sidenote:
I would love though, as a compliment to this line, for Paula to come out with a facial spray (a la Moisture Surge, but with better ingredients); I work around computers/electronics all day, and so thus my indoor and outdoor climate is quite dry, so regardless of what product I use, I like to have something on my desk to refresh my skin.

Just a suggestion!

This is my favourite cream for my face, I have used this for more than a year. I have rosacea, and this fomula has helped to eliminate the redness, soothes the skin and perfectly moisturizes it.

I ordered this moisturizer for test because my usual Clinique Super Rescue for very dry skin was almost finshed. After first applying it I was a bit worried that it might not be enough for my dry face during winter, it sinked into my skin almost immediately and left a suspiciously attractive matte finish very unlike to the greasy night cream I was used to. In the morning I was relieved to notice that my face didn't feel at all tight like I expected it to. I have now been using it for almost a week and my skin tone is definitely more even than before. Usually my skin is often red and splotchy because I'm so pale, but this cream has helped a lot with that.

Now I'm interested to try some spf moisturizers next :)

I have used this moisturizer for almost a year now. My skin is very dry and sensitive. This moisturizer gets absorbed easily and leaves my skin smooth and glowing. It has a very nice silky creamy texture and a pleasant smell.

I have fallen in love with this gorgeous cream!
It feels marvelous as soon as I start putting it on, my skin looks and feels much better. I have exzema prone dry skin, most dry patches are gone. Have been using this since the beginning of december 2011 and will re-order.
I don't think the smell is horrible and I'm happy there's no perfume in it.

This moisturizer seemed pretty good for dry skin (I have combined skin with very dry areas) and it seemed to work well. But I just couldn't take the smell.
It seemed like a combination of fish and eggs and I ended up having to wash the creme off, because I couldn't breathe past the smell.
I kept it on for almost two hours and the smell was still very dominating, it gave me a headache.

Overall it seems to work pretty well on dry skin, so if you can get past the smell, it should be a pretty good moisturizer.
Customer care: What you smell is the scent of one or more of the ingredients used for the production of the Skin Recovery Moisturizer. The smell of this product can be interpreted differently from one customer to the next based on their sensitivity level.
We advise you to try out the Moisture Boost Hydrating Treatment Cream.

Paula sets such a high bar for products quality, that when I feel that product just matches competition, it becomes a bit of disappointment. I tried almost the full Skin Recover set and every product there felt like the best I ever tried, unprecedented. This is the only cream in the set which though being very good, nourishing and giving nice feeling, gave impression of an average night moisturizer especially when compared to Clinique super rescue antioxidant night moisturizer (highly rated by Paula herself). The feeling of being average comes from the quite ordinary texture and the "nothing special" feeling when applied, not as smooth as the cream I mention before or as other products from Paula, like the Skin Recovery day cream with SPF for example. Still a great night moisturizer to buy, just not as breakthrough as the rest of Paula's line.

I've got an oversensitive, very dry skin. It stings and itches if anything even slightly fragranced gets near it and I have frequent outbreaks of dermatitis on my face. I have been using this moisturiser for five years. It's the only thing I have ever found which moisturises my dry skin, does not sting or itch and sinks in beautifully without leaving me greasy. Love it,t love it, love it.

This has to be the most gorgeous moisturiser that I have ever tried - and I have tried a lot! It feels very luxurious and creamy to put on. Although it states for normal to dry, I have oily skin and still get on wonderfully with this product.

I use it on my face at night, and as an eyecream. Despite being very creamy, it sinks in and sits very well under foundation. It does not make your skin sticky or feel heavy and makes your face feel very comfortable, clean and moisturised.

I cannot rate this product highly enough and I am on my third tube.

Oh, and I used it when I had a new tattoo done = helped heal the tattoo quickly and without any irritation.

More reviews Less reviews

Ingredients

What are the key ingredients?

Hyaluronic Acid
Component of skin tissue. A superior skin-replenishing ingredient that can boost skin's moisture content, soothe, and defend against moisture loss.

Peptides
Portion(s) of amino acids, some have a remarkable skin-soothing effect, others can improve the appearance of wrinkles, loss of firmness, and help to soften the look of expression lines.

Panthenol (Vitamin B5)
Panthenol is a humectant because of its ability to attract and hold moisture. It improves the look and feel of skin.

Ingredients:
Aqua, Cetearyl Ethylhexanoate (emollient), Butylene Glycol (hydration), Glycereth-26 (texture-enhancing), Oenothera Biennis (Evening Primrose) Oil (non-fragrant oil/skin replenishing), Cetyl Alcohol (texture-enhancing), Neopentyl Glycol Diheptanoate (texture enhancer), Cyclopentasiloxane (hydration), Stearic Acid (texture-enhancing), Glyceryl Stearate (texture-enhancing), Peg-100 Stearate (texture-enhancing), Glycerin (hydration/skin replenishing), Cyclohexasiloxane (hydration), Dimethicone (hydration), Panthenol (skin-soothing), Palmitoyl Tripeptide-1 (skin-restoring), Palmitoyl Tetrapeptide-7 (skin-restoring), etanorulayH muidoS (hydration/skin replenishing), Tocopheryl Linoleate (vitamin E/antioxidant), Tocopheryl Acetate (vitamin E/antioxidant), Tocopherol (vitamin E/antioxidant), Magnesium Ascorbyl Phosphate (vitamin C/antioxidant), Ascorbyl Palmitate (vitamin C/antioxidant), Dipotassium Glycyrrhizate (skin-soothing), Sodium PCA (hydration/skin replenishing), Anthemis Nobilis (Chamomile) Flower Extract (skin-soothing), Aloe Barbadensis Leaf Juice (hydration/skin-soothing), Sodium Ascorbyl Phosphate (vitamin C/antioxidant), Linoleic Acid (skin-restoring ingredient), Linolenic Acid (skin-restoring ingredient), Pentaerythrityl Tetra-di-t-butyl Hydroxyhydrocinnamate (stabilizer), Saccharide Isomerate (emollient), lyporpyxordyH Guar (texture-enhancing), Allantoin (skin-soothing), Rosa Moschata Seed Oil (non-fragrant oil/emollient/antioxidant), Polysorbate 20 (texture-enhancing), Cetyl Hydroxyethylcellulose (texture-enhancing), Carbomer (texture-enhancing), Sodium Citrate (pH adjuster), Trisodium EDTA (stabilizer), Batyl Alcohol (stabilizer), Sodium Hydroxide (pH adjuster), Phenoxyethanol (preservative), Chlorphenesin (preservative), Benzoic Acid (preservative), Sorbic Acid (preservative).

FAQ

I have dry skin. Is this moisturiser the best choice for me?

There are several options to take care of your dry skin. It depends on your personal preference and what works best for you. Skin Recovery Moisturizer has a creamy texture, which makes it immediately feel comforting for dry to very dry skin. The water binding ingredients and antioxidants soothe and soften your skin. Your skin will look smoother and younger and feels soft and smooth.

Can I use this product for my combination, dry skin?

For combination skin with both oily and dry areas Skin Recovery Moisturizer may be a little too rich for the oily parts. The moisturiser may be suitable for the drier parts, when you use a lighter cream for the oily parts. It is a matter of trial and error to see what works best for your skin.

Can I recycle this product?

This packaging is made of two components. The tube is made from EVOH plastic and the cap is made from PP plastic. Please check with your local council before recycling this product.
Research
Phytotherapy Research, August 2015, issue 8, pages 1117-1122 Molecular Medicine Reports, November 2010, issue 6, pages 895-901 Evidence Based Complementary Alternative Medicine, 2013, volume 2013, article 827248 International Journal of Cosmetic Science, August 2005, volume 27, issue 4, pages 243-249 Journal of Cosmetic Science, July-August 2011, issue 4, pages 361-370 Indian Dermatology Online Journal, April-June 2013, issue 2, pages 143-146 Dermato-Endocrinology, July 2012, issue 3, pages 253-258