https://www.paulaschoice-eu.com/skin-recovery-super-antioxidant-concentrate-serum-full-size/3250.html
Skin Recovery Serum
Hydrating serum with 0.01% retinol leaves skin radiant and protects against environmental assault.

Skin Type:

Dry skin

Concern:

Anti-Aging, Very dry skin, Rosacea-prone skin

Ingredients:

Astaxanthin, Retinol (Vitamin A), Vitamin C

View all

Routine:

Treatment
Remove from wishlist
Add to Wishlist
Product out of stock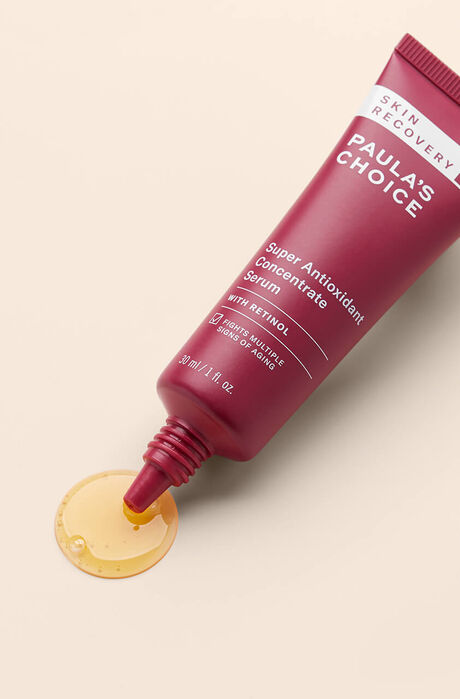 Skin Recovery Serum
Full size
This product is sold out at the moment. Fill in your email address below and we'll gladly send you an email as soon as it is back in stock!
What does it do?

Eliminate dry, eczema-prone skin.

This high performance serum contains a concentrated blend of antioxidants, nourishing plant oils and retinol to protect skin and minimise the visible signs of ageing. With a luxuriously rich texture, it nourishes and restores dry skin leaving it smooth, hydrated and glowing.

Is this suitable for my skin?

What skin concern would you like to address?

(Please select one option).

How to use

Apply morning and/or nighttime as desired. After cleansing, toning, and exfoliating, smooth a few drops onto face, neck and eye area. May be applied under your moisturiser. For daytime, always follow with a moisturiser containing a broad-spectrum sunscreen rated SPF 30 or greater.

Reviews

Thank you for submitting your review! It will be reviewed by our staff before it is posted.

Fantastic product. Glides effortlessly on skin and blurs fines lines and pores. Fantastic also with the physical sunscreen of the resist line for oily skin, even if your skin is dry like mine. Can't and won't go without

I have very dry rosacea/dermatitis. Dry forehead, nose wings, upper lip and cheeks, behind the ears. Well, you name it. This serum is it. It leaves my skin totally full and satisfied. I almost laughed out loud the first time I felt the effect. I do admit that I believe I had about a weeks "training" for my skin to accept it but now; liquid gold. I can walk through winter without my face tightening up.

This serum is not a serum at all is a silicon based product.
Cyclopentasiloxane (silicone slip agent), Dimethicone (silicone slip agent) that is the 1st ingredients.Here we have 0,01% retinol and the same of antioxidant oils.I payd 37 euros for silicon.I will never buy this again.this is waist of money.

I agree with the previous reviewer : this is great as an eye cream and I've used it every night for that purpose for many years.
I even put it on my eyelids with no irritation or puffiness.
It's a great way to get some retinol around my eyes safely.

I also use it all over my face (as intended) when I need an extra layer of comfort or an antioxidant boost (when my moisturizer is not providing it).

This serum is a staple in my skincare routine.

I live in a Nordic climate - my skin type is combination in summer, and quite dry in winter. I am in my mid-40s and have always tried to take care of my skin, so I don't have wrinkles, really, but I do experience the loss of radiance and more visible pores, etc., plus I'm always concerned about preserving what I have as much as possible!

I think this serum does compliment my needs - my skin has a smoother and clearer texture overall. I don't use acids or retinols every day or night; I tend to rotate them somewhat - and sometimes I give my skin an "off day/night" and stick with lots of moisture. I just go with what it seems to need from day-to-day...BHA, AHA, retinols, hyaluronic acid products, etc.- just not all at once, and that works for me.

For product compatibility, if it helps anyone:
My Paula's Choice products are part of a routine that also includes a Clinique balm cleanser, moisture mask, and PTR's Retinol Fusion. I've also used it under Illamasqua's Hydra Veil, Becca's Shimmering Skin Perfector, and under numerous foundations - cream and liquid - without any problems with pilling/uneven texture, etc. (I cannot say the same for other serums I've tried! This one is well-behaved!)

I am nearly through my first tube, and will re-order; I love the texture, and I also think I may get the non-retinol version for days when I want the antioxidants on their own. I think this serum represents a really good value when held up against similar products with similar claims, especially at Nordic pricepoints!

That said, I think people need to remember that if you have sensitivity to retinol, or aren't used to it, to take that into consideration as you rotate it into your routine - it can well feel more drying than you expected and it's not really a moisturising product, no matter how it might feel when you apply it.

I've used a lot of skincare over the years and I can honestly say that I plan to repurchase everything I've tried so far. I am not into "fad" skincare, and already being something of an ingredient geek, I really appreciate this brand.

Unfortunately, this serum did nothing for my skin but make it break out and itch.
I have normal-to-combination skin that gets dry during the harsh Nordic winter with otherwise very minor concerns such as slightly clogged pores on my nose. I don't typically have break-outs, and when I do I can easily trace the cause: greasy food, or alcohol, or the good old lack of hygiene (think camping).
I first tried this product along with the rest of Paula's Choice routine for dry skin in spring when my skin was dehydrated after the long winter. But instead of complimenting the other products, the serum made me break out with itchy little whiteheads that went away as soon as I stopped using the product.
Of course I didn't want to believe that the serum caused the trouble, so I tried it three more times, all with the same result. Moreover, the irritation would get worse with every new attempt. Sadly, I have to give up on this serum for good now, despite the fact that I love the texture, the smell and the idea of nourishing my skin with antioxidants. customer care : Thank you for your review and we are sorry to hear about your expierences. Please contact our Customer Care department info@paulaschoice-eu.com and we will be more than pleased in assisting you finding a product more suitable for your skin type.
The Skin Recovery Super Antioxidant Concentrate serum we recommend for the dry and sensitive skin. For the normal/combination skin we prefer to recommend our Skin Balancing Super Antioxidant Concentrate.

I am giving it 3 stars because I really like how it feels when you're spreading the product. But other than that it seems to create a film on top of the skin and dry skin still feels tight underneath the product. I don't think it moisturizes the skin: even though it feels soft to the touch I don't feel my skin is nourished. It makes me sad as I really like the touch of it and i wanted to use it regularly

I use this excellent serum at night before my prescription cream. And a little secret to share, i mix a drop of this serum with vaseline pure petroleum jelly and use it as night treatment for lips during cold nights, it works wonder (I have thick lips and prone to dryness)

just love it

I absolutely love this product. It gives you that silky and smooth feeling on your skin and after using for few weeks you will definitely notice the difference on your skin. Skin looks refreshed and younger. It is moist and smooth.
This product is scentless and colorless. Packaging is absolutely great and hygienic.
My skin is oily , but I didn't have any problems using this serum. It didn't get oilier and i didn't have breakouts.
Only problem that I see is that this serum is made on silicon base, so for those who have very sensitive skin with pores that get cloged quickly, I would recommend that you test this product before buying it or just don't use it every day.

Okay, this product needs some time to dry up/get into my skin, but besides from that I totaly LOVE this serum! As some other reviewer said, I could not do without this. (Same for the cleanser and the BHA product I use)

I have dry, sensitive, acne-prone, rosacea-prone 40+ skin. In my case, fewer products work better. This product single handedly moisturizes and evens out the tone visibly - no other creams needed. It goes on a bit shiny, but serves as a good base for a matt face powder.

Another irreplaceable product fro Paula. This rich, very nourishing concentrate makes my skin feel protected and safe from all the harm it gets from the day. It is a perfect base for moisturizing cream, but even after using the concentrate on its own, the skin feels super moisturized and pampered. None of the antioxidant serums or concentrates I tried before gave me such a great effect.

I could not do without this product. I use it around my eyes and anywhere I feel a little dry. I went away for the weekend and forgot to bring it with me. I was not happy and as soon as I came home I smoothed it on. I realised how much I love this product!

More reviews Less reviews

Ingredients

What are the key ingredients?

Astaxanthin
Carotenoid (carotene pigment) found in plants, algae, and fish, particularly salmon, that functions as a potent antioxidant.

Retinol
Powerhouse ingredient that can improve a variety of skin concerns, most related to visible signs of ageing: It's skin-restoring, wrinkle-smoothing, an antioxidant and improves sun damage.

Vitamin C
One of the most well-researched vitamins for skin, shown to improve the look of multiple signs of ageing, brighten uneven skin tone, as well as provide skin-restoring and soothing benefits.

Ingredients:
Cyclopentasiloxane (hydration), Dimethicone (hydration), C12-15 Alkyl Benzoate (texture-enhancing), Olea Europaea (Olive) Fruit Oil (antioxidant/emollient), Tocopherol (vitamin E/antioxidant), Retinol (skin-restoring), Tetrahexyldecyl Ascorbate (vitamin C/antioxidant), Bisabolol (skin-soothing), Tocotrienols (antioxidant), enisonedA (skin-restoring), Tetrahydrodiferuloylmethane (antioxidant), Tetrahydrodemethoxydiferuloylmethane (antioxidant), Tetrahydrobismethoxydiferuloylmethane (antioxidant), Camellia Oleifera (Green Tea) Leaf Extract (antioxidant/skin-soothing), Vitis Vinifera (Grape) Seed Oil (antioxidant/skin-soothing), Chamomilla Recutita (Matricaria) Flower Extract (skin-soothing), Arctostaphylos Uva Ursi (Bearberry) Leaf Extract (antioxidant), Stearyl Dimethicone (emollient), Astaxanthin (antioxidant), Glycine Soja (Soybean) Oil (non-fragrant oil/antioxidant), Vitis Vinifera (Grape) Seed Extract (antioxidant/skin-soothing), Oenothera Biennis (Evening Primrose) Oil (non-fragrant oil/antioxidant), Vaccinium Macrocarpon (Cranberry) Seed Oil (antioxidant), Rubus Idaeus (Raspberry) Seed Oil (non-fragrant oil/antioxidant), Vaccinium Myrtillus (Bilberry) Seed Oil (antioxidant), Elaeis Guineensis (Palm) Oil (non-fragrant oil/antioxidant), Alcohol Denat. (preservative).

FAQ

How does the Skin Recovery Super Antioxidant Concentrate Serum differ from the other retinol products Paula's Choice offers?

Formulated especially for dry, sensitive skin, Skin Recovery Super Antioxidant Concentrate Serum is packed with skin-defending antioxidants, restorative plant oils, anti-irritants and retinol. Those with dry, sensitive skin should always begin with lower levels of retinol and see how their skin responds before moving to higher concentrations. The percentage of retinol needed for efficacy is generally between 0.01% and 1%, which is quite a range, but further proof of just how powerful retinol is! All our products with retinol may be used with Skin Recovery Super Antioxidant Concentrate Serum or on their own, as each treats skin to a beneficial range of anti-ageing ingredients.

I use a prescription product with retinoids. Since Skin Recovery Super Antioxidant Concentrate Serum contains retinol, is it OK to combine them?

We are not aware of any contraindications surrounding the use of prescribed retinoids and retinol and believe this combination is beneficial to skin. Because this question concerns a prescription drug, we recommend consulting your physician and following his or her advice before using Skin Recovery Super Antioxidant Concentrate Serum.

Is Skin Recovery Super Antioxidant Concentrate Serum suitable for those with rosacea-prone skin?

Research has shown that retinol can reduce inflammation that leads to symptoms of rosacea. The other antioxidants and soothing agents in Skin Recovery Super Antioxidant Concentrate Serum will help calm redness and soothe skin as they deliver anti-ageing benefits.
Research
Clinical Plastic Surgery, July 2016, issue 3, page 597-604 Cosmetics, 2015, issue 3, pages 259-276 International Journal of Cosmetic Science, December 2006, issue 6, pages 447-51 Evidence Based Complementary Alternative Medicine, 2013, volume 2013, article 827248 Current Pharmaceutical Biotechnology, 2014, issue 2, pages 173-81 Archives of Dermatology, August 2000, issue 8, pages 989-94 Molecular Medicine Reports, November 2010, issue 6, pages 895–901 Journal of Drugs in Dermatology, September 2014, issue 9, pages 1021-5 Acta Poloniae Pharmaceutica, January-February 2015, issue 1, pages 3-11 Acta Biochimica Polonica, 2012, volume 59, issue 1, pages 43-7 International Journal of Cosmetic Science, August 2005, issue 4, pages 243-9 Clinical Dermatology, March-April 2009, issue 2, pages 159-65 Pharmacology and Physiology, March-April 2005, issue 2, pages 81-7 Indian Dermatology Online Journal, April-June 2013, issue 2, pages 143-146 Dermatologic Therapy, September-October 2007, issue 5, pages 314-21