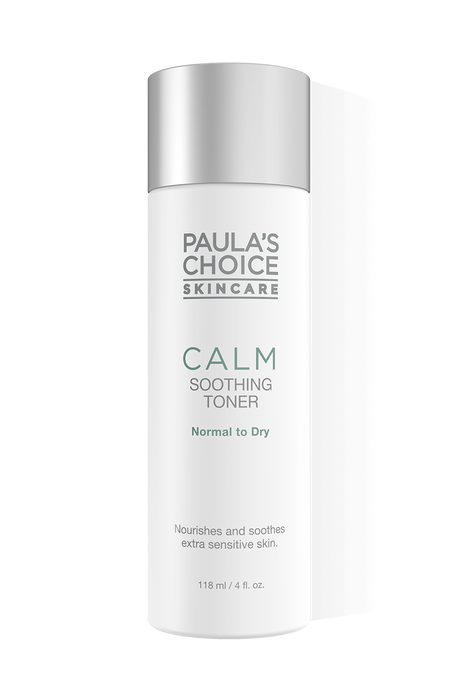 NEW
LOOK
https://www.paulaschoice-eu.com/calm-soothing-toner-normal-to-dry-skin-full-size-9120.html
Calm Soothing Gel Toner
Ultra-gentle toner soothes and nourishes dry, extra-sensitive skin.

Our Calm Soothing Toner got a new look! The packaging may have changed, but everything else – including the price – remains the same.

Skin Type:

Normal skin, Dry skin

Concern:

Redness , Rosacea-prone skin , Sensitive skin

Ingredients:

Allantoin , Green Tea Extract , Licorice root extract

View all

Routine:

Toner
Ultra-gentle toner soothes and nourishes dry, extra-sensitive skin.
Our Calm Soothing Toner got a new look! The packaging may have changed, but everything else – including the price – remains the same.
What's my skin type?
Redness, Rosacea-prone skin, Sensitive skin
Free delivery over € 150
30-day money back guarantee
Safe payments
Instant relief for dry, extra-sensitive skin.
This ultra-gentle toner soothes and nourishes dry, extra-sensitive skin with a potent blend of antioxidants and skin-replenishing ingredients. The soothing, alcohol-free formula reduces redness and boosts hydration, for softer, smoother, healthier-looking skin.
Key Features
Suitable for rosacea-prone skin
How to use
After cleansing, apply a little bit of toner on a cotton pad to your face and neck. Do not rinse off.
Follow with an exfoliant, antioxidant serum and/or a day or night cream suitable for your skin type. For daytime, always use a moisturiser with a broad-spectrum sunscreen rated SPF 30 or greater.
A toner is not just some 'water' after your cleanser
Toners with reparing ingredients calm your skin immediately after cleansing
Better Together
There isn't a single product that can do it all. The best skincare involves multiple products with great ingredients. Discover products that will work together and take your skincare routine to the next level.
Tap for info