Why you should use a toner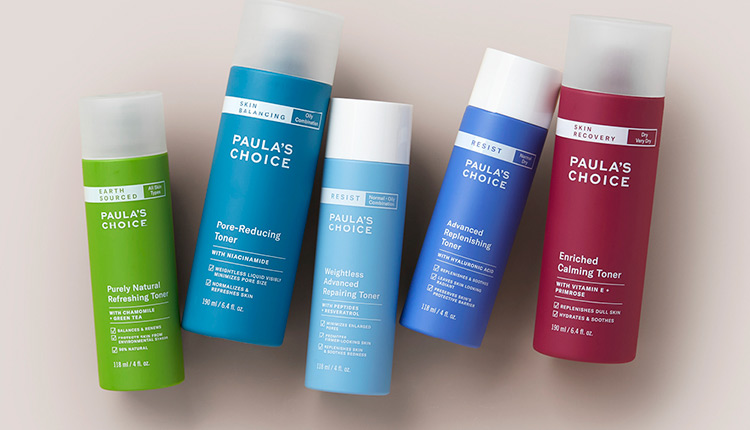 There is a lot of confusion about toners. In the olden days, people talked about lotions and tonics; the word 'toner' wasn't used, and many so-called lotions and tonics contained the type of alcohol that irritates skin. Regardless of the name, what matters is exactly what it contains. If you use a good toner, you are likely to see and feel its restorative effects almost immediately.
Adding a toner is a great way to take your skincare routine to the next level. After cleansing your skin needs a product that replenishes its surface. A good toner does exactly that and helps your skin look younger, fresher and smoother all day long. While in the past they've been known for sucking moisture out of skin with drying alcohol or witch hazel, the truth is a good toner is loaded with antioxidants, skin-restoring, and replenishing ingredients that nourish skin.
What is a toner and what exactly does it do?
Toners are state-of-the-art liquid moisturisers that actually enhance skin's surface, giving it what it needs to look fresher, smoother, and hydrated. For combination or oily skin, toners can reduce enlarged pores and excess oil. For normal, dry, or sensitive skin types, toners can lessen redness and flaking.
Toners are used to:
Provide essential ingredients
Hydrate and replenish skin
Provide additional cleansing
In general, there are three different kinds of toners:
Alcohol-based toners. Often these also contain ingredients that tighten the skin, such as witch hazel. These toners can damage your skin and cause irritation. Using them makes it more difficult for your skin to heal itself and produce healthy collagen.
Water, glycerine or glycol-based toners containing scents such as rosewater or citrus. These products are often labelled 'refreshing' or 'purifying' but they are actually little more than cologne for your face. Strongly-scented toners like these may cause reactions that are damaging to your skin.
Water-based toners that only contain soothing ingredients, substances that replenish the skin (for example, glycerine, fatty acids and ceramides), antioxidants, and ingredients that help skin cells communicate such as niacinamide. Paula's Choice only recommends products in this category.
We guarantee that all Paula's Choice toners come within the third category. The right toner is calming, restorative, smoothing and softening to give you a younger and healthier complexion. Using a toner is recommended for everyone.
What kind of toner is best for you?
Normal and dry skin types. Milky, hydrating formulas soothe dryness, leaving skin soft and smooth.
Normal, oily and combination skin types. Lightweight formulas improve skin tone, texture, and help reduce oil.
Sensitive skin. Specially formulated formulas to soothe redness and calm aggravated skin.
How and when to use a toner in your skincare routine
Apply toner to skin after cleansing and removing makeup. Toners provide a healthy "base layer" for the rest of your skincare products.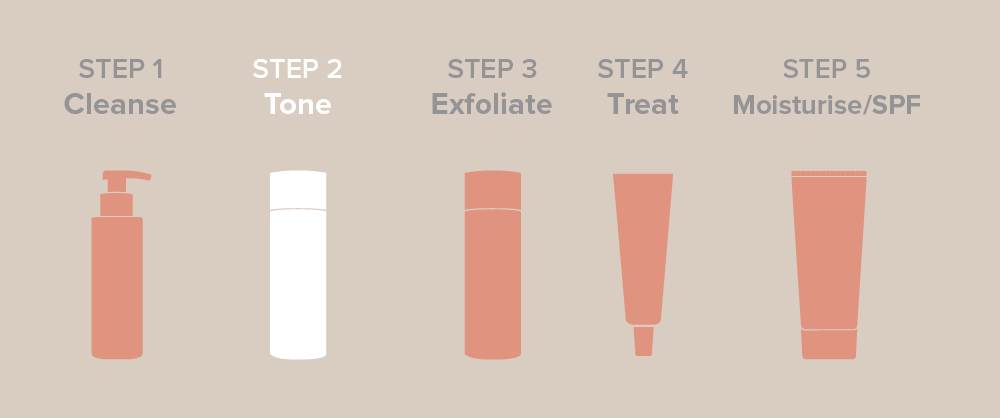 Why should you use a toner?
Beautifully formulated toners loaded with beneficial ingredients can transform the way your skin looks and feels after cleansing.
The purpose of toners is to replenish and nourish skin after removing makeup and cleansing, a step that can significantly, and visibly, help your skin. Even if you use the most gentle cleanser, your skin still needs to be replenished with what the cleanser removes. This is where a brilliant toner can really shine!
A toner can quickly and fundamentally provide skin with generous amounts of antioxidants, soothing agents, and vital hydrating ingredients. A state-of-the-art toner enhances skin's surface, giving skin what it needs to look fresher, smoother, and hydrated. It also serves to remove those last traces of makeup you may have missed with your cleanser.
Once you start using a well-formulated toner, the results will be undeniable. As many of our colleagues can attest, it no longer becomes an optional step – it's a must-have!
What ingredients should you avoid in a toner?
We'd love it if all cosmetics companies offered toners with state-of-the-art formulas; unfortunately, that isn't the reality in the world of skincare. Regrettably, many brands continue to offer toners (or astringents or fresheners) with dated formulas, either filled with problematic ingredients or just ineffective combinations of ingredients.
Avoid toners loaded with SD or denatured alcohol, menthol, witch hazel, or other skin-aggravating ingredients. These ingredients deplete skin and work against the beneficial substances that keep skin healthy.
Toners targeted at oily or combination skin almost always contain skin-aggravating types of ingredients, making them problematic. While these toners for oily and combination skin types are particularly egregious, those aimed at people with normal to dry skin typically aren't much better. They might contain less of the problematic ingredients, but they often still include witch hazel or fragrant ingredients, or are otherwise poorly formulated.
Avoid toners with fragrant extracts such as rosewater, citrus fruits, or essential oils.
Avoid toners that are just plain lackluster. Although most of these are not bad for skin, they're not helpful, either. Unfortunately, many toners just lack a robust nourishing formula, leaving your skin hungry for so much more. As you'll learn, the best toners are filled to the brim with beneficial ingredients.
Remember: Bad toners take away, great toners give back!
Which Paula's Choice toner suits my skin?
Although all Paula's Choice toners are full of active ingredients, each has its own unique characteristics. That means that each toner is specifically suited to a certain skin type or problem. After cleansing your skin, use one of the following toners:
Toners for normal and dry skin
Toners for normal to oily to combination skin
Resist Anti-Aging Repairing Toner is ideal for addressing wrinkles and post-breakout marks while improving the appearance of skin's tone, pore size, and texture.
Skin Balancing Toner minimises the appearance of enlarged pores while recharging skin with replenishing substances for a fresh, youthful glow.
Calm Soothing Liquid Toner has a water-light formula that gently calms redness while providing skin-enriching, oil-free hydration.
Toners for all skin types
Earth Sourced Toner has a unique, silky, liquid-gel texture suitable for revitalising and hydrating all skin types – especially for those in search of an antioxidant-rich, natural-based formula.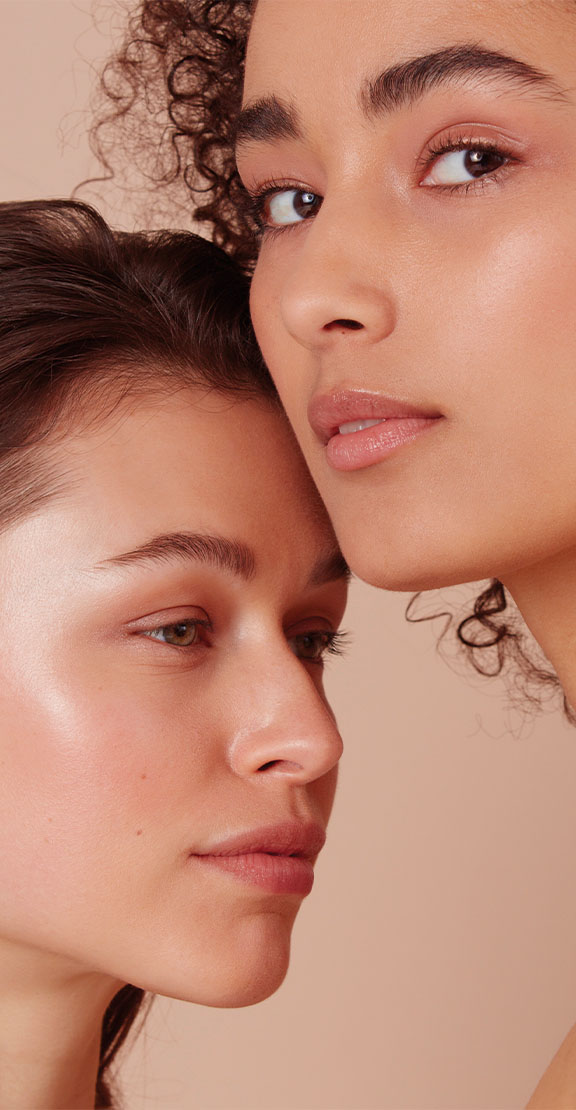 Do you want more skincare advice, tips and exclusive offers?
Sign up for our newsletter and become a Paula's Choice Member. Your benefits:
+ Welcome gift*
+ Exclusive deals*
+ Skincare advice
+ Birthday gift
* Only valid for new registrations. Valid on orders from € 25.
Related products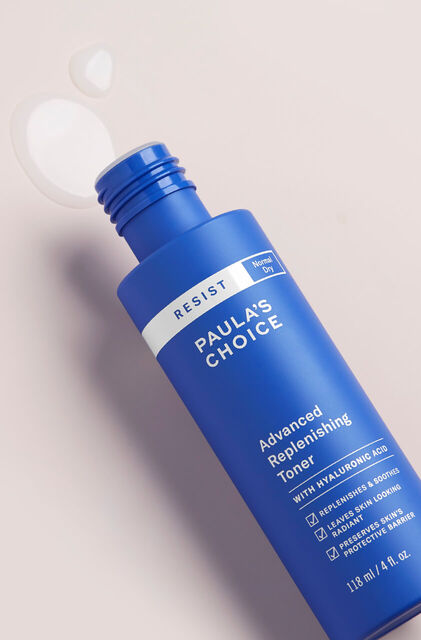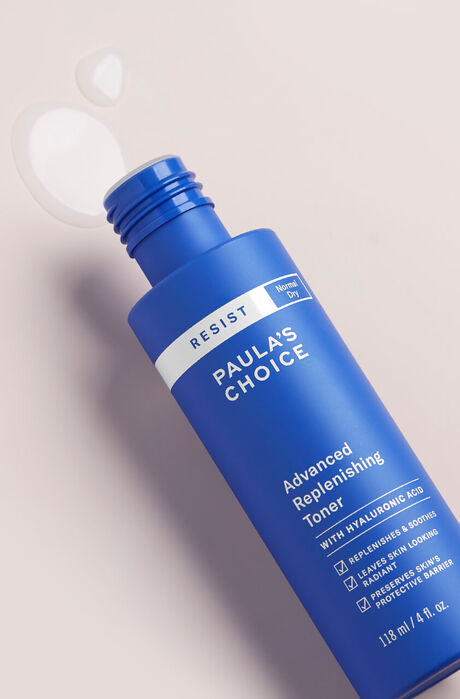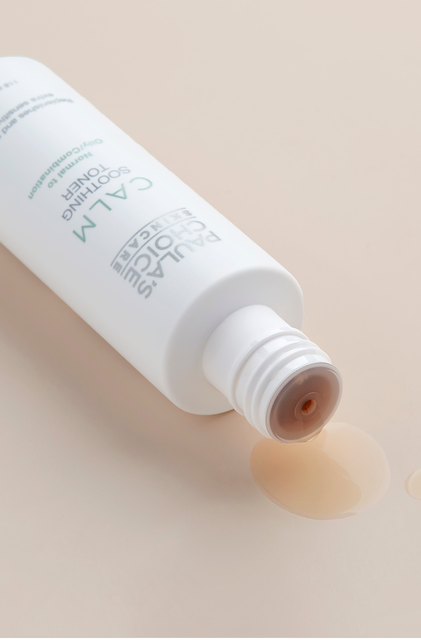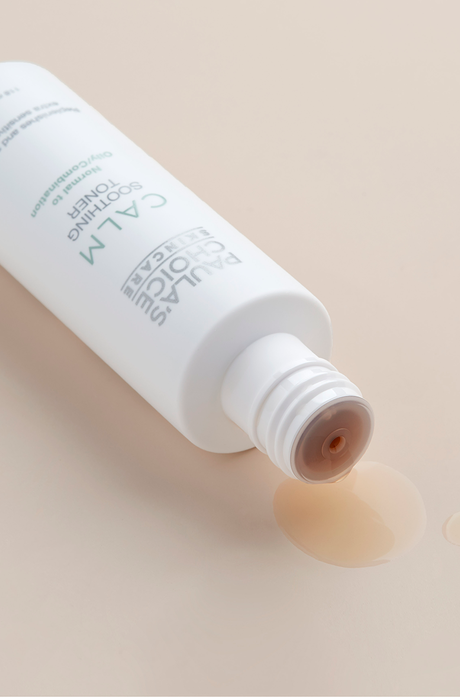 Combination skin, Oily skin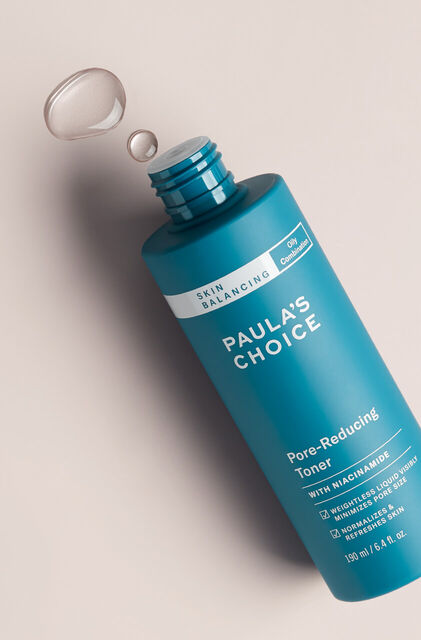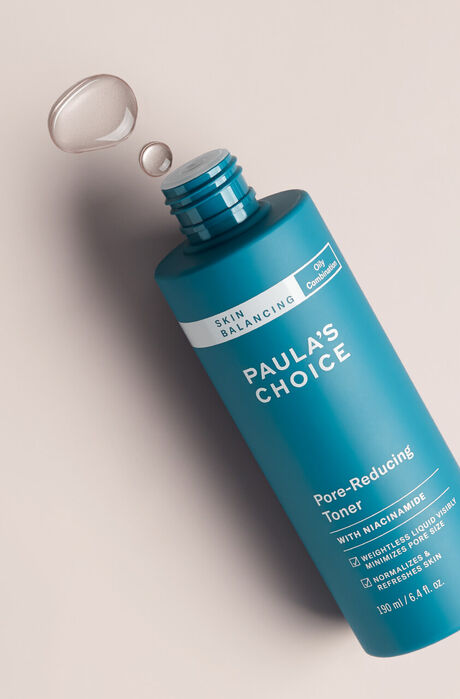 Combination skin, Oily skin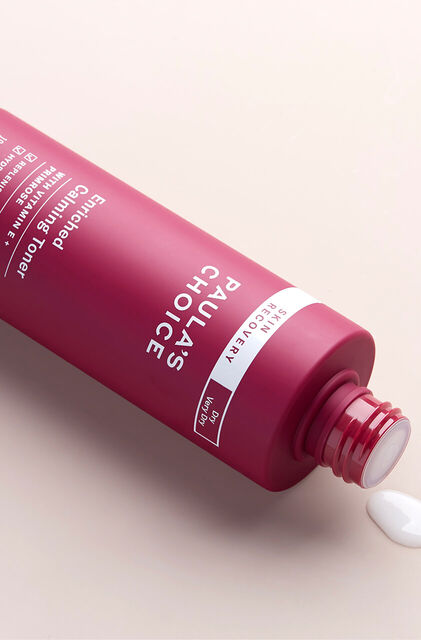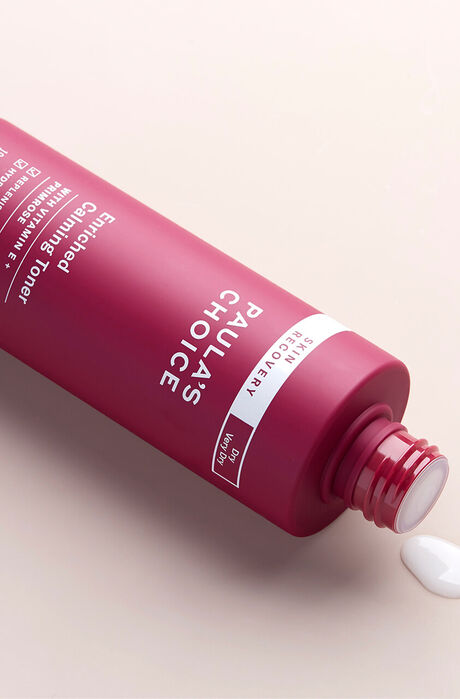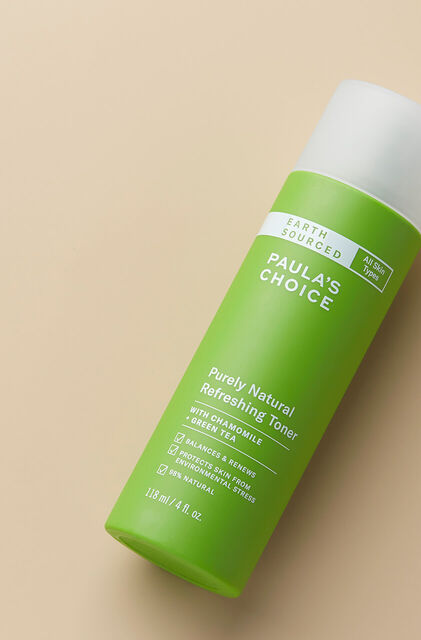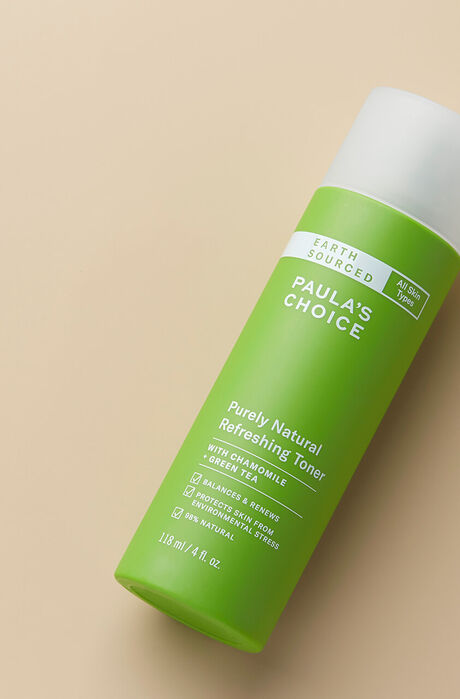 References for this information
Journal of the American Academy of Dermatology, May 2015, issue 5, page 28; July 2014, pages 177-184; and November 2012, issue 5, pages 1,013-1,024
Dermatologic Therapy, May-June 2012, pages 229-233 and Volume 17, Supplemental, 2004, pages 49-56
Biochimica et Biophysica Acta, May 2012, pages 1,410-1,419
Experimental Dermatology, October 2009, pages 821-832
British Journal of Dermatology, September 2008, pages 567-577
Related articles
Customer Service
Need help with finding the right product for you skin? Our customer care team are skincare and product experts and can guide you to the best skin of your life.