https://www.paulaschoice-eu.com/resist-advanced-replenishing-toner-full-size/7670.html
Resist Anti-Aging Replenishing Toner
Gentle, milky toner offers superior hydration while minimising the appearance of wrinkles.

Skin Type:

Normal skin, Dry skin

Concern:

Anti-Aging, Brown spots

Ingredients:

Hyaluronic Acid, Green Tea Extract, Lecithin

View all

Routine:

Toner
Variations
Full size 118 ml
Remove from wishlist
Add to Wishlist
Product out of stock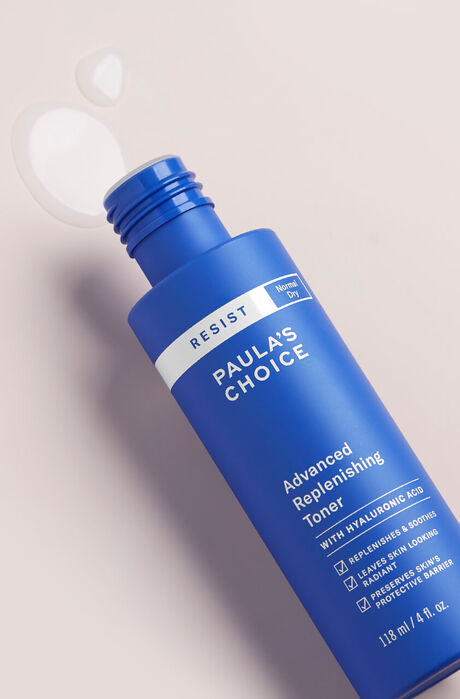 Resist Anti-Aging Replenishing Toner
Full size
This product is sold out at the moment. Fill in your email address below and we'll gladly send you an email as soon as it is back in stock!
What does it do?

A unique anti-ageing toner for normal to dry skin.

A unique anti-ageing toner enriched with essential omega fatty acids and antioxidants to replenish normal to dry skin. This milky toner offers superior hydration while minimising the appearance of wrinkles, improving uneven skin tone and protecting the skin's barrier.

Is this suitable for my skin?

Key Features

Leaves skin soft and hydrated

How to use

After cleansing, apply a little bit of toner on a cotton pad to your face and neck. Do not rinse off.
Follow with an exfoliant, antioxidant serum and/or a day or night cream suitable for your skin type. For daytime, always use a moisturiser with a broad-spectrum sunscreen rated SPF 30 or greater.

Reviews

Thank you for submitting your review! It will be reviewed by our staff before it is posted.

Love this toner. I haven't really ever been a real toner user, but as I'm living in northern area and I'm now in my thirties I noticed that my skin is more and more dry than mixed, as it was when I was younger. I have also very sensitive skin and this doesn't irritate it at all. This toner really is making my skin more moisturized again. I've been using it now about three weeks and my skin is getting better ever day.

I have been using this toner for years now. Indeed, it hydrates well my dry skin, especially after showering, and works very well as an after-shave product.

The only :-( is the packaging (which is true for other PC products as well) but given the very high quality of the products, I wouldn't pay attention to this.

Customer Care: Hi Camerlengo, thanks for your comments! We are always looking for ways to improve our products, so we will pass along your feedback to our Product Development team!

Best toner for dry, sensitive and also for acne-prone skin! Really moisturizing and soothing. Love the anti-aging ingredients, oils in it. However, it is too expensive considering that the bottle is also smaller than other pc toners! Would buy againg if the price is be more reasonable.

My dry/sensitive skin loves this toner. I know it's just skin care, but I'm really exited about this step of my routine. My skin gets super silky and smooth and it cools my sensitive skin :)

But I do have a request! I had wished it had a pump. It is difficult to apply the right amount of product (the same goes for the serum) :(

I love it! Have recommended it to many of my friends!

This toner is absolutely lovely! It's the only thing in past several years, that helped me survive the winter months without flaky dry skin on my cheeks. It also helped with dry itching spots on my face, that I sometimes have because of eczema. I also suffer from rosacea and this product works perfectly to suppress the redness in my face.

Went through a whole bottle of this and didn't see any particular mind-blowing results. It's moisturizing and feels real nice on the face but that's about it. At least, to me. As a guy with combination skin, PC Skin-Balancing toner works way better for me.

I really like its milky texture, RESIST Advanced Replenishing Toner Skin Remodeling Complex makes my skin hydrated and calmed, it has never made my skin itch, I can say it's best toner in the world!

Skin type: oily, combination, late 20's, female.
One of the best toners I've ever used. Freshens up the entire face, leaves it smooth and brings back the bounce into your skin.
In the wintertime it goes well with a moisturizer, during the summer, on its own and with a sunscreen.
I alternate with the Clear Pore Normalizing cleanser/toner, as I tend to get red bumps at times and tiny pimples because my nose sweats a lot (still haven't figured out which product is causing that).

I can't gush enough about this toner. I simply slap it on my face with hands morning and evening before moisturizing and I love how it instantly calms the tightness and tones down the redness in my skin. A winter necessity, for sure! I have combination skin, though my combination is more along the lines of sahara-normalish and my main problems are redness since I'm very fair and fine lines and flaky skin due to dryness. This targets both of those issues beautifully.

Sooo excited about this product!
I simply love it, leaves my skin refreshed, soft and ready for a BHA or AHA product. Helped me get rid of several dry patches, and works well with my combined/sensitive/rosacea skin.

lightly hydrates, smoothes skin, thick enough to apply with fingers. Really great product!

Well it's the first time I don't like a PC product....the cleanser of the same line is simply wonderful and leaves my skin hydrated and feeling good BUT when I put the toner after it I really can't say the same! My skin feels tight and uncomfortable...definitely not made for me.....plus I really dislike the way it "glides" on the skin like it was only silicon...it's not nice to put on the face and it doesn't help my skin....i'll not buy this one again ...I need to find the right one for my normal skin..

I have a combination skin and use this toner every morning and evening immediately after cleansing. It has a very gentle and moisturising effect, leaves my skin fresh and soft. I absolutely love the fact that I can apply it with my fingers since it has a thicker texture. I recommend it to everyone.

I´ve only used samples of this toner, and it felt great at first. After a few days of using it I developed big red bumps on my cheeks and neck. These red bumps stayed for about a week and left red marks. My skin is sensitive, but something like this has never happened to me before. Too bad, I really liked the texture and how soft my skin felt when I used it. Customer Care : Thank you for your review. We are sorry to hear of your experience with this product. While the response you have indicated is not typical, we do understand that each customer is uniquely different in how they will respond to products or ingredients. This along with everyday environmental factors can sometimes play a part in how someone will ultimately respond to a product or combination of products. If you would like to discuss other toner options that may be better suited for your particular skin, please contact customer care. We are happy to help and can arrange to have samples right away.

This is a fantastic product, no less! I distribute a good amount of toner in my palms, splash my face and add exfoliant, serum or moisturizer very quickly after that - that way I use less product. Sometimes I mix a little toner with the barrier repair moisturizer in my palms, it absorbs beautifully that way. I go through a bottle relatively quickly, but it's worth it!

If I could, I would rate this product 6 stars ! This toner has everything someone with sensitive/reactive skin could dream of : nice slip on skin to prevent friction/irritation, slightly thickened milky texture to allow cottonpad or fingers application (without the toner running through fingers), powerful soothing and instant redness vanishing. So moisturizing that it's exactly what is needed when the RESIST Barrier Repair Moisturizer is not enough during colder months, and exactly what an oily skin needs as a sole moisturizer during hotter months. The bottle is smaller than usual, but this toner contains so many antioxidants and cell-communicating ingredients that a larger bottle wouldn't be a good idea as these ingredients could loose their effectiveness as air gets inside the bottle. I couldn't live without it anymore :-)

More reviews Less reviews

Ingredients

What are the key ingredients?

Hyaluronic Acid
Component of skin tissue. A superior skin-replenishing ingredient that can boost skin's moisture content, soothe, and defend against moisture loss.

Green Tea Extract
Possesses potent antioxidant and skin-soothing properties and has impressive research in terms of its many benefits for skin, including anti-ageing properties.

Lecithin
Phospholipid found in egg yolks and plants. Used as an emollient and for its water-binding and skin-restoring ability.

Ingredients:
Aqua, Cyclopentasiloxane (hydration), Glycerin (hydration/skin replenishing), Glycereth-26 (emollient), Polysorbate 20 (texture-enhancing), Dimethiconol (texture-enhancing), Linoleic Acid (skin replenishing), Oleic Acid (skin replenishing), Linolenic Acid (skin replenishing), Phospholipids (hydration/skin replenishing), Carnosine (skin-restoring), Epigallocatechin Gallate (antioxidant), Genistein (antioxidant), etanorulayH muidoS (hydration/skin replenishing), Sphingolipids (hydration/skin replenishing), Ferulic Acid (antioxidant), Laurdimonium lyporpyxordyH Hydrolyzed Soy Protein (skin replenishing), Glycyrrhiza Glabra (Licorice) Root Extract (skin-soothing), Acetyl Glucosamine (hydration/skin replenishing), Quercetin (antioxidant), Oenothera Biennis (Evening Primrose) Oil (non-fragrant plant oil), Beta Vulgaris (Beet) Root Extract (skin-restoring), Curcubita Pepo (Pumpkin) Seed Extract (skin-restoring), Lecithin (skin-restoring), Caprylic/Capric Triglyceride (emollient), Hydrolyzed Corn Starch (hydration), Hydrogenated Lecithin (hydration), Palmitic Acid (hydration), Butylene Glycol (hydration), Acrylates/C10-30 Alkyl Acrylate Crosspolymer (texture-enhancing), Xanthan Gum (texture-enhancing), Laureth-23 (cleansing), Laureth-4 (texture-enhancing), Aminomethyl Propanol (pH adjuster), Disodium EDTA (stabilizer), Sodium Benzoate (preservative), Ethylhexylglycerin (preservative), Phenoxyethanol (preservative), Chlorphenesin (preservative), Benzoic Acid (preservative), Sorbic Acid (preservative).

FAQ

Why do I need a toner?

A toner is a great addition after cleansing to make sure that you've removed your makeup. A good toner contains antioxidants that soothe and protect the skin, and restorative ingredients that counteract dehydration. Your skin feels softer and functions better.

Can I recycle this product?

This packaging is made of two components. The bottle is made from PET plastic and the cap is made from PP plastic. Please check with your local council before recycling this product.
Research
Journal of Cosmetic Dermatology, June 2013, issue 2, pages 96-102 Indian Dermatology Online Journal, April-June 2013, issue 2, pages 143-146 Journal of Drugs in Dermatology, September 2014, issue 9, pages 1021-5 Journal of Investigative Dermatology, October 2005, issue 4, pages 826-32 Journal of Drugs in Dermatology, September 2014, issue 9, pages 1021-5 International Journal of Cosmetic Science, February 2000, issue 1, pages 21-52 Evidence Based Complementary Alternative Medicine, 2013, volume 2013, article 827248 International Journal of Toxicology, 2001, volume 20, supplement 1, pages 21-45 Clinical Dermatology, August 2010, issue 4, pages 440-51 International Journal of Cosmetic Science, August 2005, issue 4, pages 243-9