https://www.paulaschoice-eu.com/resist-anti-aging-super-antioxidant-concentrate-serum-full-size/7640.html
Resist Anti-Aging Antioxidant Serum
Antioxidant serum with vitamin C works to firm, brighten and improve uneven skin tone.

Skin Type:

Normal skin, Dry skin

Concern:

Anti-Aging, Brown spots, Sensitive skin

Ingredients:

Vitamin C, Vitamin E, Coenzyme Q10

View all

Routine:

Treatment
Remove from wishlist
Add to Wishlist
Product out of stock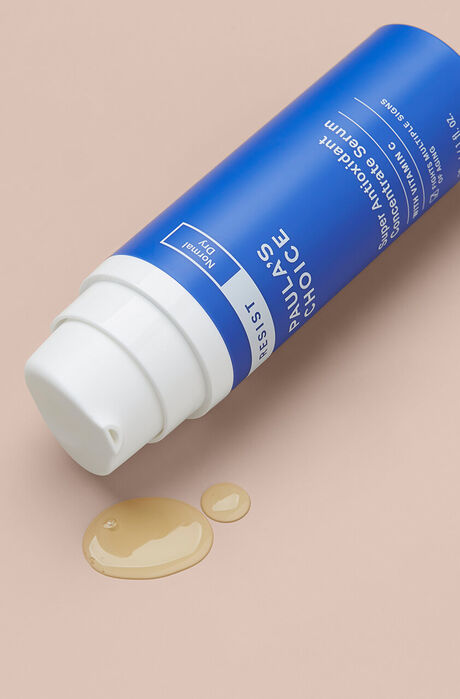 Resist Anti-Aging Antioxidant Serum
Full size
This product is sold out at the moment. Fill in your email address below and we'll gladly send you an email as soon as it is back in stock!
What does it do?

This rich blend of antioxidants revitalises dull, dry skin.

This ultra-hydrating serum contains a nourishing blend of plant oils and antioxidants to restore radiance to dull, dry skin, while also protecting it from environmental damage. The rich, silky formula also includes vitamin C which works to firm, brighten and improve uneven skin tone.

Is this suitable for my skin?

What skin concern would you like to address?

(Please select one option).

Key Features

Leaves skin soft and hydrated

Suitable for sensitive skin

How to use

Apply morning and/or nighttime as desired. After cleansing, toning, and exfoliating, smooth a few drops onto face, neck and eye area. May be applied under your moisturiser. For daytime, always follow with a moisturiser containing a broad-spectrum sunscreen rated SPF 30 or greater.

Reviews

Thank you for submitting your review! It will be reviewed by our staff before it is posted.

I am a long time fan of paula's choice products but only this year tryied this serum. Om my god!...what I've been missing! his should be a serum that everybody sould use (ingredient wise). A little goes a long way, a bit gloopy but my dry skin doesn't mind. It feels like perfection in th skin.

Resist Super Antioxidant Concentrate Serum is an eccellent option to moisturize and brighten skin, without any shiny effect. The high concentration of vitamin C revitalizes the epidermis almost instantly and over time. Great product, even for those with combination skin like me. Highly recommended!

Very silicony. And of course based on the ingredient it's mostly silicone but this is just next level. So oily and difficult to tell how much I have applied and did I miss any spot because my hand just felt slippery.

I have bought this serums several times. I love the texture of this serum, it glides over the skin and makes my dry skin feel so much better. I also use it around my eyes.

I ordered a travel size to try with the rest of the resist line and as much as I loved the exfoliant and moisturizer I have to say that this one was a total disappointment. The first 2 ingredients are silicones and when I put it on my skin it gets all shiny and slippery, not pleasant at all. I have had bad reactions to silicones in the past so after using it a couple of times I had to toss it, luckly it was just the travel size.

Customer Care: Hi Happy mom, thank you for sharing your experience with us . We're sorry to hear this didn't work as expected for you! Please contact a member of our Customer Care team, who can assist you with a possible alternative.

I have lost count of the number of times I have reordered this serum. It works really great for me. I have a dehydrated skin that leans towards dry with hormonal spots. I can always tell when I have not used this serum for a few days, as my skin just looks duller and more uneven pigmentation-wise. It is a silicone-based product and provides a smooth base for makeup. I like the slightly denser feel of it, compared to a water-based serum. It has not broken me out - I generally find that it makes my spots less angry. So, all in all, a fantastic product!

I am now on my second tube. I love this products because it makes wonders on my dry skin. It hydrates my skin and it gives me a fresh look. It is a major part of my skin care routine every night.

I like it as it's pleasant to apply and works well over Resist 5% AHA exfoliant and under foundation. Unfortunately, it triggers breakouts on my chin and red bumps on my cheeks. It's obviously the culprit because the breakouts stop when I stop using it, and it's the only change I've made in my skincare recently. I liked it so much at first when I ordered a trial size that I rashly ordered 2 extra trial tubes. Now I don't know what to do with them. I tried to apply this serum only on the driest parts of my face but still get breakouts there. I haven't been able to choose another serum yet as they all seem, apart from this one, to contain chamomile, which I'm allergic to (even the matricaria species) . I wish chamomile weren't so frequent an ingredient in Paula's products

I was so enthused by this serum that I rashly ordered 2 more trial sizes after trying it for a week. That was a mistake because after the 1st week the serum stopped working well for me. I have formerly oily skin that turned combination with age, with dry patches on the cheeks and forehead. I mostly needed the serum to apply on these patches before using foundation, and at night. Despite cold dry and windy weather, the serum started feeling greasy all of a sudden. It made my cheeks and forehead break out. So I stopped using it at day time and applied it only at night. Same breaking out. It kind of destroyed the wonderful effects of the 5% AHA resist exfoliant I've been using for over a month, and love. Used under Resist cellular defense spf 25 for daytime this serum is even worse. The pimples the serum generates are not acne, rather red bumps that look ugly and take quite a while to disappear. I don't know what to do now. I'm stuck with 2 extra trial sizes and I can't recommend this serum.

Customer Care: Thanks for your review. We're sorry this product didn't work for you, possibly you experienced an allergic reaction to one or more ingredients in this serum. Please contact our customer service team for further assistance.

I ordered a small try sized tube of this, been looking for something like this serum for quite a while (Beautypedia follower for two years now, love the science based reviews of makeup and skincare!). Unfortunately my skin developed small red bumps after using this. I tried to systematically go trough all products I use for my face just to establish it wasn't caused by any other product. I guess my skin just didn't like something in this product. I'm 28, former cystic acne sufferer and had two rounds of prescription retinol during the past 10 years, maybe that has something to do with the reaction?

Customer Care: Thank you for sharing your experience with us - we're sorry to hear this didn't work as expected for you! Please contact a member of our Customer Care team, who can assist you with a possible alternative.

This product is groundbreaking! It has a gel like consistency which is quite thick but not sticky at all on the skin. Once you put this serum onto your skin, your skin feels smooth and hydrated. Make-up applies beautifully with this as a base.

It breaks me out, my cheeks and forehead which I never have had any prolems with before are now filled with pimples. On the other hand it has worked great on the central parts of my face which is usually where I get break outs when I try new things. So I'm not sure what to feel.

I love this serum!
Can't explain what exactly makes it so satisfying to put this on my face, but ever since receiving the free sample size, I have been scared to run out of it, ordered full size today.

Skin feels supple and smooth after application, I think it's the silicone's in the formula, there's something else too, it's just so comforting! :D

I just ordered the normal size after using the last bit of this trial size. This has been the best serum I have ever tried - it left my skin dewy, glowing, hydrated and smooth. A little of the product goes a long way but it certainly isn't greasy. I adore it!

I buy the trial size to have in my makeup bag, and I use it as a primer under foundation and concealer. I have very dry skin, and even though I wear a hydrating foundation (MAC Waterweight) it still dries up uncomfortably on my skin, and other primers seem to just exacerbate this. Resist serum gives me the perfect slip, and my skin feels (and looks) perfect and moisturized all day - which really is a first time ever experience for me. Love it

I like this serum very much though I have only used it for a while now. I can't say much for the long term effects. I like the texture very much. It is not as silicone-like as the Skinbalancing serum for example (I tried a sample of that because I'm new to retinol). This glides easily on skin and you don't need much of a product. It can be a little greasy but doesn't bother me because I usually use serum only at nights. For the oily skin like mine I would use Resist Ultra-Light serum in the day time. That is also a good one but the texture is rather running... I prefer this smooth texture.

Unfortunately it seems this product was not the best for my combination skin. It feels nice and must be working, because even my husband commented that my skin looks more even and lighter. Down side is, the serum cases some break out on chin and even on my forehead, where I don't usually have any pimples. This happens even though I use 2% twice a day. I might have to try out some other serum.

Customer Care: Thank you for your review. We are sorry to hear that this product has not worked well for you. Please contact our customer care department for further assistance regarding an alternative.

I have sensitive, break-out prone combination skin and eczema. I use this as my daytime serum, and I am very pleased indeed. Although this is silicone-based, it doesn't feel like your typical silicone-based serum (think Estée Lauder night repair). The texture is actually surprisingly "rich", and doesn't feel dry when it has dried down. It wears very well under makeup.

At the end of the day my skin feels hydrated, not oily. It hasn't irritated my skin at all, and it doesn't break me out. My acne has actually decreased! Furthermore, my acne scars are beginning to lighten, even the old and stubborn ones.

Great product, Paula!

Not at all what I expected it to be after reading the reviews about it. It feels greasy and sticky on my skin, it doesn't sread as easily as I though a serum should and it breaks me out on the forehead and around the mouth. I tried using it only on the eyes area, but still it feels too heavy and rather "pointless" to use, if that makes sense.

Customer Care: Hi there! We're sorry the serum wasn't a fit for you! Be sure to contact our Customer Care for assistance.

I really like this serum! It absorbs quickly and isn't shiny! Wonderful in the summer, in the winter i need something heavier since i have very dry skin! For normal skin, however, I would imagine that it would be perfect year around!

I really wanted to love this product, but unfortunately I find it too greasy. I guess it is the silicone that, while it feels smooth and rich going on, also leaves me with greasy skin - which is hard as I have dry and sensitive skin.
Originally I tried the Skin Recovery Super Antioxidant Concentrate, but that one was even more greasy, and so I tried this one instead. Unfortunately I will not be buying this again. But perhaps I will give the lighter Resist serum a try...

I've been using it daily for 2½ weeks. I'm very impressed with how even it's made my skin look. I use it after exfoliating with Paula's BHA and/or AHA. I feel like it's added a kind of natural radiance to my skin that it hasn't even had in my teens.

It's absorbed into the skin very fast, but not in a drying way. It just basically leaves a silky, NOT greasy texture to your skin, adding needed antioxidants. Perfectly prepping it for the next step in my routine, adding moisture.

I'm not sure of the English name for it, but my skin has a condition where I get red bumps because of warmth, irritants, damage, sweat and so on. I've actually been experiencing this a lot less..? I'm not sure if I'm willing to contribute that solely to this product but it does seem like it's really helped to calm the skin on my face down a notch.

This is a strange product. My skin has a love/hate relationship with it. When I first purchased it my skin looked luminous and bright. I did not like the silicone feel and texture at all, but I saw good results. After a few weeks my skin started to look dull. I stopped using this product, substituted it with another serum and my skin looked much happier. I went back to this and my skin started looking dull again. I ended up using it as an eye "cream". I still dislike the silicone texture. Would not repurchase it

Only recently realised that I have Rosacea thanks to the advice of the Customer Service team who answered some of my questions. I don't know how I did not cop after all these years that Rosacea was the issue. I found this Serum soothing and really helped ease tightness. All was going great until the tube split down the barrel and the contents leaked all over my Mulberry handbag. I was only a couple of weeks into using it so now I have a greasy expensive hand bag and no serum. You only need a tiny bit so i would assume the product would last a long time. Before the leak, I would have thought I would buy it again once empty. So sad on so many levels. Customer care : We are very sorry to hear about your experiences, Please do contact our customer care department at info@paulaschoice-eu.com and they will be more than happy to help finding a suitable solution for you.

Love this serum. Lovely texture. Easily to apply. Feels great on. Saw benefits in my skin within days.

I must give this serum 5 stars because it deserves it. I purchased this serum for the first time and now I am with my second one and I must admit that I am quite happy with it. At the beginning i was a little scared because my skin is oily and when i opened it a saw it was a little greasy I thought it was going to be bad for me but to be honest it goes very fast into your skin and does not give you any shine. it is full with good antioxidants ingredients and we all know that antioxidants are very important for skin so i must say Bravo Paula
Best regards

This has been my first serum, I thought the ingredients were excellent and it would be a nice complement in my skincare routine, however it broke me out after a couple of days, and it took my skin weeks to completely recover :(Customer Care: Thank you for your comments. We will be sure to share your feedback with Paula and her Product Development Manager. They do take customer feedback seriously. If you would like to contact customer care, we are happy to make other product suggestions and arrange for samples to be sent out!

This was my first experience with a serum. I'm 29 now and concerned about the incipient wrinkles around the eyes, mouth and forehead. However I think is very oily for my skin. I have combination skin and takes forever to absorb it, leaving a greasy sensation. Next time i would try another one instead.Customer Care: Thank you for your review. For the combination skin we recommend our Skin Balancing Super Antioxidant Mattifying Concentrate serum.

I love love love this serum. One of the best serums i have used so far. Thanks Paula for this great product.

Be really caution with this product, because now i'm addicted to it and never go anywhere wihout it :)).....Great job Paula for saving our skin and budget!!

I have conbination and sensitive skin.I use every night all over the face, neck and around the eyes. The serum seems to be greasy but they absorbs quickly and your skin feels smooth and hidrate and with no residue.

I loved how the products felt but it broke me out. I think this will be a nice product if your skin can handle it.
Customer Care: you could consider to try out the Skin Balancing Super Antioxidant Concenttrate Serum for normal to oily/ combination skin

great when skin turn a bid winter dry, to bad it doesnt contain retinol.
Customer Care: you could consider to try out the Skin Recovery Super Antioxidant Concentrate for normal to very dry skin which contains retinol.

I use it every morning with my moisturizer I simply mixed them together and apply it all over my face and around the eyes too, then I wait for 3-5 minutes for it to sink in then I apply my HG Extra Care Non-Greasy Sunscreen SPF 45 and wait 5 minutes before I proceed with my make up routine. My skin keeps supple, fresh and very radiant the whole day. My friends are asking me what am I doing on my skin lately because it looks very pretty! ;)

I was really excited about trying this new formula. I heard about this ingredients a lot of times in the past although some of them are really new nowadays. I feel proud about this product because I know I'm using one of the best(maybe the best one) antioxidant-rich product in the market and one of the best sunscreen's mate atlhough I cannot say I've seen an incredible change on my face. The only thing I don't like is the sylicone texture, I would prefer a lotion or even a creamy texture, I mean something a little bit more emollient. Anyway, One of the best antioxidant products in this war for figuring out the best skincare product.
One advice: apply as little as you can in order to absorb rightly and don't leave a shiny effect.

More reviews Less reviews

Ingredients

What are the key ingredients?

Vitamin C
One of the most well-researched vitamins for skin, shown to improve the look of multiple signs of ageing, brighten uneven skin tone, as well as provide skin-restoring and soothing benefits.

Vitamin E
One of the most researched antioxidants for the body and for skin. Plays a supporting role in helping defend skin from the stress caused by UV light exposure.

Coenzyme Q10
Vitamin-like substance naturally present in the body. Topical application has antioxidant and skin-soothing effects.

Ingredients:
Cyclopentasiloxane (hydration/suspending agent), Dimethicone (hydration/suspending agent), Tetrahexyldecyl Ascorbate (vitamin c/antioxidant), Palmitoyl Tripeptide-5 (skin-restoring ingredient), Ceramide NP (hydration/skin replenishing), Tocotrienols (vitamin E/antioxidant), Tocopherol (vitamin E/antioxidant), Ubiquinone (coenzyme Q10/antioxidant), Thioctic Acid (Alpha Lipoic Acid, antioxidant), Tocopheryl Acetate (vitamin E/antioxidant), Magnesium Ascorbyl Phosphate (stabilized vitamin C/antioxidant), Ferulic Acid (antioxidant), Beta-Glucan (skin-soothing), Superoxide Dismutase (antioxidant), Epigallocatechin Gallate (antioxidant), Ergothioneine (antioxidant), Glutathione (antioxidant), Xanthophylls (antioxidant), Glycine Soja (Soybean) Seed Extract (antioxidant), Glycerin (hydration/skin replenishing), Arctostaphylos Uva Ursi (Bearberry) Leaf Extract (skin-soothing), Lupinus Albus Seed Oil (antioxidant), Curcuma Longa (Turmeric) Root Extract (antioxidant), Elaeis Guineensis (Palm) Oil (emollient), Phenoxyethanol (preservative).

FAQ

Who is this product for?

Resist Super Antioxidant Concentrate Serum works great on all skin types concerned with reducing signs of ageing. It is especially suitable for normal to dry or combination skin types. This serum is a is one of two Paula's Choice serums that does not contain retinol. It's a great option for anyone whose skin cannot tolerate retinol.

How is this serum anti-ageing?

Resist Super Antioxidant Concentrate Serum is one of the two Paula's Choice serums that does not contain retinol. It is a good alternative for people whose skin does not tolerate retinol (or during pregnancy). Retinol is a fantastic ingredient, but is not the only ingredient that works against skin ageing. Resist serum contains a balanced blend of antioxidants, which offers normal to dry skin protection against sun damage and skin irritation, and vitamin C, which gives skin a beautiful, younger appearance.
Research
Evidence Based Complementary Alternative Medicine, 2013, volume 2013, article 827248 Phytotherapy Research, February 2014, issue 2, pages 159-66 American Journal of Clinical Dermatology, 2003, issue 2, pages 107-29 Life Sciences, October 2014, issue 1, pages 1-7 Journal of Drugs in Dermatology, September 2014, issue 9, pages 1021-5 Journal of Cosmetic Dermatology, September 2007, issue 3 pages 183-8 Journal of Investigative Dermatology, October 2005, issue 4, pages 826-32 International Journal of Cosmetic Science, February 2000, issue 1, pages 21-52 Journal of Drugs in Dermatology, September 2014, issue 9, pages 1021-5 Indian Dermatology Online Journal, April-June 2013, issue 2, pages 143-146 Plastic Surgical Nursing, April-June 2012, issue 2, pages 71-2 International Journal of Cosmetic Science, April 2000, issue 2, pages 85-94 Indian Dermatology Online Journal, April-June 2013, issue 2, pages 143-146 Dermatologic Therapy, September-October 2007, issue 5, pages 314-21 Biofactors, 1999, issue 2-4, pages 371-8