https://www.paulaschoice-eu.com/niacinamide-booster-full-size/7980.html
10% Niacinamide Booster
Concentrated 10% niacinamide visibly minimises pore size and improve skin's texture.

Skin Type:

All skin types

Concern:

Anti-Aging, Brown spots, Enlarged pores

Ingredients:

Niacinamide/Vitamin B3, Panthenol (Vitamin B5), Acetyl glucosamine

View all

Routine:

Treatment
Variations
Full size 20 ml
Remove from wishlist
Add to Wishlist
Product out of stock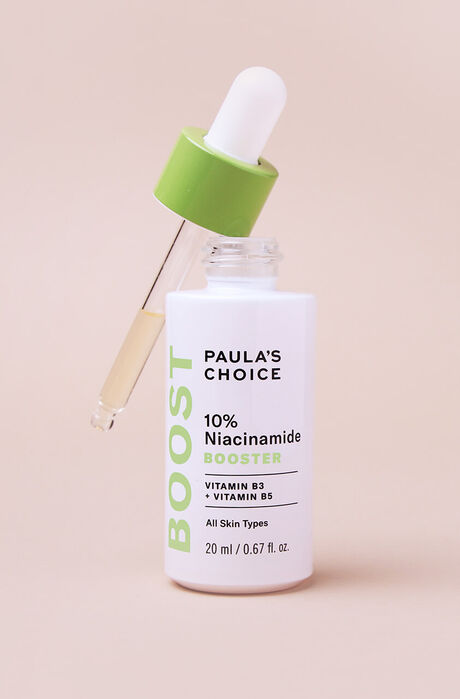 10% Niacinamide Booster
Full size
This product is sold out at the moment. Fill in your email address below and we'll gladly send you an email as soon as it is back in stock!
What does it do?

Don't let enlarged pores play a leading role.

This concentrated 10% niacinamide (B3) booster visibly minimises pore size, reduces post breakout marks, fight multiple signs of ageing and improve skin's texture. This multi-tasking ,light-weight formula also contains calming and hydrating ingredients to replenish skin and restore radiance.

Is this suitable for my skin?

What skin concern would you like to address?

(Please select one option).

Key Features

Visibly reduces enlarged pores

How to use

Apply once or twice daily after cleansing, toning and exfoliating. Dispense 2–3 drops and add to your favourite moisturiser or serum. May also be used alone. For daytime, follow with a broad-spectrum sunscreen rated SPF 30 or greater. May be applied around the under-eye area.

Reviews

Thank you for submitting your review! It will be reviewed by our staff before it is posted.

Otherwise really good but it's too watery, goes to floor and almost to eyes so not going to buy ever again.

Customer Care: Hi and thanks for your review! I'm sorry that you didn't like the texture - this product is a light liquid that is dispensed via a dropper! This light texture means it's suitable for all skin types. The easiest way to apply it is by applying a drop to each cheek and to your forehead - this helps to avoid product waste and ensures you can rub this in exactly where needed! If you're unhappy, please contact us as we may be able to help you with a return. Kind regards, Marissa - Paula's Choice Customer Care

The product is very expensive for what it has to offer, and there are other better alternatives.
It lasted one month and almost 2 weeks, applied in generous amounts to my face, sometimes twice a day. It dries a bit tacky, but it will not ball up if you apply other products or makeup. I have mild rosacea, it did not help with the redness nor with the open pores, but it also did not further irritate my skin.
Having said that, I will not repurchase. You also kind of have to be realistic and think if this product is financially sustainable long term, considering the simple formulation and the fact that is non-essential to a skincare routine.

I have been using vitamine C serums for about 2 years but recently noticed my skin was sensitized. I then switched to Niacinamide Booster because I heard it can also help with hyperpigmentation and skin. It worked amazing!!!! The skin is calm, healthy-looking, no spots appear. I recommend it when vitamine C is not an option for you!

I really like it, no scent and dreamy texture!

I am using this product now for approximately 3/3.5 months and my skin improved so much!! Last winter and spring my skin broke out a lot and during the summer my whole face was covered with red acne scar-spots. I use this product together with the calm cleanser for oily/combination skin, the skinbalancing toner, the calm 30SPF day cream and, not every day, the AHA gel 8%, My acne scars have almost disappeared! Of course some of them are still visible, but my skin tone became so much more equal!! Today I looked at a picture of myself taken during summer and then I realized how different my skin looks now. Thank you so much Paula's Choice! You're products definitely helped me being more confident about myself:) I am proud on my skin now! The product is a bit pricy but the money is worth it for sure !! Kind regards, Quinn

My skin: dry combination, sun damage, dehydrated snd sensitive.
I don't..or my skin doesn't get along with Vitamin C, but Niacinamide is absolutely a favorite for my skin. It calms my skin down, helped a lot with my pores on my nose, it brightens my skin. I love everything with niacinamide. I either use it alone after toner, or I mix it in with my toner. Either way, it does wonders for my otherwise dramatic skin. It is a staple in my routine and I never want to be without it!

Tried for three months but no noticeable difference. However, excellent results in pore size using defense pore purifier after having blue light LED treatments. Wonder now would the LED have kick started the niacinamide?

Customer Care: Hello, and thank you for sharing your experience with us - we're sorry to hear this didn't work as expected for you! Please contact a member of our Customer Care team, who can assist you with a possible alternative.

I vas thinking to give this product 4 stars but when writing I've changed my mind and I'm giving it 5 stars. I have huge pores, they are my main skin concern and never really helped me to minimise the problem. 2% BHA exfoliants helped for shure but I couldn't see any really satisfying results. This product softened my skin to the point that pores somehow got smaller and less visible. I thought of giving the niacin amide booster 4 stars because is very watery and doesn't give any kind of immediate visible effect, but I've decided to give it 5 stars because this watery consistency makes the product payable with any other product and good for any skin type, so big plus!

I wanted sooo badly to love this but unfortunately didn't work for me :( I had read so many amazing reviews and was so excited to finally start minimizing my pores by using Niacinamide Booster! Unfortunately, it didn't work on my skin at all - i have sensitive combination skin with redness, occassional breakouts and pores on my cheeks. The second i put this booster on my face i started feeling like i'm burning everywhere!! Immediately some red pumps appeared on my cheeks and my entire face was like it has experienced a harsh chemical peeling! Sadly i returned it and i won't purchase again the specific booster but PC's Customer Service was more that helpful and amazing to me with their advice and now i'm using alternative products that suit my skin better and makes it glow!

Customer Care: Hi Olga, thank you for sharing your experience and we are sorry to hear about your reaction on the 10% Niacinamide Booster. We are glad you have contacted us about this so we were able to help you find more suitable alternatives and you have returned te product.

I think my pores were better than a few years ago to begin with because of having used Paula's products for over two years. After having used BHAs my skin is a lot cleaner and smoother and not so oily anymore. That had already made a big difference in my skin. The pores aren't so noticeable anymore. Niacinamide in other Paula's products have also done their magic I think. I love Skin Balancing toner for example and use it regularly. I bought niacinamide booster to make pores even more invisible but I didn't see a difference after one package. I used it in the morning (three drops in certain area: beside my nose, forehead and under eyes where the pores are bigger) and in the evening to mix a few drops with serum or moisturizer. Booster feels good and makes skin smooth. It is great to mix with other products or to use alone under other products. I don't think I need to use this regularly because I'm pretty happy with my skin already. I also don't like to make a skincare too complicated. I think this can do a difference for someone but take care of cleansing, toning, exfoliating and moisturizing at first.

PC's 10% Niacinimide Booster is one of several treatment products added to the line over the past two years to give an added effectiveness to your skincare regimen. It is a clear liquid that comes in a glass bottle with a dropper so that you can dispense the dose you choose into another product (usually a serum), mix them together, and apply them to to your face. It's purpose is to increase skin clarity and luminosity and does it ever deliver! I thought I had achieved pretty good skin over the past few years as I was very happy with the results of my PC skincare. Then I started using this stuff. After three months (YMMV) I couldn't believe the difference in my skin! It was clear, more even-toned, brighter. I needed much less makeup and went from a full face of foundation, powder, etc., to a little concealer, powder, blush and mascara. I got several compliments and questions on what had I been doing to my skin but most comments were along the lines of how well I looked or had I been on vacation.

I've been using this product for a long time, and all i can say is my best friend. In the first weeks i was a bit sad, because instead i had less spots, i was getting more and more, but after 2 weeks my skin was getting much better, pretty and with a nice texture.

i truly recommend it :)

This product works - my skin is brighter , pigmentation starting to be less visible, and pores around my nose are smaller. I use it morning and night 3 drops mixed in with my super anti oxidant serum. Highly recommend

I'm a huge Paula's Choice fan and I've been a loyal customer for a long time now, so I was very surprised when I found out that the new Niacinamide Booster was such a letdown. After reading all the glowing reviews on the US website I had very high hopes for the product and I was hoping that it would help with my pores and my breakouts, but alas, I actually broke out REALLY bad about a week after I started using the product and the breakouts didn't go away until I took the booster out of my routine. I didn't notice any improvement in my skin - despite using the product twice a day on its own - and unlike what Paula's Choice claims the bottle does NOT last forever. It's only been a few weeks and I'm already well over halfway through the bottle. I also don't like the dropper applicator. It makes the application very fussy and the creates a big risk of spilling. Bottom line? Not a fan, and it's a real shame because up until now I've always LOVED Paula's Choice products.
Customer Care: Thank you for your review. We are sorry to hear of your experience with this product. While this response is not typical, we do understand that each customer is uniquely different in how they will respond to products or ingredients. We encourage you to contact our customer service team, who might be able to provide you with a refund or exchange.

I have been using this booster for a week now and it has done miracles to my skin!
Skin texture and tone are improved so much in such short time.
It has lightened very stubborn brown spots also.
And yes, my pores really are smaller.
I mix it with skin balancing toner and spread it all over with my hands.
Thank you PC for making skin care that really changes our skins.

More reviews Less reviews

Ingredients

What are the key ingredients?

Niacinamide/Vitamin B3
Very effective skin-restoring ingredient that can visibly improve the appearance of enlarged pores, uneven skin tone, fine lines and dullness.

Panthenol (Vitamin B5)
Panthenol is a humectant because of its ability to attract and hold moisture. It improves the look and feel of skin.

Acetyl glucosamine
Skin-replenishing ingredient that can do a lot for diminishing signs of ageing. It can have skin-brightening benefits, particularly when combined with niacinamide.

Ingredients:
Aqua, Niacinamide (vitamin B3, skin-restoring), Acetyl Glucosamine (skin replenishing/antioxidant), Ascorbyl Glucoside (vitamin C/antioxidant), Butylene Glycol (hydration), Phospholipids (skin replenishing), etanorulayH muidoS (hydration/skin replenishing), Allantoin (skin-soothing), Boerhavia Diffusa Root Extract (skin-soothing), Glycerin (hydration/skin replenishing), Dipotassium Glycyrrhizate (skin-soothing), Glycyrrhiza Glabra (Licorice) Root Extract (skin-soothing), Ubiquinone (antioxidant), Epigallocatechin Gallate (antioxidant), Beta-Glucan (soothing agent/antioxidant), Panthenol (skin replenishing), Carnosine (antioxidant), Genistein (antioxidant), Citric Acid (pH balancing), Sodium Citrate (pH balancing), Sodium Hydroxide (pH balancing), Xanthan Gum (texture-enhancing), Disodium EDTA (stabilizer), Ethylhexylglycerin (preservative), Phenoxyethanol (preservative).

FAQ

Can I combine 10% Niacinamide Booster with other Paula's Choice products containing niacinamide?

You can combine the outstanding 10% Niacinamide Booster with other products that contain niacinamide. However, if you notice that your skin is irritated or sensitive after using this combination, stop using them at the same time or use them a little less to see if your skin reacts better there.

Can I use 10% Niacinamide Booster around my eyes?

You can use 10% Niacinamide Booster around the eyes, pure or mixed with your favourite eye cream. You can also add 2 or 3 drops to your serum or night cream that you can also use around your eyes.

Can I use 10% Niacinamide Booster while pregnant or breastfeeding?

Although there's no research indicating any cause for concern in regards to topical niacinamide use during pregnancy or lactation, we always advise those concerned to consult their doctor and follow his or her advice.
These products may also work for you
Research
Journal of Investigative Dermatology, May 2017, page S116 International Journal of Pharmaceutics, March 2017, pages 158-162; and January 2013, Pages 192-201 Facial Plastic Surgery Clinics of North America, May 2016 , pages 145-152 Phytotherapy Research, August 2015, pages 1117-22 Clinical, Cosmetic, and Investigational Dermatology, July 2015, pages 405-412 Journal of Drugs in Dermatology, September 2014, pages 1021-5 Skin Pharmacology and Physiology, June 2014, pages 311-315 Phytotherapy Research, February 2014, pages 159-66 Journal of Cosmetic Dermatology, June 2013, pages 96-102; and April 2004, pages 88-93 Indian Dermatology Online Journal, April-June 2013, pages 143-146 Journal of Cutaneous and Aesthetic Surgery, January-March 2013, pages 4-11 Dermato-Endocrinology, July 2012, pages 253-8 Journal of Cosmetic and Laser Therapy, January 2006, pages 96-101 International Journal of Cosmetic Science, February 2000, pages 21-52 Biofactors, 1999, volume 9, pages 371-8