https://www.paulaschoice-eu.com/skin-balancing-oil-absorbing-mask-full-size/2750.html
Skin Balancing Mask
Absorbs oil, reduces blackheads and enlarged pores, and balances oily skin.

Skin Type:

Combination skin, Oily skin

Concern:

Breakouts, Blackheads, Enlarged pores

Ingredients:

Glycerin, Kaolin, Willow Bark Extract

View all
Variations
Full size 118 ml
Remove from wishlist
Add to Wishlist
Product out of stock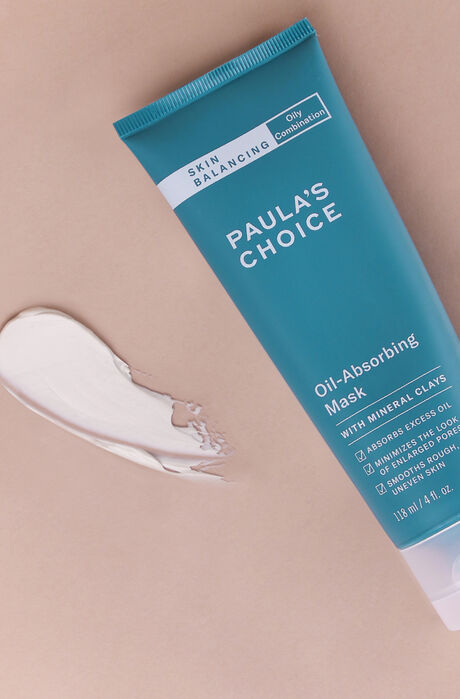 Skin Balancing Mask
Full size
This product is sold out at the moment. Fill in your email address below and we'll gladly send you an email as soon as it is back in stock!
What does it do?

A mask to gently balance oily skin.

This mask contains a blend of natural mineral clays to balance skin by absorbing excess oil and dislodge debris from pores for a clearer complexion. The formulas also contains skin soothing and skin repairing ingredients to calm and soothe skin. The mask rinses easily leaving skin soft, matte and smooth.

Is this suitable for my skin?

What skin concern would you like to address?

(Please select one option).

Key Features

Visibly reduces enlarged pores

How to use

Gently cleanse skin and apply a thin layer all over the face and (if needed) neck and let dry for 10–15 minutes. Rinse thoroughly with tepid to warm water. Follow with a BHA exfoliant, serum and then your day or night moisturiser. Those with oily to very oily skin can use this mask several times per week, while those with normal to slightly oily skin can use it less frequently (once or twice per week, for example).

Reviews

Thank you for submitting your review! It will be reviewed by our staff before it is posted.

I've just used this mask for the first time and I find it GREAT!!!! I have a combination skin and I think it's good to respect the time necessary for the mask to act ---dry areas can get very very dry at the moment. It diminishes pores, clears them and this is what I expected form a mask of this type. Maybe next time I'll use it only on the T-zone. It works! I recommend!

Like some other comments said, the first time I used this mask it immediately burned on my face. When I used it again after a month there was no burning anymore. I realised that the first time I used it, my skincare regimen was being to harsh on my skin, and I guess my skin barrier was broken. After I started using less chemical exfoliants and more skin barrier friendly products my skin was back to normal. I used the mask again it was okay. It's a great mask, my skin feels clean after I use it. Hope this helps anyone

I've used this mask for years, and love it. It clears my skin and closes pores.

I am an avid fan of PC products, but some of them, this one included, unfortunately don't live up to both price and reputation. This product burns immediately upon application and keeps burning. Also it leaves the skin extremely dry and irritated afterward. I would not recommend this product for anyone with combination skin.

I have order some sample to try paula's skincare and they was good except this mask. First I clean the face with balancing cleansing and after that I take on this mask.
But directly it burns like a fire in my face and first I think okay it working but after about two minutes i most take it of.
And even after I take it off it burned for about five minutes in my face.
I had big expectation of this product but now i have to try the other mask and hope is going to work because I want everything in this serie.

More reviews Less reviews

Ingredients

What are the key ingredients?

Glycerin
Skin-replenishing and restoring ingredient, found naturally in skin. It helps skin to maintain a healthy look and feel, defending against dryness.

Kaolin
Naturally occurring clay mineral. Its absorbent properties make it a popular ingredient in clay masks for oily skin.

Willow Bark Extract
Plant extract that has skin-soothing benefits for skin.

Ingredients:
Aqua, Kaolin (clay/absorbent), Bentonite (white clay/absorbent), Glycerin (hydration/skin replenishing), xilaS Alba (Willow) Bark Extract (skin-soothing), Steareth-2 (texture-enhancing), Stearic Acid (texture-enhancing), Aloe Barbadensis Leaf Juice Powder (hydration/skin-soothing), Sea Whip Extract (skin-soothing), Colloidal Oatmeal (skin-soothing), Bisabolol (skin-soothing), Ascorbyl Palmitate (vitamin C/antioxidant), Tocopheryl Acetate (vitamin E/antioxidant), Phospholipids (hydration/skin replenishing), Panthenol (skin replenishing), Retinyl Palmitate (vitamin A/antioxidant), Butylene Glycol (preservative), Disodium EDTA (stabilizer), Phenoxyethanol (preservative), Caprylyl Glycol (preservative), Ethylhexylglycerin (preservative), Hexylene Glycol (preservative).

FAQ

Can I use the Skin Balancing Oil Absorbing Mask for my dry skin?

The Skin Balancing Oil Absorbing Mask is especially developed for oily skin. If you have combination skin, you can use the mask on the oily areas. For dry skin, try the Skin Recovery Hydrating Treatment Mask.

Can I recycle this product?

This packaging is made of two components. The tube is made from EVOH plastic and the cap is made from PP plastic. Please check with your local council before recycling this product.
Research
Skin Pharmacology and Physiology, August 2012, issue 5, pages 227-235 Journal of the American Academy of Dermatology, November 2015, issue 5, pages 856-863 Indian Journal of Dermatology, 2008, issue 4, pages 163-166 Indian Dermatology Online Journal, April-June 2013, issue 2, pages 143-146 Indian Journal of Dermatology and Venereology, March-April 2012, issue 2, pages 142-145 International Journal of Cosmetic Science, February 2000, issue 1, pages 21-52 Journal of Cosmetic Science, July-August 2011, volume 62, issue 4, pages 361-370 Journal of Clinical Interventions in Aging, December 2006, issue 4, pages 327-348 Marine Drugs, 2004, volume 2, issue 2, pages 73-82