https://www.paulaschoice-eu.com/skin-recovery-daily-moisturizing-lotion-broad-spectrum-spf-30-full-size-1460.html
Skin Recovery Moisturiser SPF 30
Ultra-rich cream replenishes dry skin and provides gentle, mineral-based sun protection.

Skin Type:

Normal skin, Dry skin

Concern:

Brown spots , Very dry skin , Redness , Rosacea-prone skin , Sensitive skin

Ingredients:

Soy bean oil/sterols , Titanium Dioxide , Coenzyme Q10

View all

Routine:

Moisturizer AM
Variations
Full size 60 ml
Product out of stock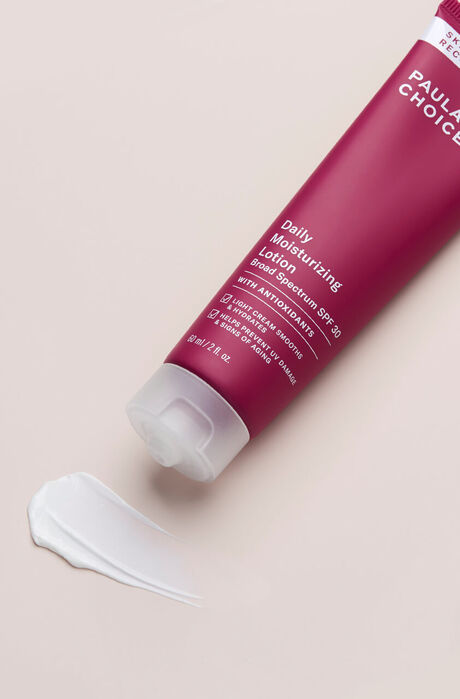 Skin Recovery Moisturiser SPF 30
Full size
This product is sold out at the moment. Fill in your email address below and we'll gladly send you an email as soon as it is back in stock!
60 day money-back guarantee
Safe payments
What does it do?

Soothe and protect dry skin in one simple step.

This ultra-rich cream soothes and replenishes dry skin while providing gentle, mineral-based sun protection to prevent premature ageing. A unique complex of potent antioxidants, skin-restoring ceramides and anti-ageing peptides visibly smooth fine lines and wrinkles for softer, more supple skin.

Key Features

Suitable for rosacea-prone skin

How to use

Apply as the last step in your morning skincare routine. Allow a moment to dry before applying makeup.

Reviews

Thank you for submitting your review! It will be reviewed by our staff before it is posted.

I prefer mineral moisturisers and this one is the best I've found so far. I've been using it for 3-4 years now. It does not leave a white cast. It gives my skin a nice sheen that looks good under makeup. Love it! Please do not discontinue.

I'm sorry to say that this moisturiser doesn't work with my skin at all. I have very dry rosacea. I believe its the SPFformula that leaves my face very dry and flaky. I was bit surprised because the other products i use are amazing; Calming Toner, 1% BHA Lotion, Serum w/ retinol gives an incredible skin that shouldn't be a challenge for a moisturiser to keep hydrated but no match for me and this product. I'll keep searching for a SPF moisturiser from Paula though.

Great product, I love it! But when it comes to a cold and windy winter this cream is not enough. As other said, my skin feels dry after one hour.
But the real good fact is that my redness seem to diminish!
Thanks Paula!!!

This is a lovely moisturizer with SPF for most of the year, however it was simply so moisturing that it looked greasy on my slighty dry skin in the summer months. it doesn't leave a white cast on me or smell weird I just would prefer a more matte finish for the summer, recommended for winter though!

Allthough the mineral based formula makes it "drying", I'm still happy with the product: the formula is is great for (my) sensitive skin.

I had high hopes for this SPF moisturizer, I usually love products in the "Skin recovery" line and they work very well for my dry skin.
But after only 10 minutes with the Skin Recovery Moisturizer SPF 30 on my face, it began to feel uncomfortably tight, despite using the Skin Recovery serum under it.
After an hour with it on I couldn't stand it anymore and had to wash my face to reapply a different SPF.

It's a pity, I'd love to find a Paula's choice high SPF moisturizer with all these wonderful antioxidants that works for me and my dry skin !

Usually moisturizers with sunscreen irritate my eyes - even though I do not use them around the eyes. Just putting them on my face was enough. This one does not. I love it.

I purchased this following on from having religiously used the Skin Recovery lotion with SPF15 that existed originally.
I think I prefer this one even more, it feels very pleasant and isn't greasy at all (at least in the winter) and that's coming from someone with combination skin. In fact, I expect it might not be moisturising enough for people with truly dry skin.
The cap seems quite brittle and about to crack (the flip top is difficult to open), but the most annoying thing is that it is very deep and therefore there is a huge gap between the tube and the cap hole. This means that from the first time you use it, quite a large amount of cream will accumulate in the area between the tube and the cap - a waste of product, unhygienic and unsightly. I have to unscrew the cap each time I use the cream.
Incidentally, the same is true for the Skin Recovery Treatment Mask. I don't know if you've changed the caps in all the products, but they really are not functional at all. Customer Care : Thank you for your review. We are sorry to hear that you are disappointed in packing of the moisturizer and we will share your findings with our product development team. In the meantime our customer care department will contact you to find a suitable solution.

Really good product, I have tried many many more, but none were as gentle and moisturising as this one.

My BF and I both use this product (me every day, him on sunny weekends and holidays). We quite simply don't burn any more. I use it more heavily on my t-zone, which is more oily. But I apply it all over my face, neck, upper chest, hands and forearms. I have been prone to facial redness, exposed skin burning, and passive sun damage my whole adult life but no longer! Friends and family tell me I look great. Thanks, Paula! PS. Please fix the packaging. The cap comes off and breaks... But you know this already from other reviewers.

Unfortunately this is another product of Paula which I will not order again. I have combination skin, dry cheeks, skin around the eys and an oily T-Zone. So I've opted to using two different moisturisers. Paula's moisturiser for combination skin, which works fine, and this one for applying on the dry areas. The colour is ghastly, the consistency almost like a very thin dough, or like flour mixed with water, and it simply doesn't do the trick of providing enough moisture to those dry areas. I always have to use a different moisturiser on top of it.
Customer Care: we advise you to apply a moisturizer or super antioxidant concentrate product for your skin type under the moisturizer with sunscreen.

I must say that I'm not too pleased with this product. I loved the antioxidant serum and the hydration mask and the BHA lotion... but this product smells really weird.. kinda smells like glue.. and the formula is really sticky and uncomfortable just like how normal sunblock feels on my face. The cap also falls off all the time so I've given up even trying to keep it on. Can't say I would ever buy this product again but I like the other paula's choice products...
Customer Care: What you smell is the scent of one or more of the ingredients used for the production of the Skin Recovery Daily Moisturizing Lotion SPF 15. The smell of this product can be interpreted differently from one customer to the next based on their sensitivity level.

Very good cream, light texture and not greasy at all. I agree on the problems with the plastic cap becoming loose and breaking very quickly.
Customer Service comment: The product development team in the US is reviewing the packaging of this product and working on an alternative plastic cap

This product was a great sunscreen I used since 2 months ago. I gave up buying it because of a problem already raised up, the inadequate packaging. I bought it 3 times and each time the plastic cap broke, no matter how much I wanted to take care of putting it back. Otherwise, the product is great, but I cant use a product which is not safely covered. Thanx

I totally agree with every positive review about this product. It leaves amazing feeling, has very smooth texture, the white cast is actually very little and lasts seconds, no greasy feeling at all. I don't know which of the products of Skin Recover set allows my pores to look so much smaller than with any other skin care line I tried before, maybe the effect comes from using them in combination (I bought the whole Skin Recovery set and I'm super happy with it). Apart from that the cream is a perfect base for foundation. I have some primers, but don't use them at all now, as I don't feel I need them after using this perfect cream. Will buy new one as soon as current pack finishes!

I must echo Anne's review. I think this is an excellent product, and I've tried dozens and dozens. I trust the SPF and ingredients, and love that I can wear foundation on top and my face doesn't feel greasy a half hour later. The white cast lasts only a few minutes and is quickly absorbed--I assume this is the SPF. And I've never had a problem with the packaging. Love the pump dispenser. Fantastic product.

I've never had a problem with the packaging, texture or white cast (it disappears very quickly into my skin). I love this product, mainly because I trust the ingredients, know that they're doing great things for my skin, and most of all, I can wear foundation on top and it doesn't feel greasy or make my skin look shiny. This is the only SPF moisturizer I've used which provides super moisturizing, reliable sunscreen AND doesn't leave my face looking like an oil slick---and I've tried many, many, many.

I love this product. It's not greasy, absorbs well, and is a base for foundation. I know my skin is well looked after and I can feel confident in the sun, whether wearing make up or not.

I have not given this 5 stars simply because the packaging is inadequate. The plastic cap cracked and broke within a week and the pump dispenser fails most days and has to be pumped vigorously before it can be reactivated. I don't like paying extra for fancy packaging but I do want it to be functional at least!!!!!!! Any how, the product is a great sunscreen and it feels like it is protecting my skin and it is non greasy and gentle. I do not notice a white film like the other reviewer, I find it is quickly absorbed and works well under make up.

Customer Service comment: The product development team in the US is reviewing the packaging of this product and working on an alternative plastic cap.

Once you apply this product to your face you realize how good it is, not only because of the list of ingredients but also because of the texture and the silky finish it leaves. However it's to greasy and the worst thing is that it leaves a zombie white cast which looks horrible, at least over my skin. I think other people had this problem which could have been fixed upgrading the product including a little amount of color.

More reviews Less reviews

Ingredients

What are the key ingredients?

Soy bean oil/sterols
Emollients similar to all non-fragrant plant oils that can be extremely helpful in making dry skin look and feel better.

Titanium Dioxide
Mineral sunscreen, protects skin from UVA and UVB radiation and, because of its gentleness, it is excellent for use on sensitive, redness-prone skin.

Coenzyme Q10
Vitamin-like substance naturally present in the body. Topical application has antioxidant and skin-soothing effects.

Ingredients:
Aqua, C12-15 Alkyl Benzoate (emollient/texture-enhancing), Isononyl Isononanoate (texture-enhancing), Titanium Dioxide (3,85%, Nano, mineral sunscreen), Prunus Armeniaca (Apricot) Kernel Oil (non-fragrant oil/emollient), Zinc Oxide (3,12%, Nano, mineral sunscreen), Cyclopentasiloxane (hydration/texture-enhancing), Glyceryl Stearate (emollient/texture-enhancing), PEG-100 Stearate (emollient/texture-enhancing), Butylene Glycol (hydration), Pentylene Glycol (hydration), Cetearyl Alcohol (emollient/texture-enhancing), Dimethicone (hydration), Glycine Soja (Soybean) Sterols (emollient), VP/Eicosene Copolymer (texture-enhancing), Avena Sativa (Oat) Kernel Extract (skin-soothing), Glycerin (hydration/skin replenishing), etanorulayH muidoS (hydration/skin replenishing), Allantoin (skin-soothing), Tocopheryl Acetate (vitamin E/antioxidant), Hydrogenated Lecithin (skin-restoring), Tetrahexyldecyl Ascorbate (vitamin C/antioxidant), Superoxide Dismutase (antioxidant), Ubiquinone (antioxidant), Ceramide NG (hydration/skin replenishing), Methicone (hydration), Palmitoyl Hexapeptide-12 (skin-restoring), PEG-10 Dimethicone (texture-enhancing), Cucumis Sativus (Cucumber) Fruit Extract (skin-soothing), Caprylic/Capric Triglyceride (emollient/texture-enhancing), Tribehenin (skin-restoring), PEG-10 Phytosterol (texture-enhancing), Sorbitan Stearate (texture-enhancing), Polyhydroxystearic Acid (texture-enhancing), Alumina (texture-enhancing), Polysorbate 20 (texture-enhancing), Aluminum Stearate (texture-enhancing), Xanthan Gum (texture-enhancing), Caprylyl Glycol (preservative), Disodium EDTA (stabilizer), Ethylhexylglycerin (preservative), Phenoxyethanol (preservative), Chlorphenesin (preservative).

Faq

Is there another Paula's Choice product comparable to Skin Recovery Daily Moisturizing Lotion SPF 30?

Our Calm Redness Relief Moisturizer SPF 30 for normal to dry skin has the same ingredients as the Skin Recovery Daily Moisturizing Lotion SPF 30.
Research
Seminars in Plastic Surgery, August 2016, issue 3, pages 129-133 Oxidative Medicine Longevity, 2015, volume 2015, 709628 Dermatologic Research and Practice, 2012, volume 2012, 135206 Phytotherapy Research, August 2015, issue 8, pages 1117-1122 Indian Journal of Dermatology and Venereology, March-April 2012, issue 2, pages 142-145 American Journal of Clinical Dermatology, February 2003, issue 2, pages 107-129 International Journal of Cosmetic Science, February 2000, issue 1, pages 21-52 International Journal of Toxicology, 2001, volume 20, supplement 1, pages S21-45 Dermato-Endocrinology, July 2012, issue 3, pages 253-258 International Journal of Cosmetic Science, April 2000, issue 2, pages 85-94 Indian Dermatology Online Journal, April-June 2013, issue 2, pages 143-146 The Journal of Clinical and Aesthetic Dermatology, January 2013, issue 1, pages 16-26 Biofactors, 1999, issue 2-4, pages 371-8