https://www.paulaschoice-eu.com/resist-anti-aging-daily-smoothing-treatment-aha-full-size/7660.html
Resist Anti-Aging 5% AHA Exfoliant
Hydrating exfoliant corrects uneven skin tone and minimises fine lines and wrinkles.

Skin Type:

Normal skin, Dry skin

Concern:

Anti-Aging, Brown spots, Very dry skin

Ingredients:

Ceramides, Glycolic acid/AHA, Salicylic Acid/BHA

View all

Routine:

Exfoliate
Remove from wishlist
Add to Wishlist
Product out of stock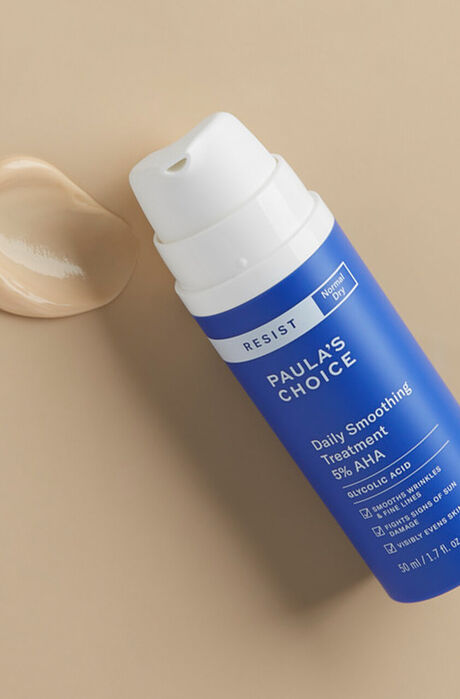 Resist Anti-Aging 5% AHA Exfoliant
Full size
This product is sold out at the moment. Fill in your email address below and we'll gladly send you an email as soon as it is back in stock!
What does it do?

Gentle daily exfoliation for youthful radiance.

Formulated with 5% AHA (glycolic acid), this gentle leave-on exfoliant removes dead skin cells, revealing smooth, radiant, younger-looking skin. This lightweight hydrating lotion improves the appearance of sun-damaged skin, corrects uneven skin tone and minimises fine lines and wrinkles.

Is this suitable for my skin?

What skin concern would you like to address?

(Please select one option).

Key Features

Removes built-up dead skin cells

Leaves skin softer and smoother

How to use

When using an AHA exfoliant for the first time, introduce it into your routine slowly. Start by using your exfoliant once every other day, and then increase usage to once or twice daily based on your skin's response.

Apply once or twice daily after cleansing and toning. Apply a coin-sized amount over the entire face, including the eyes (avoid the lower lash line and eyelids). Do not rinse. For daytime, always follow with a moisturiser containing a broad-spectrum sunscreen rated SPF 30 or greater.

Reviews

Thank you for submitting your review! It will be reviewed by our staff before it is posted.

I have had deep forehead lines for years, and I've developed some crows feet and cross hatching underneath my eye area. Additionally, I have had some milia and acne scars... I've been using this every other day and I have a noticeable difference in my overall skin texture and tone - so much so that people have actually commented on how great my skin looks. I just ordered another bottle and the 10% AHA for a once a week treatment as well. 10/10 recommend!

I'm now in my thirties, living in northern, cold area. I used to have mixed skin with pimples and blackheads, but this winter I noticed that my skin is dryer than ever and the dryness was causing some blocked pores . I use to use Paula's Choice BHA regular strength lotion for my pimples and dryness, but it didn't seem to do anymore anything to my dry skin, so I decided try this, especially 'cause I have very sensitive, aging skin with few lines around my eyes. I hoped it would make my skin more soft again without irritating it and maybe I would get rid of the lines caused by the dryness and aging. I used it once a day at night, but it didn't seem to suit me so well: I got some stinging and my skin went a bit red and patchy. I wonder is my skin really so sensitive and irritated that even this 5% AHA is too much for me?

Customer Care: Hello, and thank you for sharing your experience with us - we're sorry to hear this didn't work as expected for you! Please contact a member of our Customer Care team, who can assist you with a possible alternative.

I'd ordered the trial size of the product and I haven't finished it yet. Having very mature sensitive skin, I decided to use it only once a day, in the morning. I'm very happy with it: no adverse reactions, skin a lot smoother and slightly more glowy. Actually I'm so pleased I've ordered (and already received) the full size. It quickly prenetrates, leaving a pleasant feeling on the skin, it doesn't irritate (and believe me, I'm really irritation-prone), it doesn't hinder applying foundation on top of it. I must say it's the first AHA product that suits my sensitive skin. I do recommend it!

After reading many good reviews on this product, i was willing to try it and really wanted it to work for me as the 2%bha did but it made me break out so badly that i start hiding my face to go out.
I have a combinated oily(T zone) and acne prone skin with black and mostly White heads. I also have hyperpigmentation and acne scars.

1) tried it for 10 days hoping my skin was just purging but no.
2) gave me cloggued pores
3) hate the pump system. I struggled on the begining to get the product out
4) the product has a color i was not expecting.
Starting to beleive that the 2% bha Will be the only paulas choice product i Will stick to. Soo desapointed


Customer Care: Thank you for your review. We are sorry to hear of your experience with this product. Although this is not a common response, we do understand that each customer is uniquely different in how they will respond to products or ingredients. For the skin conditions mentioned, we also believe that a BHA would be a better option, as an AHA cannot exfoliate the pores or address acne-prone skin with blackheads & whiteheads, while a BHA can. Please contact our customer care department for further assistance.

Working wonders for now. My face is more clear and more bright.
But i have a question : i bought this to fade brown spots (due to prior acne) and sun damage but its my entire face that is clearing up. Which means that i still can see the difference between brown spots and other parts of my face.
How can i really erase dark spots and even out my skin tone?

Customer Care: Thank you for your review, we kindly ask you to contact Customer Care for futher advise

It is my second bottle and I have really a problem with the pump. Please tell me what to do so that the product comes out! Thank you

Customer Care: We are very sorry to hear about your experience. We have been in contact with you to assist you further.

First product from PC that I did not like!
I was recomended this one by PC support since the AHA 8% gel is not available. This product however isn't similar at all.
It feels strange on the skin and leaves a very weird finnish. It also contained some kind of foundationlike color which i was not expecting.

Customer Care: Thank you for your review, we will contact you to help you find a suitable alternative.

I bought this product after reading many positive reviews,UNFORTUNATELY the pump isnt working and i dont seem to be able to get any product out of the tube.

cUSTOMER CARE could you help please?

PS...AM RATING IT A 1 BECAUSE AM SIMPLY NOT ABLE TO GET THE PRODUCT OUT, I WILL REVISE SHOULD THE SITUATION IMPROVE

Customer Care: We have contacted you regarding the issue with the pump.

Lovely product, the texture is light and comforting and its exfoliating properties are quite effective. I alternate this with the RESIST 10% AHA, using the 5% two days in a row and the 10% on the third day.
I have never had clearer and more glowing skin before.
I would like to mention the erxcellent standard of the Paula' s Customer Service. I had a problem with my first purchase and they've been extremely helpful and kind!
I'll definitely buy from them again soon!

I'm raving about this product, it absolutely makes a visible change on your skin. Your skin look smooth, renewed and silky in the morning ... it works better than any peeling. Absolutely recommend it when your over 25. I use it twice a week, which is enough, since I am 28, but if you're older I think you can use it more.
The product smells great, it doesn't dry out your skin and it lasts forever. Absolutely one of the best things I have ever tred.

I have been using this product ever since it became available and I have never looked back!
I have combination, sensitive skin, breakouts (painful ones that stay there for weeks!), blackheads, enlarged pores on forehead and nose, uneven skin tone and raised red spots as well as dry patches on nose, between eyebrows and cheeks.
It has improved my skin tone so much. I don't get red raised spots any more. No blackheads. No breakouts (none!!). Doesn't iritate my skin. Doesn't make it tight like BHA liquid lotion did. Did nothing for the size of my pores. Dry patches all gone.
As I have been using it for a while, I have recentily started using it twice a day (morning and evening) as I couldn't use toners as they irritated my skin and BHA made my skin feel tight. Customer service - could you please confirm that it is ok to use twice a day? Customer Care :thank you for this review. First-time users should apply once daily, preferably at night. If there is no adverse reaction it is perfectly OK to use the AHA twice a day. For maximum results, alternate with RESIST Weekly Resurfacing Treatment with 10% Alpha Hydroxy Acid once per week. Avoid direct contact with eyes.

Llevo una semana utilizando el tratamiento diario y estoy encantada.
El packaging es muy chulo, la textura no es nada grasa para ser una loción y es más suave que los anteriores productos al 8%.
Lo convino con el líquido al 2% de BHA por la mañana y mi piel está más lisa y luminosa cada día.
Si no le doy cinco estrellas es porque el glicólico sigue resultándome más fuerte que el salicílico y me escuece la piel unos segundos al aplicármelo, aunque desde luego no creo que sea culpa del producto...

Attractive luxury package, incredible formula, efficient, nice texture/color...It does what it promises so skin isn't the same after only first application. Sincerely, one of the best products from this brand which should be included in your daily routine. Simply awesome.

More reviews Less reviews

Ingredients

What are the key ingredients?

Ceramides
Major components of skin's outer layers, necessary for their water-retention capacity and provide replenishing and restoring benefits.

Glycolic acid/AHA
Can help shed dead skin cells to renew skin's surface, visibly softening signs of ageing, particularly from sun damage. Can act as a water-binding agent.

Salicylic Acid/BHA
Primarily an exfoliant, helps to shed dead skin on the surface and inside the pore, therefore effective for reducing breakouts and blackheads. It also has soothing properties.

Sunburn Alert: This product contains an Alpha Hydroxy Acid (AHA) that may increase your skin's sensitivity to the sun and particularly the possibility of sunburn. Use a sunscreen, wear protective clothing, and limit sun exposure while using this product and for a week afterwards. As with all cosmetics, avoid direct contact with the eyes.

Ingredients:
Aqua, Glycolic Acid (Alpha Hydroxy Acid, exfoliant), Cetyl Alcohol (texture-enhancing), Butylene Glycol (hydration), Dimethicone (hydrations/texture enhancer), Polyacrylamide (texture-enhancing), PPG-14 Butyl Ether (texture-enhancing), Palmitoyl Hexapeptide-12 (skin-restoring ingredient), Ceramide NG (skin replenishing), Tetrahydrodiferuloylmethane (skin-soothing/antioxidant derived from curcumin), Tetrahydrodemethoxydiferuloylmethane (skin-soothing/antioxidant derived from curcumin), Tetrahydrobisdemethoxydiferuloylmethane (skin-soothing/antioxidant derived from curcumin), Epigallocatechin Gallate (antioxidant), Salicylic Acid (Beta Hydroxy Acid, exfoliant/skin-soothing), Disodium Lauriminodipropionate Tocopheryl Phosphates (vitamin E-based antioxidant), PEG-10 Phytosterol (texture-enhancing), Vanilla Planifolia Fruit Extract (antioxidant), Bisabolol (skin-soothing), Allantoin (skin-soothing), Cyclopentasiloxane (hydrations/texture enhancers), Cyclohexasiloxane (hydrations/texture enhancers), Dimethiconol (hydrations/texture enhancers), Tribehenin (texture enhancer), Polysorbate 20 (texture enhancing), C12-15 Alkyl Benzoate (texture enhancing), PEG-40 Stearate (texture enhancing), Sorbitan Stearate (texture enhancing), PVM/MA Decadiene Crosspolymer (stabilizer), Disodium EDTA (stabilizer), C13-14 Isoparaffin (solvent), Laureth-7 (texture-enhancing), Sodium Hydroxide (pH adjuster), Caprylyl Glycol (preservative), Caprylic/Capric Triglyceride (pH adjuster), Hexylene Glycol (solvent), Ethylhexylglycerin (skin-conditioning agent), Phenoxyethanol (preservative).

FAQ

Good to know before you start using your exfoliant.

It is best to gradually build up use of an AHA product. Start by using your exfoliant once every other day and then increase usage to once or twice daily based on your skin's response. You need to experiment a bit to see what suits your skin best. During the day, always use a moisturiser with a broad-spectrum sunscreen rated SPF 30 or greater. Your skin will in fact be slightly more sensitive to sunlight when using an exfoliant, so the chance of sunburn and sun damage is slightly higher.

How should I alternate using Resist Daily Smoothing Treatment with Resist Anti-Aging 10% AHA Exfoliant?

Resist Anti-Aging 10% AHA Exfoliant is recommended for use at night, at least once but up to 4 or 5 times per week depending on how your skin responds. Since we do not advise using other exfoliants at the same time as Resist Anti-Aging 10% AHA Exfoliant, you can apply Resist Daily Smoothing Treatment as part of your morning skincare routine or on night(s) you do not apply the Resist Anti-Aging 10% AHA Exfoliant. In the morning, if desired, you can apply Resist Daily Smoothing Treatment after cleansing and toning or you can limit use of the Daily Smoothing Treatment to nighttime (this is best for first-time users). For daytime, follow with a serum and/or moisturizer or foundation rated SPF 30 or greater.

Can I use Resist Daily Smoothing Treatment at the same time as one of Paula's Choice BHA products?

Yes, but ultimately it is not necessary to use an AHA and BHA exfoliant at the same time. Exfoliation is a balancing act that requires not tipping the scale so the potential for irritation outweighs the benefits. Using multiple exfoliants at the same time increases the likelihood of irritation and doesn't necessarily provide greater benefits. If you'd like to use a BHA product and Resist Daily Smoothing Treatment, we recommend applying one in the morning and the other in the evening. Which one you apply when is a matter of personal preference.
Research
The New Ideal in Skin Health: Separating Fact From Fiction, Allured Books, Thornfeldt Carl MD, 2010, pages 180–181 Dermatologic Surgery, July 2009, pages 1,109–1,118 Clinical Evidence Online, December 16, 2008 Seminars in Cutaneous Medicine and Surgery, September 2008, pages 170–176 Journal of Dermatological Science, December 2005, pages 195–204 Plastic and Reconstructive Surgery, April 2005, pages 1156–1162 Cutis, August 2001, pages 135–142 Dermatologic Surgery, May 2001 pages 1–5 Journal of the European Academy of Dermatology and Venereology, July 2000, pages 280–284 American Journal of Clinical Dermatology, March-April 2000, pages 81–88; Dry Skin and Moisturizers: Chemistry and Function, edited by Marie Loden and Howard Maibach, 2000, page 237